Along the Mississippi River, U.S. studios Studio Gang and SCAPE have designed a public park in the city of Memphis. Officially named Day One at Tom Lee Park, the park includes 31 acres of land along the river, with pedestrian paths, fields, riverfront terraces, and a large activity area sheltered by a massive laminated wood canopy. This canopy covers a basketball court with a surface designed by Memphis-born artist James Little.
The designers installed a series of terraces that allow spectators to view the river and the restored intermediate vegetation between the river and the park. A series of structures have been placed on these terraces, including a classroom and pollinator lab, where visitors, on a wooden platform, can observe the surrounding biosphere.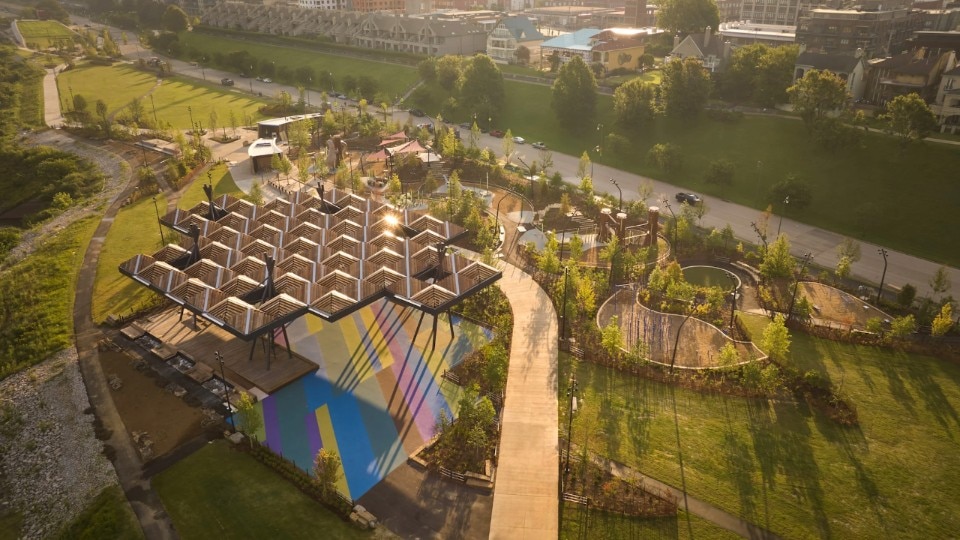 An entrance called the Civic Gateway provides access from the city and features what the team says is the nation's first "accessibility-compliant crossing to reach the river's edge", via a winding path leading down a series of bluffs.

Next to the main path, however, are a series of groves and fields designed as social gathering spaces, as well as a series of foggers to keep guests cool during the hot Memphis summers. Then, in a green area, we find an installation by artist Theaster Gates, titled A Monument to Listening, which includes a series of black, rounded chairs placed over a square of pavement.