Designed by the international firm Skidmore, Owings and Merrill (SOM) and James Corner Field Operations, a timber truss bridge connecting the iconic High Line to the renovated Penn Station was recently installed in Manhattan. SOM's fourth signature project in the borough, the Timber Bridge forms the final link in a chain of pathways winding west from Penn Station to Hudson Yards, and south along the High Line to the West Village. The seamless and fully accessible link will provide a dedicated space for pedestrians away from the highly trafficked area near the Lincoln Tunnel entrance.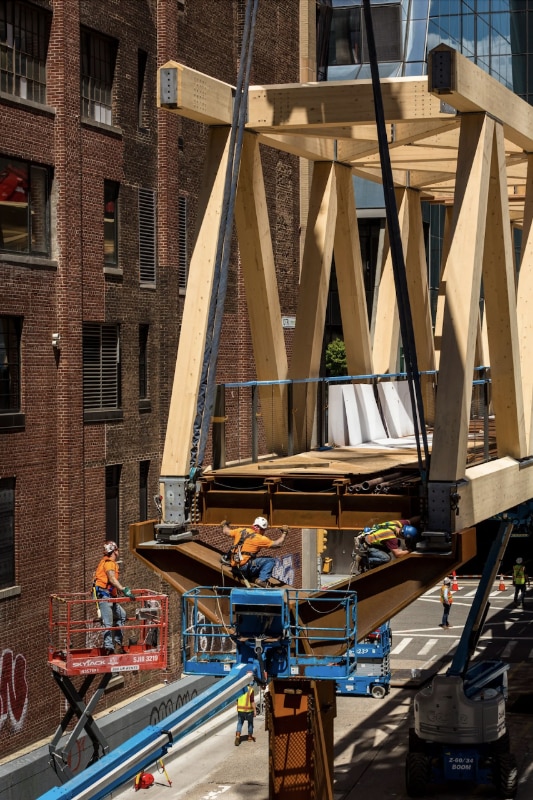 The bridge features a corrugated truss design and is made of sustainably sourced glulam. This structural solution requires minimal connections to the ground, allowing existing roads to remain undisturbed and maximizing the use of renewable materials. The lattice construction will then connect to the Woodland Bridge, a second diagonal pathway lined with trees, an introduction to the immersive landscape of the High Line. Here, however, extensive planting pools will be made possible by a precast concrete container.

The two connections, called the Moynihan Connector, are aesthetically joined by a corten steel deck and bronze handrails, which will guide pedestrians between the structures. The project thus marks an important chapter in the decades-long evolution of Midtown West in New York City, which has emerged over the years as a mixed-use destination united by a series of civic spaces that will now be connected to the High Line, one of Manhattan's most important public spaces and pedestrian pathways.