In the historic center of Montpellier, Studio Malka Architecture recently finalized the construction of a new neighborhood landmark. With a mixed program, organized between residential spaces and self-managed community centers, the architecture creates a major new cultural destination for the French city.
Defined as a system of folies, the building combines architecture and urban planning, community life and culture open to all. Modular folies are built on a flexible and extensible structure, allowing a process of organic development, thus transforming the morphology with the arrival and departure of new occupants and their modules.
The firm reuses a historic 19th-century building as a base, for the creation of an eight-story vertical village. The Parisian architects intend to preserve and structurally reinforce the existing building, thus maintaining the fabric of the city from the sidewalk level.
The project represents a forward-looking proposal that combines innovative architectural methods with versatile functionality. It integrates co-living options alongside communal spaces such as libraries, kitchens, restaurants, cafes, a hotel, a cultural center with exhibition spaces, immersive exhibition halls, rooftop gardens and outdoor recreation areas.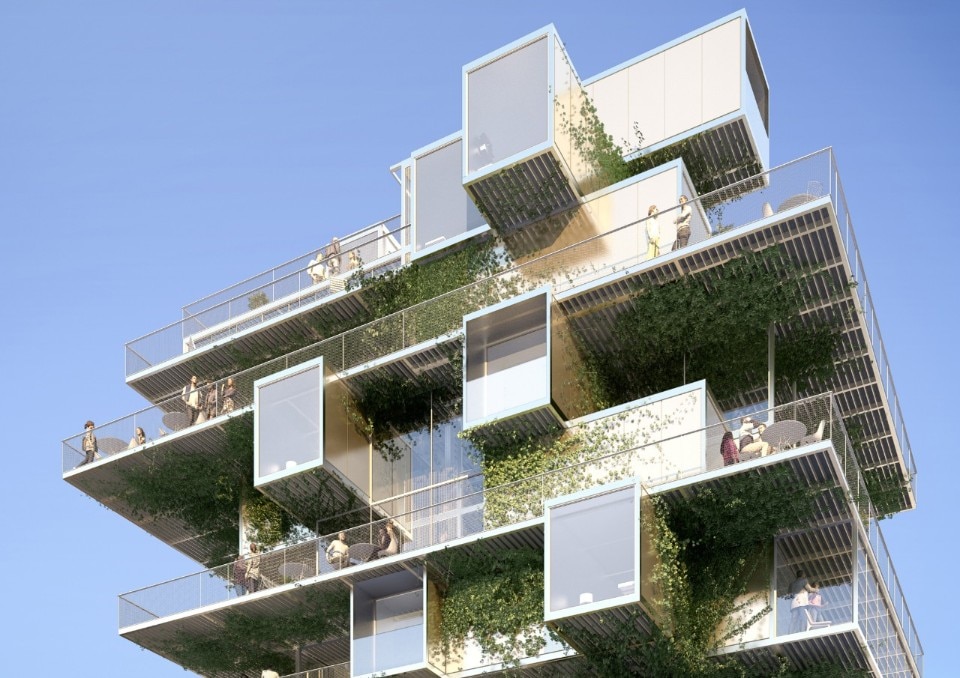 Each module is invested with one or more functions, as with individual or shared living capsules, fully equipped, wired and with furniture integrated into the structure, completely ready for use. Entirely prefabricated in local workshops for a clean, fast and inconvenience-free construction site, the capsules are flexible and modular, allowing the building to be expanded in the long term according to its use.
All materials used, including the metal facade, have been recycled, refurbished and finished as new. The Modular Follies are thus respectful of the context and the existing building, both in terms of preserving the historic building on which they stand and in terms of their hybrid, fundamentally contemporary approach.
All photos courtesy Studio Malka Architecture