Sense of colour, technical choice of materials and attention to handcrafted details, always within the rigorous framework of industrial design, are the first things that come to mind when I think of Sebastian Herkner's work. These three elements have never left the path of the German designer, who turned 40 last March and has been on the crest of a wave for 15 years. Born in 1981 in Bad Mergentheim, Baden-Württemberg, and a graduate of the HfG Offenbach University of Art and Design, just outside Frankfurt where he still lives and works, he was only 25 when he opened his own studio in 2006 after a brief stint at Stella McCartney.
Since then, he has never stopped working and the list of companies with which he collaborates is quite impressive: there are the Italian names that count - Cappellini, La Cividina, EMU, Fontana Arte, Moroso, Zanotta, Ex.t and, since last year, Pedrali. There is no shortage of big international names, such as Thonet, ClassiCon and Ligne Roset, nor the more experimental ones like Pulpo. In recent years, then, he has won everything he could: he was guest of honour in Cologne (2016) and designer of the year in Paris (in 2019), and won the IF Award and the Iconic Award, among others.

We met him passing through Milan to present Blume, a simple, elegant chair designed for Pedrali, characterised by a soft, generous seat and backrest. It is the legs, however, formed by an extruded aluminium profile in a shape reminiscent of a flower, that are the essence of the design, the formal detail that makes the difference and is the result of technical and craftsmanship skills.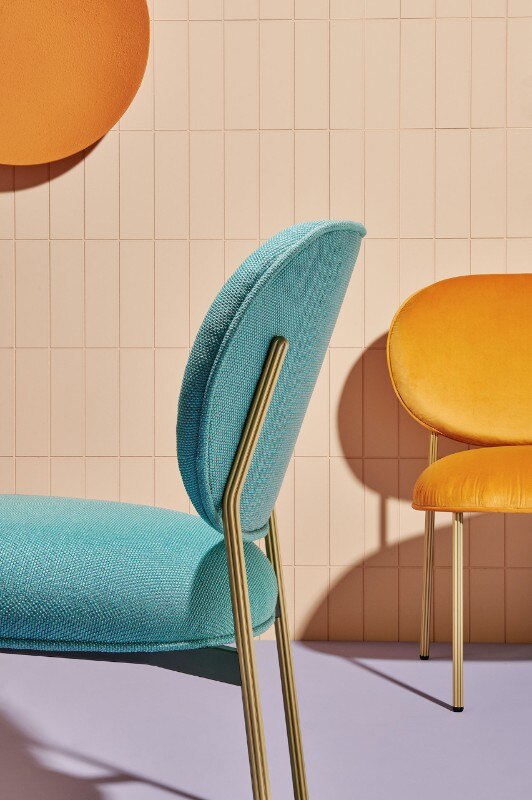 Tell me about your first collaboration with Pedrali
It was very interesting to work with a company that is able to produce everything in-house with a great quality of detail and engineering; and then, I got on very well with Monica and Giuseppe [Pedrali, ed]: super nice, down-to-earth people. We started our conversation in 2019, and then I came up with the idea of Blume, a project that is all about the detail of the legs. I didn't want to use the usual standard tubes. I thought, "Let's make the legs special, sexy". We extruded them in aluminium, giving the extrusion the shape of a flower.
Is the chair made entirely of aluminium?
We used aluminium for the legs and the structure, the seat and the back are made of polyurethane foam, and there is a structural steel element under the seat. I also designed a table, a lounge chair and a dining chair, and now we are working on a family. We have different finishes: you can brighten up the aluminium with a bronze, gold or silver colour, or black. Basically, it is a very simple chair, but elegant and refined, where the details are important.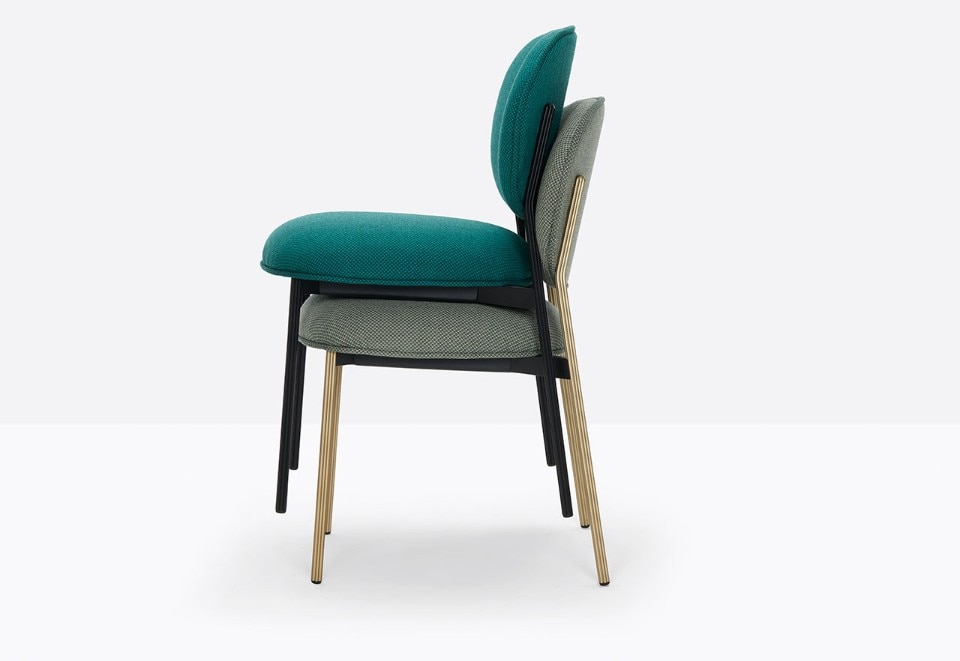 What was the main challenge of this project? The materials, the craftsmanship...
The challenge was to connect the elements to achieve stability, because the aluminium is jointed with steel elements. But on the other hand, a big part of the project is also in the finishes, the details and the colours. It was all done in-house, and it was a very close collaboration. In the beginning, we saw each other physically, I went to Bergamo many times, but in the end, of course, because of Covid-19, we had to do a lot of online calls and send the samples with DHL. It's always important for me, when I start working with a company, to visit them and meet the people, to look behind the scenes and understand what they might need. I feel a responsibility for myself, for my studio, but also for the company and its craftsmen - in short, for all the people involved - to design a successful product. It is part of my philosophy to work with colours, materials, surfaces, details, but everything has to fit the company.
I didn't want to use the usual standard tubes. I thought, "Let's make the legs special, sexy". We extruded them in aluminium, giving the extrusion the shape of a flower.
Did you have any chair models in mind?
The design was really driven by technology, because with aluminium extrusion you can't make crazy shapes, it has to be bent very precisely to get the shape of the flower. There are also limitations in the production or the way you shape the extruded tubes. I wanted it to be quite simple, but delicate. The back is rounded to provide organic shape, but it is not over-designed. 
On a more general note, can I ask you what makes you happy as a designer?
To be honest, I always enjoy visiting the company, its workshops, its laboratories. I like to breathe the smell of the workshop, see what people do, what techniques they use, feel the heat of the oven. That's something I've missed a lot in recent months.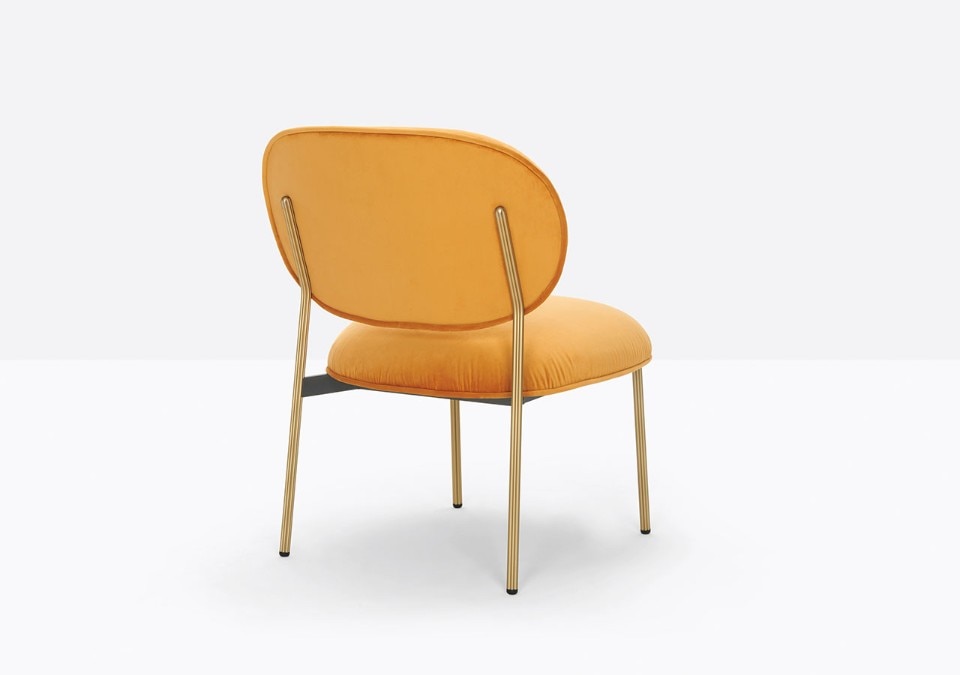 Have you managed to find anything good in this period and in this way of working at a distance? 
We all learned to use Zoom, which had been around for two or three years, but nobody knew about it. And it worked very well. We also learned that we don't have to jump on a plane for the slightest thing or to attend every event. We have to keep flying to meet people and see prototypes, that's our job; but we can focus more on quality of life and a new work-life balance. I think it's important to think about what we really need, how we can consume less and better, we have all basically bought less products in the last few months. We need to think about quality, about resources, about recycling materials. Maybe this is something positive that comes from the crisis, from being locked in the house, but it was difficult. Working eight hours a day was almost impossible. We shared drawings on WhatsApp and Zoom, it worked well, but the speed was different. 
A designer you admire more than others?
To be honest, I admire craftsmen more than designers. Craftsmen would have been the designers long time ago and they are still the most important figures. Take the glassblowers in Murano: they wake up at four in the morning, they are at work at six, they endure impossible heat. They have the experience, the passion, the power to do things. They are my creative heroes, because they are so necessary. When I started my career, many designers were focusing on new material technologies. Few took my passion for craftsmanship seriously when I made the Bell coffee table for Classicon in 2012. Now, everything is handcrafted, because you want the quality of something unique, man-made, even if there is an imperfection. This is our heritage, the DNA of our culture, this is what unites and connects people.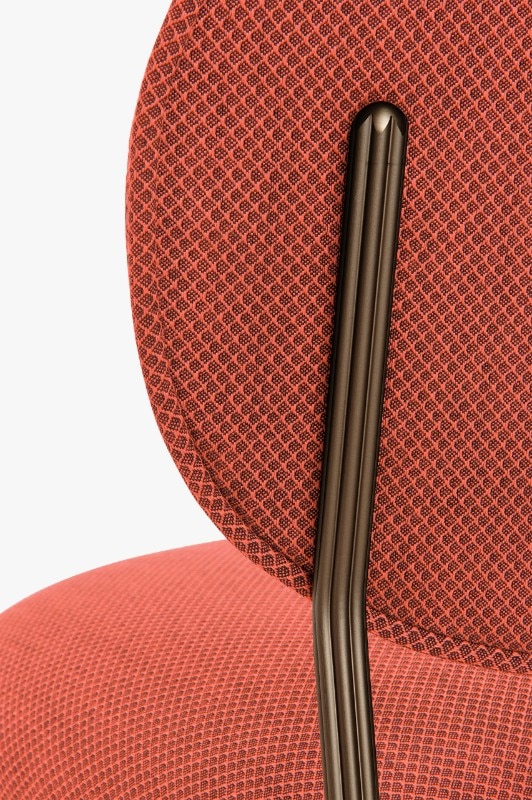 Speaking of craftsmanship, do you think Italy is still the reference point?
Of course, it is still at the highest level. In England, craftsmanship almost doesn't exist; even Denmark has fewer craftsmen, because they produce a lot of furniture in Poland, Lithuania, Slovakia and China. If you think of Italy, you immediately think of quality: in food, in furniture, in fashion. People have a great passion for materials, techniques, fabrics. After all, if you are a chef you need good quality ingredients, but if you want to cook something amazing you also need the right tools.
If you think of Italy, you immediately think of quality: in food, in furniture, in fashion.
If you could travel through time. Which era would you choose?
I would say Berlin in the 1920s: it was the most interesting city in Europe, the adventure of modern architects was about to begin, there was a lot going on after the First World War. It must have been a beautiful city, with Marlene Dietrich and other actors, the lifestyle was different, people dressed differently. 
What's at the top of your wish list?
I think the most important thing is to be happy with what we have. Even in a difficult situation like this. Sometimes, we get too stressed about the wrong things - because the shoes are not the right colour, because we miss the metro or because the flight is too expensive: these are not real problems. And then we don't know how to be patient anymore; that's also interesting. What we buy on Amazon Prime we get the same day. Quality, on the other hand, takes time: if you order a sofa from Poltrona Frau or Cappellini, it takes 8-10 weeks, because it's handmade. 
Quality takes time: if you order a sofa from Poltrona Frau or Cappellini, it takes 8-10 weeks, because it's handmade.
Is there a routine in your work? 
No, routine is not for me. Work is a matter of passion. I feel very privileged to do what I really enjoy. Routine would kill creativity. I think the great advantage of my job is variety: we can do chairs, tiles, interiors and this keeps us fresh. And I can count on a young team, aged 24 to 32, and international, from Thailand to France.
What is it like to live and work in Offenbach, near Frankfurt?
It's a good size: 130,000 inhabitants, 10 minutes by car from the airport, high quality of life. I also have a small flat in Berlin, where I sometimes go at weekends. I always tell young designers and students that they don't have to live in Paris, New York, London or Milan to be successful. They have to feel comfortable first, only then can they give their best. The pressure of having to recoup a lot of money spent on a flat and a studio makes little sense, when you can be a good designer anywhere. Look at Lucidi Pevere, they are great designers and they don't live in Milan.
Product name:

Blume

Designer:

Sebastian Herkner

Company:

Pedrali

Year of production:

2020