At the Venice Biennale, the Israeli Pavilion offers an in-depth analysis on the Status Quo: an old governing system to govern holy places in conflict. Curator Oren Sagiv recounts the rules and protocols that have existed for centuries and how political controversies have led to different architectural responses. The narrative is filled with anecdotes illustrated through various media: models, videos, animated graphics and architectural drawings. The exhibition is developed along five keywords: choreography, project, monument, landscape and scenography, that will be illustrated below through the words of the curator.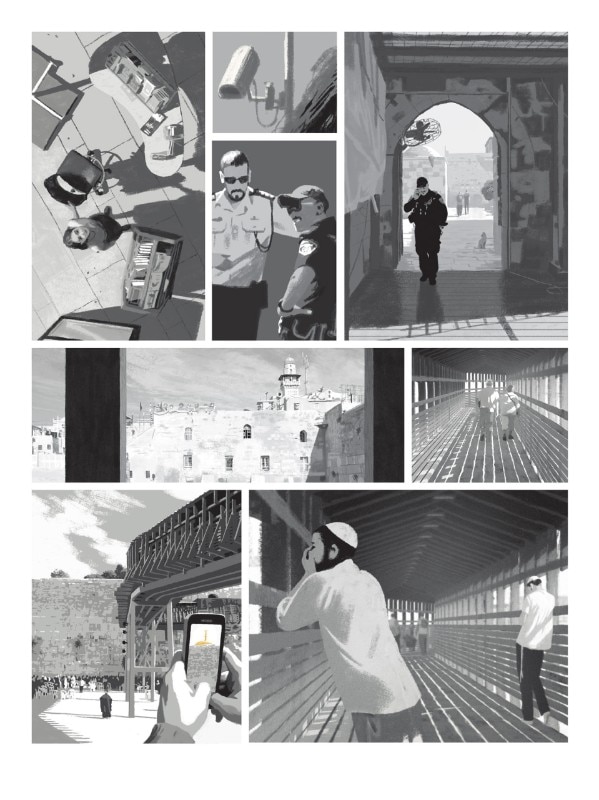 "We're looking at the Holy Land, which is today Israel and some parts of the Palestinian authority. We are interested in conflict and resolution of conflict: architecture can take part of it." Curator Oren Sagiv explains. "These holy places are shared by different groups: contested places that are in conflict with each other, but still, to a different extent and in different ways, they keep their modus operandi, or modus vivendi. They're too important to everybody: the protocols that exist there are not recorded, it's not like modern law. Here is always dynamic, and the fact that religious authorities don't record it (they really evade recording it) gives the potential of change."
"We really want to expose this subject because we tend, secular Israeli tend to turn our back to this sort of heritage: we, and the whole world, tend to look at more immediate political conflicts between Israel and Palestine. But if we think about this region, being the cradle of the monotheistic religions, with similarities and conflicts that go back in time, I think it is interesting to understand the status quo and to expose it in relationship to our political reality. Here we see architecture as a tool that can look at the governing, and at the protocols of behavior: architecture as meaning, as program, as schedule."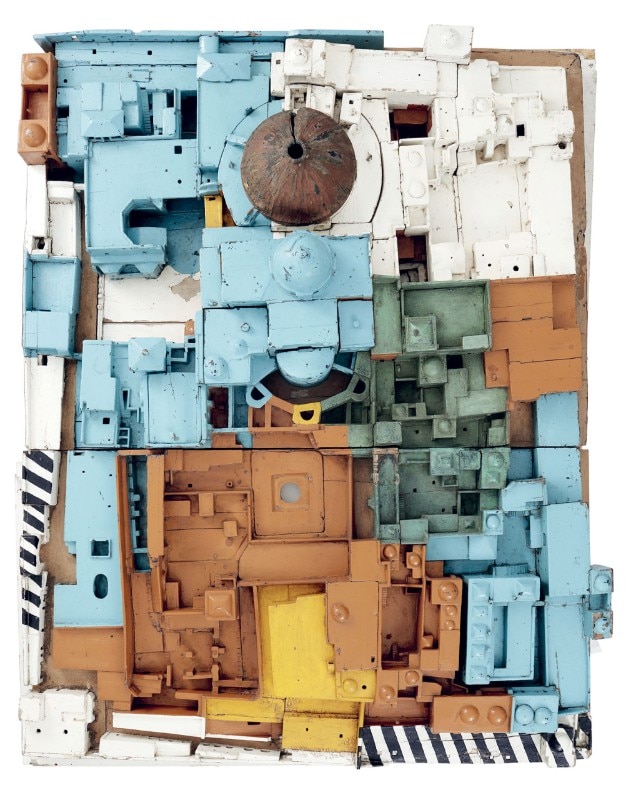 Choreography: protocols in space and time. "The church of the Holy Sepulchre in Jerusalem, is one of the most sacred sites for Christians – Greek Orthodox, Latin, Armenian, Coptic, Syrian. Each sect claims ownership, and throughout the years there have been many conflicts. What we see here is an architecture model commissioned in the 1860s, more than 150 years ago, by the Ottoman sultan. He commissioned a German clock maker, Conrad S. Schick, to create this color-coded model, explaining the different ownership of this territory. Everything you see in white does not belong to any of the sects, it belongs to everybody. They had to divide everything that had to deal not only with worship and rituals, but also with the maintenance: cleaning, lighting up a lamp, for example. This leads to a video we did: the model looks at space, the video shows division in time where rituals are done in a very strict time composition."
Here we see architecture as a tool that can look at the governing and at the protocols of behavior: architecture as meaning, as program, as schedule.
Project: from modus vivendi to modus operandi. "The Western Wall Plaza in Jerusalem, another sacred site. Up until June '67 there was a neighborhood called the Maghreb; on the fourth day of the Six-Day War a demolition plan came into action, in order to allow the Jews to come here, once this area would become part of the Israeli control. The neighborhood was demolished, with a very quick decision to create this plaza. Since that moment on, this tabula rasa has become open to architectural proposals. Here we are showing nine out of tens made over time, featuring names such as Louis Kahn, Isamu Noguchi, Moshe Safdie to Superstudio. The main question is: what's the identity of this place? Is it civil or religious? The Israeli society is united and divided on the role of religion in society. At the end no proposal succeeded, as it would have differed from the status quo."
Monument: permanent temporariness. "Usually the status quo changes radically or dramatically when something dramatic happens. Be it a war – like the Crimean War that generated that protocol that is kept until today – or a physical damage. An example is the Mughrabi Ascent, the only access for non-Muslims to enter the Temple Mount. For hours everyday, tourists, secular Jews or even religious Jews, in groups, can access accompanied by the Israeli forces. It is such a fragile place, an explosive place, where a very elaborate protocol briefs visitors, to avoid provocation. This scaffolded staircase was actually built more than 10 years ago, when in 2004 a ramp collapsed due to heavy snow. This temporary structure cannot be touched, it's just been reinforced so it doesn't collapse: any change in it would interfere with the status quo, in a political way. Once you access the Temple Mount you find a very serene place, quiet and relaxed. Things here are very simple, very prosaic (and of course you have soldiers and police). We didn't know how to deal with the space so we commissioned an animation film to llustrator David Polonsky to just give this impression."
Landscape and Scenography: Rachel's Tomb and The Cave of the Patriarchs / Ibrahimi mosque, Hebron / Al-Khalil. Located at the northern entrance of Bethlehem, Rachel's Tomb and its surroundings have been directly affected by the Israeli-Palestinian territorial conflict. A local landmark that had survived in centuries, in recent times it has gradually become a fortified compound surrounded by an eight-meter-high separation wall: an enclave within a Palestinian urban tissue that is accessible to Jewish worshippers only. The Cave of the Patriarchs, on the other hand, is a monumental Herodian building in the old city of Hebron, a holy place for both Muslims and Jews. Currently the shrine is strictly divided for separate use by both religions, On the occasion of important holidays and under close military inspection, the site changes hands for twenty-four hours only, enabling each side to have full use of the cave. In a matter of hours, Jewish or Muslim chambers are cleared of all artifacts and stand vacant for a few moments before their temporary occupants bring in their own objects and turn the emptied rooms into a mosque or a synagogue.
The curators are Deborah Pinto Fdeda, Ifat Finkelman, Oren Sagiv and Tania Coen Uzielli. The first three are architects, curators and professors at the Department of Architecture at the Bezalel Academy of Arts and Design in Jerusalem. Deborah Pinto Fdeda is a French architect who, together with Ifat Finkelman, received the Rechter for Young Architects Award in 2016. Oren Sagiv was the chief designer of the Israel Museum in Jerusalem from 2011 to 2017; he completed his architectural studies at the Cooper Union in New York. Tania Coen Uzzielli is the head of Curatorial Affairs and curator at the Israel Museum in Jerusalem.

Opening image: On the way to Rachels Tomb. Photo Gili Merin
Title:

In Statu Quo. Structures of negotiation

Pavilion:

Israel

Curators:

Deborah Pinto Fdeda, Ifat Finkelman, Oren Sagiv and Tania Coen Uzielli

Videos:

Illustrations:

David Polonsky, The Mughrabi Ascent

Venue:

16. International Architecture Exhibition

Location:

Giardini della Biennale

Address:

Sestiere Castello, Venice