The new iPad Pro sits on top of the sideboard in my bedroom. I observe it from one side, I check the USB-C port on the other side. Then I turn it around to appreciate the two cameras and the new LIDAR scanner, an interesting addition that will enhance the ability of the device to evaluate depth. Watching it from the top, I come closer and carefully inspect the new Magic Keyboard and its trackpad, easily the most game-changing new feature. I check the lighting and then I shoot some pictures, focusing on the beautifully over-engineered hinge mechanism that lifts the tablet up for a better typing experience when it's on your lap. As I try to reach out my hand to touch and feel the keys, though, the technological spell suddenly breaks. The new iPad merges with my hand, like a broken polygon in an old videogame. It was never there: I was visualizing it on the screen of my iPhone 11 Pro Max in Augmented Reality.
There's no doubt Apple would have held a press event or a hands-on briefing to introduce this new iPad. It's clear to me that the marketing narrative was meant for a bigger and bolder launch ("your new computer is not a computer", is the catchy claim of the wonderfully made promo video) and the amount of technological improvements would have absolutely justified having journalists and pundits around to experience the updated tablet first-hand. As our usual reality is currently on hold due to the Coronavirus pandemic, the hygienically safe augmented alternative comes to the rescue, letting me experience almost first-hand the new product.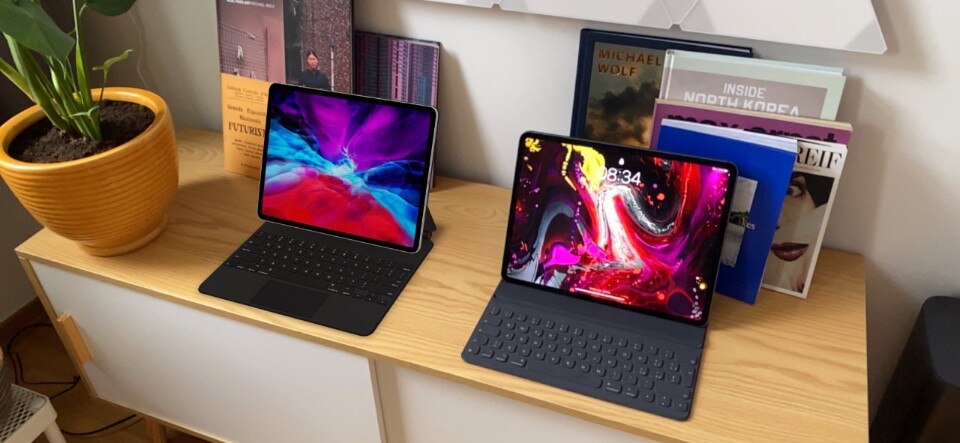 I have to admit, it took me a pandemic-induced lockdown to finally appreciate the experience Augmented Reality can already deliver on Apple's devices. The AR product-preview function I'm using, available through Safari on Apple's website, has been there for at least a year or so, I just never really noticed. As you can see from the picture above, the level of realism is enough fool my brain into trying to move around the object with my hand while holding my phone with the other, as I've done countless times during the usual press previews.
Augmented Reality itself has been a focal point for Apple in the last few years, and now I fully understand why. What has been achieved with AR in gaming so far had me already impressed, while in other fields AR still felt like a cool novelty, but no game-changer. 

The importance of direct contact and experience in our non-augmented reality will not be lessened by AR, of course, but this level of virtualization starts to feel mature, offering actual practical benefits. Take this as a mea culpa: I could never appreciate the technology fully until I've been forced to stay home and I had to look for alternatives. This had me thinking about all the other opportunities AR has already opened (and will open) for kids and students, who are also now forced to study from home. Or for all the people with disabilities, who won't be able to experience reality as most of us will do when the crisis will be over. It's a big change coming that needs a long a clear vision, a long-term commitment and steady investments in development. So far Apple has checked all three boxes.