It is amusing to think that the home automation revolution has taken place via an object which many people ignored and did not even consider as technological: the thermostat. Part of the success of the Internet of Things is actually due to these thermostats which, in less than ten years, have evolved from being barely electronic and impossible to programme products to intelligent devices which allow you to live better, doing everything alone. And they continue to evolve. There are products from purely technological companies and those created by traditional brands who have opened up to hi-tech, while others have focused on partnerships.
Netatmo Thermostat
Daikin Madoka
Nest Thermostat
Viessmann and Tado
Nice Thermostat
Gewiss Thermostat
Vimar Thermostat
Netatmo Thermostat
Daikin Madoka
Nest Thermostat
Viessmann and Tado
Nice Thermostat
Gewiss Thermostat
Vimar Thermostat
From the traditional brand sector we have Gewiss who, with Thermo Ice, have launched a connected thermostat integrated into its Chorus home automation line. Characterised by a sophisticated design, with a completely glass plate, touch controls and a LED display, it is available in two versions, KNX, created for home automation systems, and Wi-Fi, controlled via an app. In this atmosphere of evolution, there are traditional brands who have taken on the new challenges set by hi-tech. By Me is Vimar's home automation system which uses the European standard KNX to transform homes and small businesses into intelligent spaces. From video intercoms to security, via consumption management and thermoregulation, the various devices communicate with each other on a single platform. We also have BTicino, who with Smarther offer a very discrete connected thermostat which can either be wall-mounted or built-in. A touch is all that is needed to activate the heating or air conditioning, and of course there is an app to manage the system remotely.
From the technological company camp, in 2011 Nest paved the way for smart thermostats, and has now launched its latest product, the Termostat E. A self-programming system based on the habits of the owners, the weather, the time required to heat and cool the rooms, it automatically adjusts in order to reduce consumption and offer pleasant environments in which to live. Thanks to its mounting, it can be fitted wherever there is an electrical socket. Another highly-technological product is Hive, which stands out for its very studied design which blends traditional and new aspects, with a central dial, three buttons below and three displays. It can be used independently in manual mode, via the app, or via the Goggle or Amazon vocal assistants, receiving information from other devices to best regulate the temperature.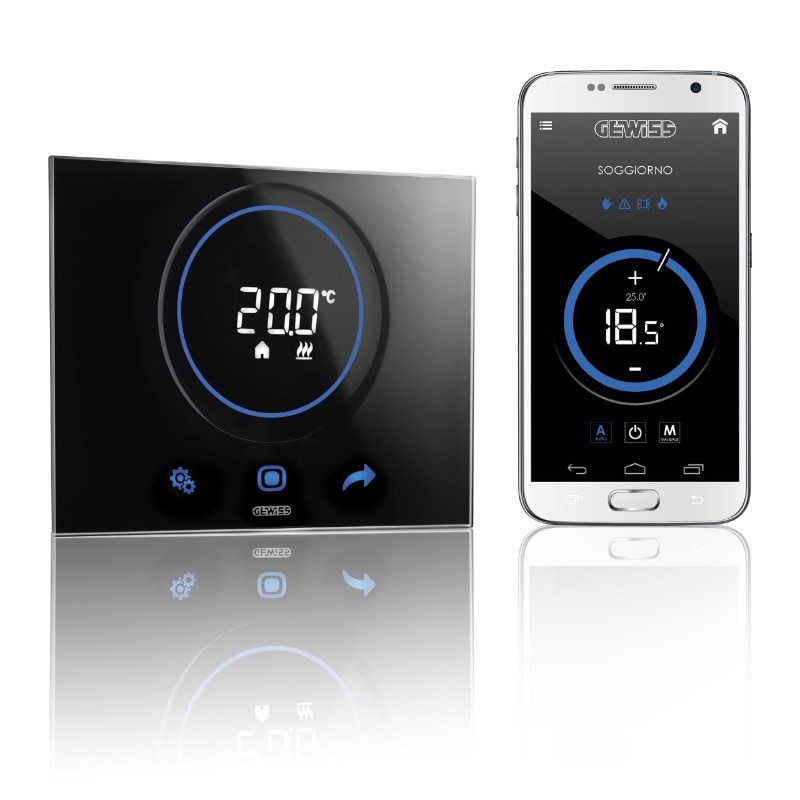 Netatmo is the most design-conscious of the "tech" proposals. Its Thermostat has been designed by Philippe Starck and is a cube which uses rechargeable batteries and can be placed anywhere. Its touch-sensitive surfaces allow the temperature to be temporarily modified, while programming is done via an app. It also works with Google and Amazon assistants and Apple's Homekit.
Lastly, there are those who focus on partnerships. The Tado° intelligent thermostats, for example, will soon be able to manage all Viessmann heating systems. It will therefore be possible to control the heating via the cloud, programme it intelligently or remotely, drawing on the know-how of both companies. The agreement also includes the Testa intelligent thermostat, a Tado° product which provides independent control of heating even with a communal boiler.