The M1 MacBook Air, Mac mini, MacBook Air, introduced in late 2020 by Apple to parade its new promising home-made silicon, had the explicit goal of looking exactly like their predecessors. Apple aimed to reassure its user that the transition away from Intel chips would be smooth and easy. Now, just short of five months into the transition, Apple has already taken the chance to show how much a single component can give its designers a whole new level of freedom. The result is the new iMac 24" introduced at the Spring Loaded special event. The new all-in-one is easily one of the bolder redesigns ever seen by the popular family of all-in-one computers. Apple's designers, freed by the need of keeping temperatures under control inside the chassis thanks to M1's insane thermal performance, slimmed down the device by eliminating the previous model's curved back. The new iMac is now basically just a gorgeous screen on a rectangular aluminium box that's only 11mm thin.
In classic iMac fashion, the 24" display takes center stage, while the overall form factor remains pretty close to that of the previous iMac 21", thanks to the absence of bezels around the display.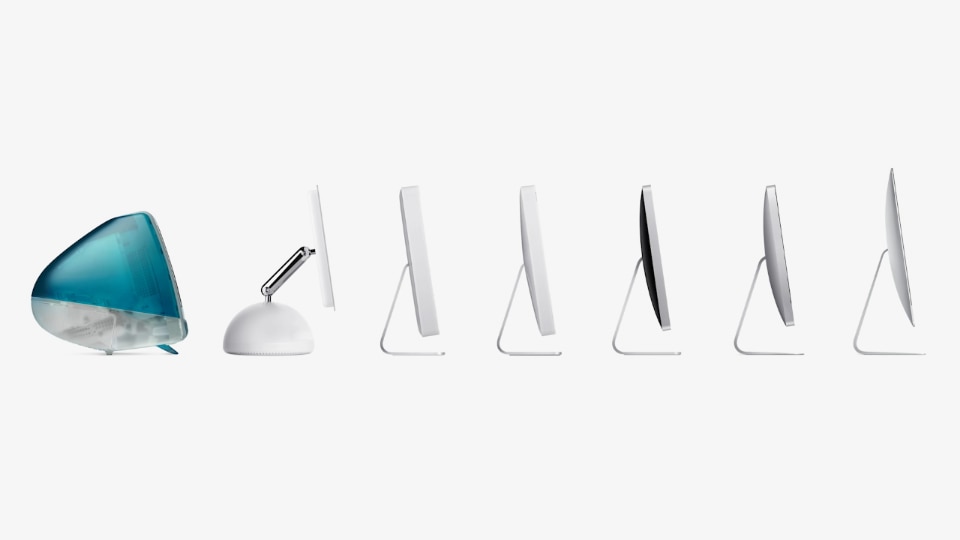 The stand in the back is thin and slender, making the iMac look like an oversize iPad Pro with a front aluminium chin installed on a unique swivelling pedestal. In a sheer display of branding bravado, Apple also removed its logo from the front — no need for that, with such a recognizable design. 
That would have been enough to make the new iMac stand out in the all-in-one computer segment already. Still, Apple wanted to push the envelope even more, offering seven different colour options ranging from Yellow to Purple, each with its own colour-matched wireless Magic Keyboard. The chromatic explosion is a clear tribute to the first iMac, the G3 model designed by Jony Ive. That's the computer that helped Steve Jobs steer the destiny of a still beleaguered Apple in the late nineties when awful beige boxes dominated the market. 
Today's iMac 24" isn't fighting any particular design fight, nor needs to help its 2-trillion-dollars Cupertino Mothership come back from the dead. Yet it's set to become an icon of design, showing how much a single hardware choice (i.e., introducing the M1 chipset) can influence designers by removing constraint and limitations that many other manufacturers still have to endure.