Gio Ponti (1891-1979) created numerous icons, such as the 32-storey Pirelli skyscraper in Milan and the famous Superleggera chair. In 1928, he co-founded Domus. Ponti also conceived a car that was developed to design principles never applied before in the automotive industry; in this he was aided by his colleague Alberto Rosselli (1921-1976),  cofounder of the ADI and editor of Stile Industria. Their starting point was an aerodynamic teardrop shape, but this soon developed into the more angular diamond line. Ponti saw his new design as a necessary reaction to the staid automobile styling of the time, characterised by large, swollen shapes with small windows and dark interiors. By comparison, his vision was a more architectural car with flat-form body panels and windows, and a substantial glass area that would flood the cabin with light. 
The clever packaging would enhance the utilitarian aspect of the car, enabling a generously-proportioned cabin and a spacious boot. Furthermore, the neat innovation of a rubber bumper running the full circumference of the car – with spring-mounted "buffers" at front and rear – was to be a special collaboration with the Pirelli tyre company.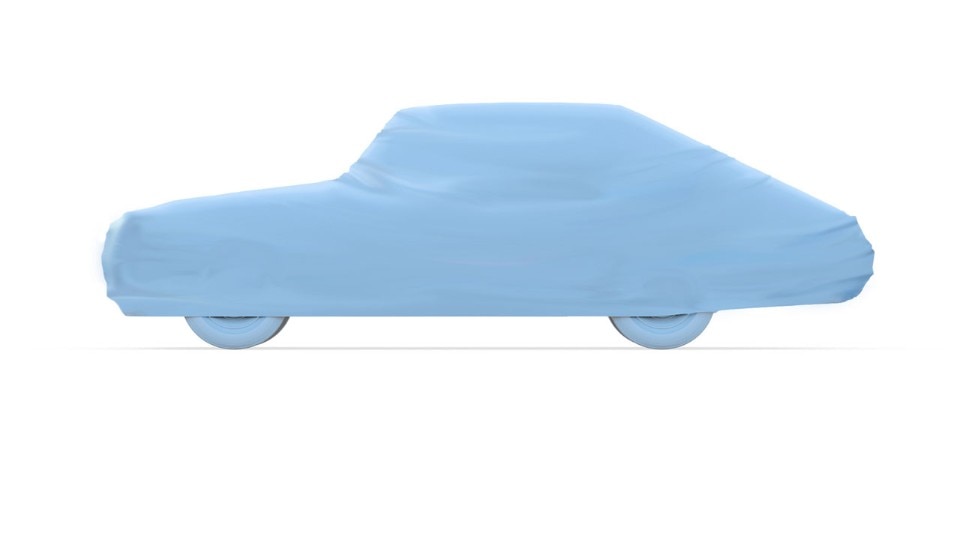 Originally conceived to be bodied on the chassis of an Alfa Romeo 1900 saloon car, Ponti first sought a partnership with Milan-based Carrozzeria Touring. He then turned to Fiat for production of a subcompact model, but the design was rebuffed. Two decades later, many cars would catch up with the principles embodied in Ponti's automobile, highlighting his genius and foresight. 
The model was brought to life in 2018 and presented for the first time at Grand Basel, 65 years after Gio Ponti first envisaged its shape, thanks to The Automobile by Ponti project. Until now, Ponti's car had never progressed beyond 1:10 scale models. Modelled by a design team directed by Roberto Giolito, head of FCA Heritage, the car embodies specifications outlined on Ponti's original drawings. 
Grand Basel should not be seen as just another car show – it is a unique opportunity to start a discourse about everything artistic and inspirational that goes together with cars. (Paolo Tumminelli, chairman of Grand Basel's Advisory Board)
"Over the years, the automobile has influenced – and been influenced by  – design, architecture and the arts and The Automobile by Ponti is an archetype of this interconnected relationship," explains Tumminelli, the docent and director of Goodbrands Institute of Automative Culture, who initiated the project in 2017. 
We are incredibly excited to show Ponti's Linea Diamante car as a full-size model for the first time at Grand Basel. This is exactly the type of exhibit that we have promised to offer our visitors – something unexpected, which they have never seen before. (Mark Backé, Global Director of Grand Basel)
Salvatore Licitra, Gio Ponti's grandson and representative of the Gio Ponti Archives, adds: "To see this design come to life for the first time, 65 years after the original drawings were created, will be truly remarkable. The car was thought to be too radical at the time, but many of its features would prove fundamental in the two decades of car design that followed."
We rose to this tough challenge with enthusiasm, and we take pride and immense satisfaction in the results. (Maria Giovanna Mazzocchi, President of Editoriale Domus)
The Automobile by Ponti project is endorsed by publishing company Editoriale Domus, which celebrates the 90th anniversary of Domus magazine in 2018. The final design of The Automobile by Ponti was reviewed and assessed under the scientific supervision of Roberto Giolito, Head of FCA Heritage. Pirelli is a technical sponsor of the initiative. "When we were approached with an idea for constructing Gio Ponti's visionary car, we enthusiastically endorsed the project. The collaboration links perfectly to Domus, now 90 years young and founded by Gio Ponti in 1928," says Maria Giovanna Mazzocchi, President of Editoriale Domus. "We rose to this tough challenge with enthusiasm, and we take pride and immense satisfaction in the results."
Event title:

Grand Basel

Opening dates:

6 – 9 September 2018

Venue:

Messe Basel

Address:

Messeplatz 10, Basel

Global director:

Mark Backé

Project title:

Linea Diamante

Designer:

Gio Ponti with Alberto Rosselli

Year:

1953

Model realisation:

The Automobile by Ponti

Head of the model design team:

Roberto Giolito, director FCA Heritage