This article was originally published in Domus 1013 special edition, May 2017.
Villa Nemazee is an extraordinary construction designed by Gio Ponti in faraway Tehran. It is currently menaced by a development plan that proposes its demolition, an event that would end its long and troubled vicissitudes in the worst possible way. Neglect, abandonment and reiterated dangers have loomed over it since 1979, when Khomeini overthrew the shah and the house was expropriated from the family that had commissioned it.
Initially transformed into a registrar's office, Villa Nemazee was then converted back into a house, and now remains "wounded architecture" [1] due to absurd renovations. The roof was deprived of its special effect of lightness by a thick layer of waterproofing. The patio is suffocated by bizarre Plexiglas cupolas. The interiors are desolate rooms in which only a few built-in pieces of furniture survive. The bathrooms were redecorated with cheap materials. The doors and handles have been substituted. Despite all this, the building is still in good condition. Until a few months ago, it was recognised artistic heritage in Iran, by which it was protected under conservation laws. That status has now been lifted so it can be sold to a real-estate group.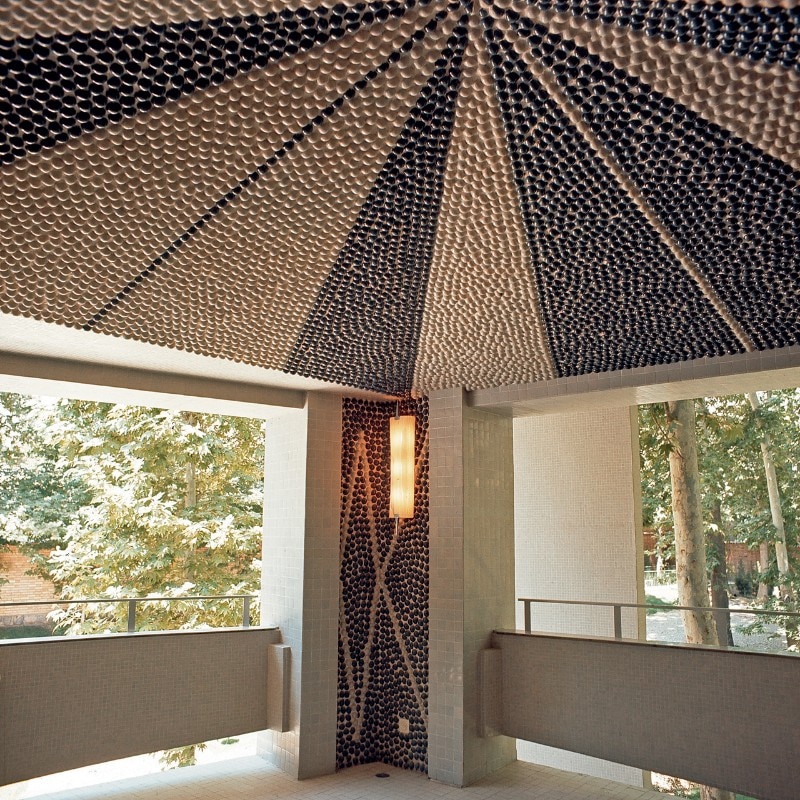 To halt demolition, an international petition is underway. Institutions, scholars, students and enthusiasts have adhered and are being joined by others. They understand the house's value as a key element of Ponti's production, and as a concrete example of Italian talent outside the country's borders. The villa, built between 1957 and 1964, is indeed one of the many extraordinary projects that testify to Ponti's way. He was an early example of the global architect, among the very few Italians to work outside of Italy in the 1950s. He promoted national creativity, of which architecture and design were an emblematic example. "Being Italian is an advantage, for an architect," the Milanese designer once said. And he proved it in Iran by building a house that expresses "the size of serenity" and the "joie d'y vivre" [2], the characteristics he considered an essential basis for designing a modern residence.
Nemazee has often been described by Ponti himself and by architecture critics [3] as the fruit of an ideational process also found in the Argentinian villas he designed for the Planchart (1955) and Arreaza (1956) families. But it also has roots in the more general picture of Mediterranean architecture, filtered through Bernard Rudofsky ("The Mediterranean taught Rudofsky; Rudofsky taught me." [4]), and in the specific ambit of the casa all'italiana ("the Italian home") intimately linked to the relationship between domestic setting and surrounding landscape. "In the Italian home, there is no big distinction between outdoors and in […]. With us, the outside architecture penetrates the inside and does not avoid using stone, plaster and murals. […] From inside, the Italian home reaches out to the open with porticoes, terraces, pergolas and verandas, with loggias and balconies, with altane (roof decks) and belvederes, all extremely comfortable inventions for serene living and so Italian as to be called in every language by the names they have here." [5]
Once he had drawn out the villa for the minister Shafi Nemazee and his wife Vida, Ponti had construction on the distant site followed by the architect Lolo Foroughi. The villa is a balanced homage to the traditional Iranian courtyard house, thanks to the patio open to the garden. The inner court is an extraordinary example of an openair room, described by Ponti on the pages of Amate l'architettura and populated by precious ceramic tiles by Fausto Melotti. These decorative plaques are perfectly integrated and sometimes even masked within the play of niches and windows lending rhythm to the inner facades. We can call Villa Nemazee a Gesamtkunstwerk, "a sort of Palais Stoclet minus the Sezession luxury and revisited in the democratic and industrial taste of the 1950s" [6], where architectural volumes, furniture and artwork are packed onto the household stage of daily life. The architecture is a sequence of ensuite perspectives, sliding partitions, indoor windows, colours, lamps, levels and materials that can only be grasped by moving about "in all directions, going back and forth, turning and lifting the eye. The architect must be the coordinator of this difficult and total spectacle" conceived of as "alive, meaning with people" [7].
Therefore, it must be experienced physically, and cannot survive only in archived drawings and photographs. 

1 Shebab Katouzian, Gio Ponti Teheran, Villa Nemazee, in Domus, issue 901, March 2007, p. 67.
2 Gio Ponti, A Teheran una villa, in Domus issue 422, January 1965, p. 14.
3 For example Michele Porcu and Attilio Stocchi, Tre ville inventate, Abitare Segesta, Milan 2003.
4 Gio Ponti and James Plaut, Espressione di Gio Ponti, Daria Guarnati, Milan 1954, p. 25.
5 Gio Ponti, La casa all'italiana, in Domus, issue 12, December 1928, p. 18. Also Fulvio Irace, Gio Ponti – La casa all'italiana, Electa, Milan 1988.
6 This description by Fulvio Irace referred to Villa Planchart, but is perfectly suited to Villa Nemazee as well. From Antonella Greco, Gio Ponti – La villa Planchart a Caracas, Kappa, Rome 2008, p. 40.
7 Gio Ponti, Amate l'architecttura, Vitali e Ghianda, Genoa 1957, p. 202.