Paolo Moretto went through the interior design project for a private house in Milan which doesn't directly overlook the street. In the absence of privileged views, the focus was on the interior furnishing, enhancing the "life within the house".
The entrance on the mezzanine is via the service stairs, after crossing the courtyard. Beyond the door's entrance of the apartment the floor is made of planks of solid oak, and creates a buffer zone between the outside and the inside. Climbing the steps, on the left there is a bathroom, on the right a door for the master bedroom, designed to be next to the entrance. The kitchen consists of a central blue island, an English green unit and a simple white counter. Alongside is the living room with green sofas, the dining area and the piano. Dominating the large room is the bookcase, which is out of scale and full height, with built-in revolving doors.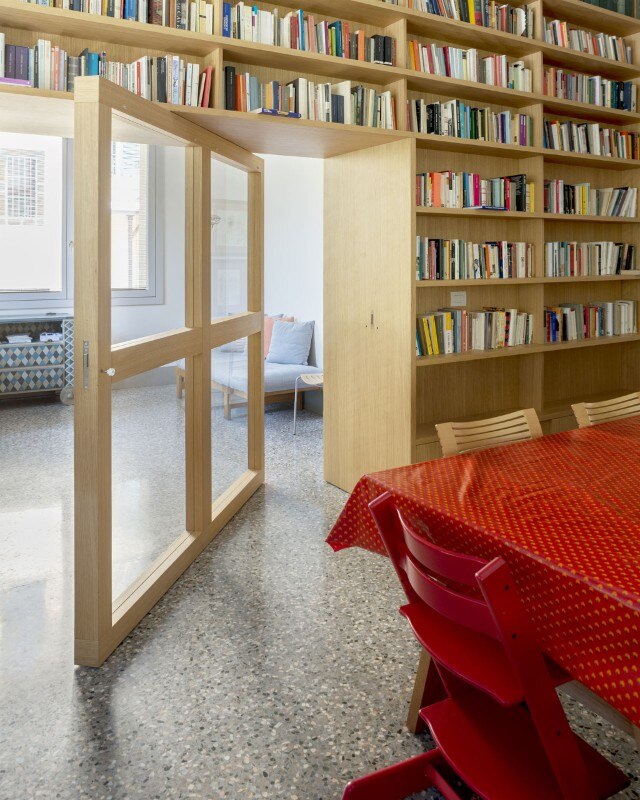 Troughout the floor is Venetian terrazzo, a mixture of occhialino gray, bardiglio gray, carnico gray, alps green and pink. The colour is uniform and only in the bathrooms the alpine green and the pink give way to a ochre-yellow limestone. The wood paneling, doors, skirting and vents for emission and air supply are gray, and they represent a neutral background for everything that is colored in the house. The brown Venetian blinds control the entry of light from outside. Two sliding french windows from the kitchen and the living room lead onto the balcony, which features a triangular stone floor.

The house in the courtyard, Milan, Italy
Program: apartment
Architect: Paolo Moretto
Site supervision: Paolo Moretto, Andrea Treu
Main contractor: SO.GE.CA. srl
Building systems: Enrico Peruchetti Lab-E, CFS Impianti srl (water, drainage, plumbing), VMC Italia srl (ventilation), All Electric snc (electric)
Wooden windows: Falegnameria Aresi snc
Terrazzo flooring: Bonazza & Cara srl
Metal work: Pietro Landi snc
Custom furniture: Verri arredamenti snc
Completion: 2016