Independent cultural producer Liquid Frontiers asked Austrian desigeners mischer'traxler and Martin Robitsch to develop a project for two inner courtyards of a residential care facility for the elderly in Vienna.
The landscape design for the ground-level of the yards was already planned with a fern garden and a water pond. Due to the immobility of some residents and the fact that the yard is not accessible, the designers decided to bring the elements of the ground floor up to the people.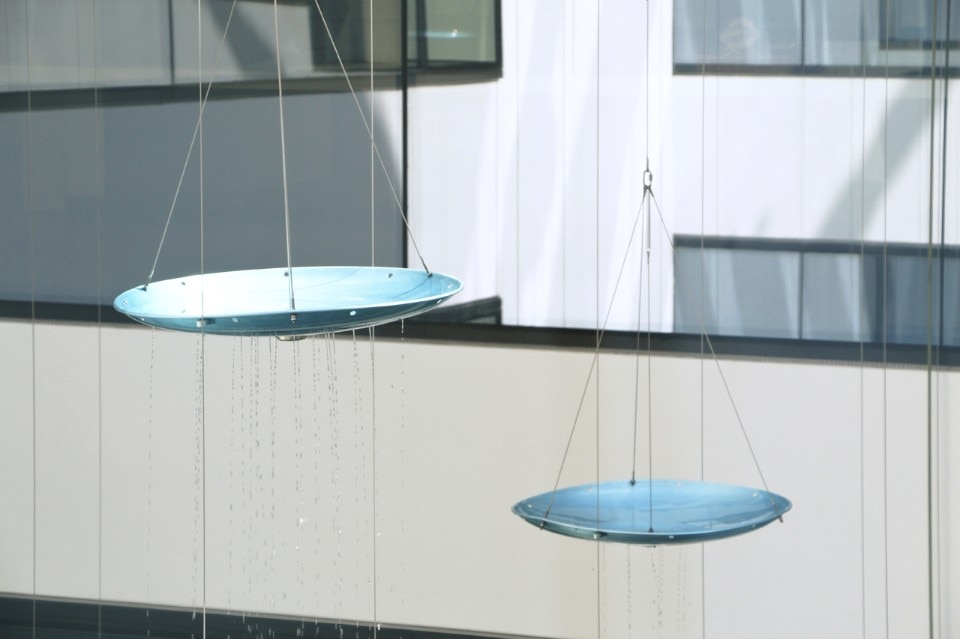 In the water yard, twenty sieves are following a choreography: when at the lowest point, they fill with water. Once pulled upwards the water rinse down again, filling the yard with small water-drops. The elements arrange automatically in various patterns and formations allowing to see different arrangements throughout the day. The materials used are anodised aluminium sieves, motors, stainless steel and controlling units. The hight of the courtyard is 24 meters (seven storeys), with an area of 12 x 15 meters.

Water Yard, Flying Gardens, Vienna
Design: mischer'traxler studio and Martin Robitsch
Curated by: Liquid Frontiers
Client: KAV Vienna, Pflegewohnhaus Donaustadt
Architects: Delugan Meissl Associated Architects (DMAA)
Landscape: Rajek & Barosch
Contractor: INDAT
Video: trick-my-film
Completion: 2016