The existing house is an old "oukala" located in the heart of the city of la Marsa, in a calm neighbourhood close to a public park. The owner wished to have a living room-like kitchen, a living area, two bedrooms, a sunny terrace and colours. The main idea of the project was to open the kitchen towards the living area from one side and to extend it to the south terrace through a curtain wall on the other side.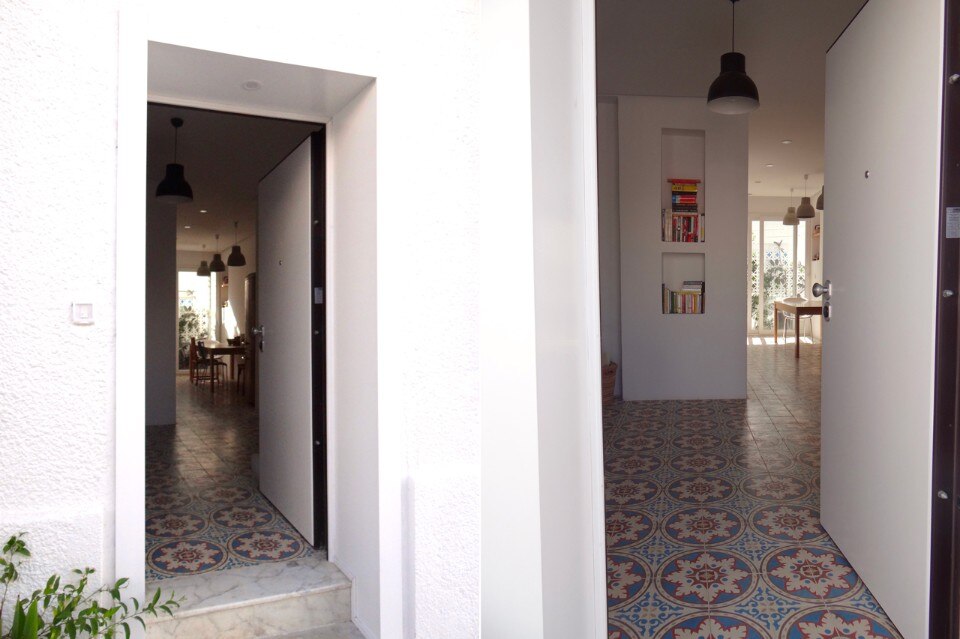 The roof terrace has a twofold function as well; it allows the natural vertical light to stream down to the core of the house through a large window in the staircase, it also allows the inhabitants to enjoy the good weather all year round and at different times of the day.
Different colour combinations of cement tiles were designed with a craftsman from the city of Nabeul. All the ground floor was covered with tiles in order to keep the space unity. The first floor and the terrace were finished with polished concrete insuring the continuity between the floor and the stairs. The use of "barmaqli", a module of ceramic shutter produced in Tunisia, was perfect to obtain semi-transparency, it allowed us to avoid greenhouse effect while keeping large openings.
BA-Studio, House in Tunisia, Marsa, 2016
/Users/macbookpro/Documents/Etudes/Stages/Stage_BA-Studio/BA-Studio_Duplex La Marsa/Publication/BA-Studio_Duplex la marsa_Publication.dwg
BA-Studio, House in Tunisia, ground floor
/Users/macbookpro/Documents/Etudes/Stages/Stage_BA-Studio/BA-Studio_Duplex La Marsa/Publication/BA-Studio_Duplex la marsa_Publication.dwg
BA-Studio, House in Tunisia, first floor
/Users/macbookpro/Documents/Etudes/Stages/Stage_BA-Studio/BA-Studio_Duplex La Marsa/Publication/BA-Studio_Duplex la marsa_Publication.dwg
BA-Studio, House in Tunisia, terrace

House in Tunisia, Marsa
Program: apartment renovation
Architect: Samia Ben Abdallah – BA-Studio
Completion: 2016