A gigantic green dinosaur, a neon flying saucer, a rainbow and myriad coloured lights: just a few of the elements making up the installation MAXXI Temporary School: The museum is a school. A school is a Battleground by the Milanese studio Parasite 2.0, winner of YAP MAXXI 2016, the sixth Italian edition of the programme supporting and promoting young architecture organized by MAXXI in collaboration with MoMA/MoMA PS1 of New York, Constructo of Santiago de Chile, Istanbul Modern and MMCA National Museum of Modern and Contemporary Art, Seoul.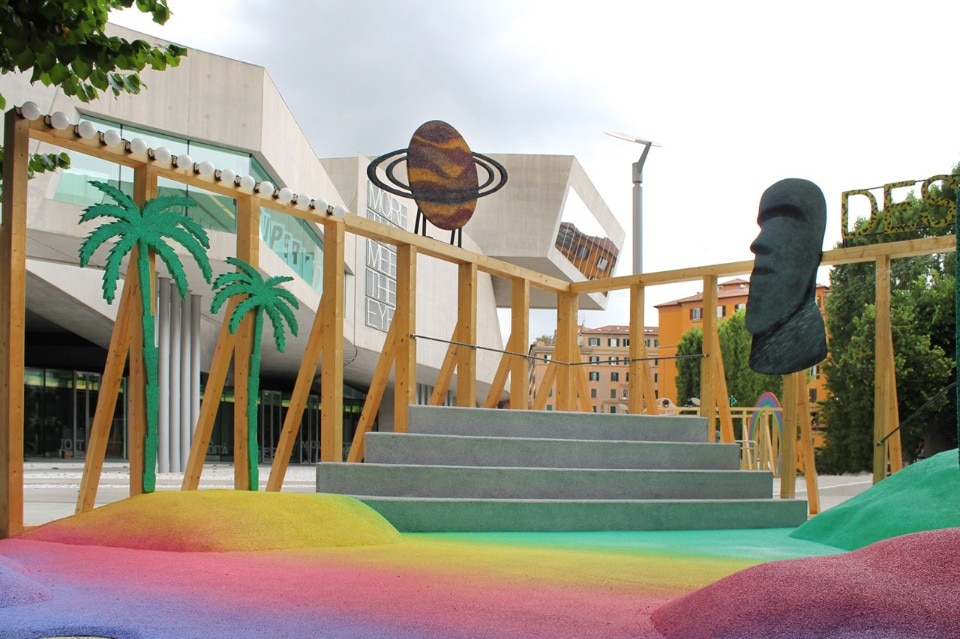 Three sets built with elements in wood, recycled rubber and metal have been installed in three different areas of the piazza to offer the public a place to relax. Each set has different details and structures: one has just two walls rising on a star-shaped podium that can be reached via a tunnel; in the second, a gigantic dinosaur spouts water, creating a timed fountain while from a wall rises the script "desert" along with images of a head from Easter Island and Saturn; in the third, a rock garden overarched by a rainbow and a neon flying saucer are in part hidden by dolmens.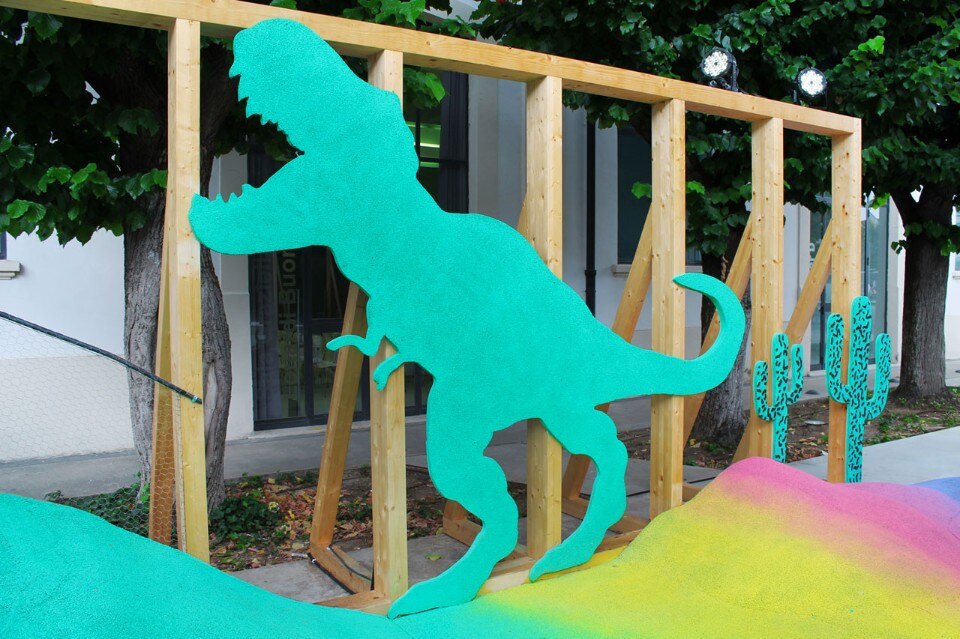 Fantastical settings, references from diverse cultures, fragments of nature and pop-up details providing backdrops for visitors' thousand-like selfies: interaction with the public is fundamental to this year's project.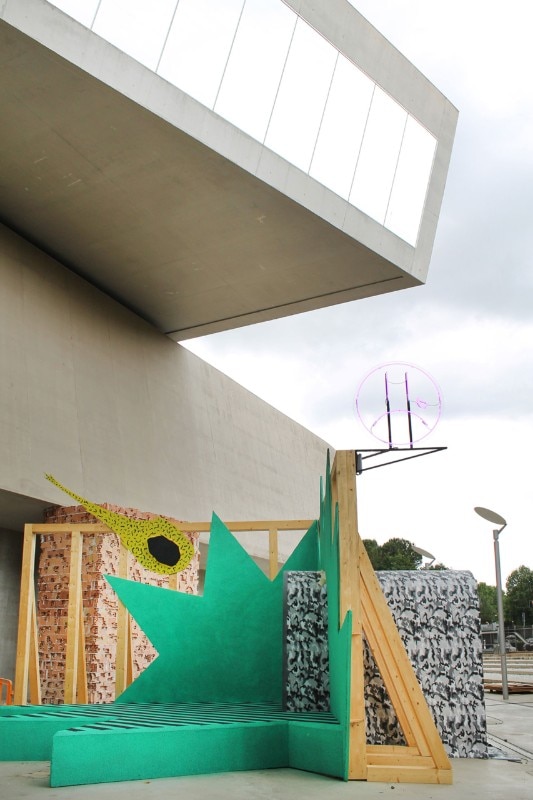 All the structures are dominated by the colour green which is read as a green screen by a special web app created for the project; thanks to this app visitors may take photos and modify them with special effects associated with the project images and then share them.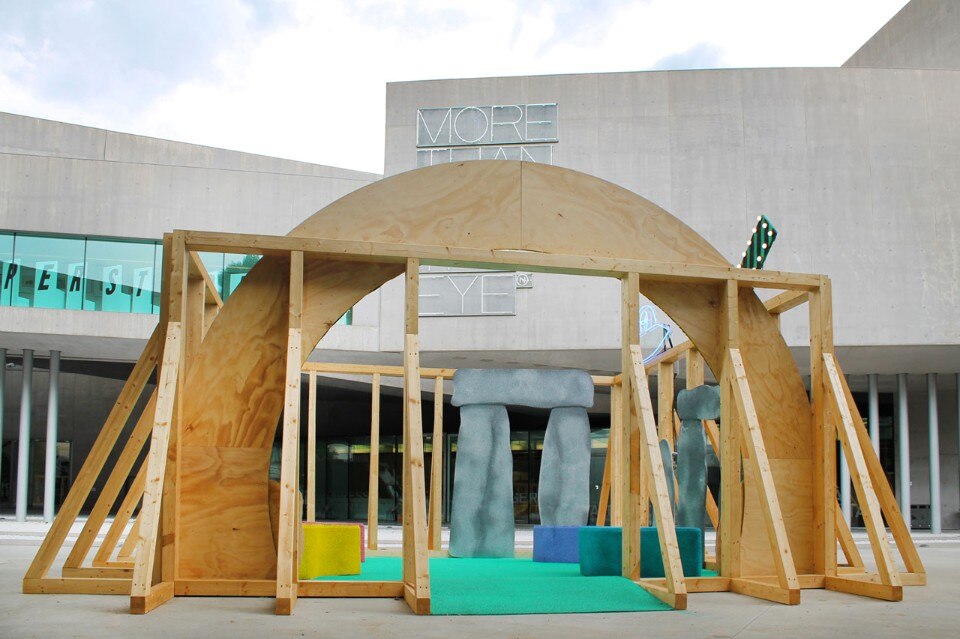 This year too YAP FEST 2016, the programme of live events (music, photography, art, design, fashion, film and literature) will be igniting summer at MAXXI, in the name of dialogue between cultures, fun and recreation. 26 events, including on 22 June a seminar with the four finalists of YAP MAXXI 2016, through to the beginning of October (with a mid-August break). Among the leading figures: Sisley Xhafa (at MAXXI with the appropriately title exhibition Benevenuto!) and Gianfranco Rosi (Golden Bear at the Berlin Festival with Fuocoammare) who will be meeting the museum public on 24 June. The photographers Letizia Battaglia (5 July), Silvia Camporesi (12 July) and Guido Guidi (19 July), whose works are on show in the exhibition Extraordinary Visions. L'Italia ci guarda.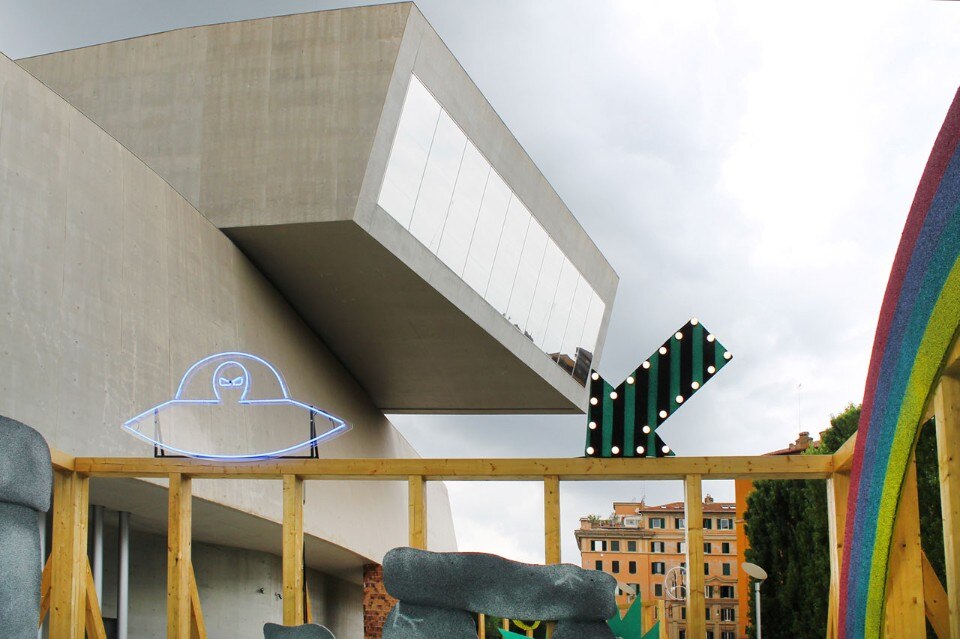 On 14 July it will be the turn of a fashion show with clothes inspired by the work of Superstudio, a group of extraordinarily creative individuals who have earned a place in architectural history and feature in a major retrospective at MAXXI. And then there are the documentaries on contemporary art made in collaboration with Art Doc Fest, talks with scientists and artists and, from September, Stregati al MAXXI, the series of seminars with the winners of diverse editions of the Strega Prize.