"Create your own Spout" is the motto of the Axor WaterDream 2016. Five internationally renowned Axor design partners drew inspiration from a technical washbasin innovation, alternative materials and a new, emotional meaning for washbasin fittings and water in the home. The result: five concepts that respond to the need to personalise the bathroom.

The basis for all of these creations is the Axor U-Base – a universal base for bathroom fittings. It is the key that allows you to freely customise your bathroom taps.

Anna Lindgren & Sofia Lagerkvist, the designers behind Front, put the playful character of water in focus in their project. Water Steps studies the beauty of water in all of its facets: the sculptural design and its basins creates a playful exchange between human, water and form.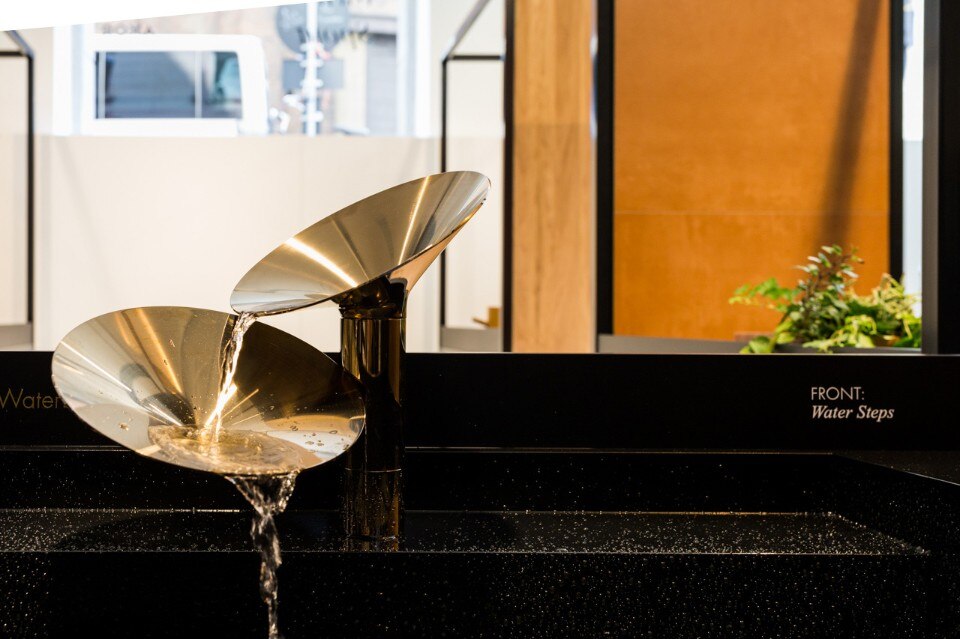 Zen reinterprets the classic, Far Eastern bamboo fountain. the GamFratesi designer duo displays the perfection of nature in a minimalistic tap shape made of wood through which the water flows in a meditative manner.

Mimicry by Jean-Marie Massaud is a concept in which natural stone meets water in a harmonious connection. Simple geometric shapes were used to create a landscape of marble that integrates perfectly into various interior design concepts. It is an homage to the significance of water.

Studio Aisslinger combines a fountain and a shelf into one hybrid designer object. The shelf becomes the beach, with the fountain as the ocean continuously flooding the beach with fresh water. The emotional aspect of the nature and the functional aspect of the shelf meet beautifully in this archetypal clay outlet.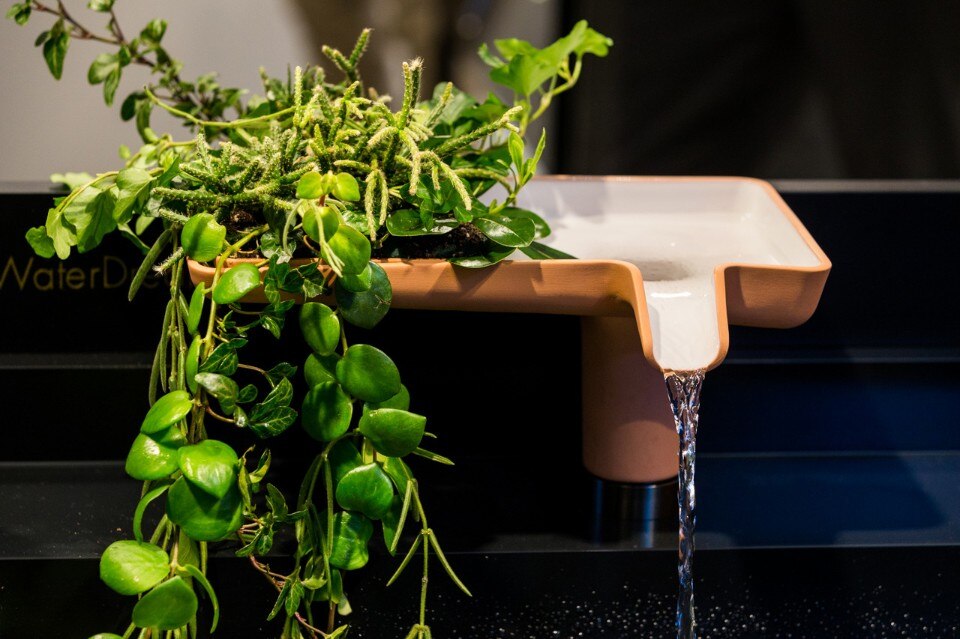 Domus: What is the meaning behind the title of the project: The Sea and the Shore?
Werner Aisslinger: The shelf becomes the beach, with the fountain as the ocean that continuously floods the beach with fresh water. This border between water and land has always been interesting for humankind.
Domus: How did you approach the U-Base?
Werner Aislinger: I tried to keep it smaller and I chose to use clay. The connection between clay and water is two-thousand years old, it is a very authentic material. All these things in terracotta make the bathroom more cosy and natural. Nowadays there is a lot of stone and tiles and the bathroom is becoming more natural, more authentic and cosy. I think in the future the bathroom will be more like a living room. Clay is a good start.
David Adjaye celebrates the ritual of the modern luxury of running water: the tap is trasformed into a valuable object – a sculpture of bronze and granite opening upward, honouring water.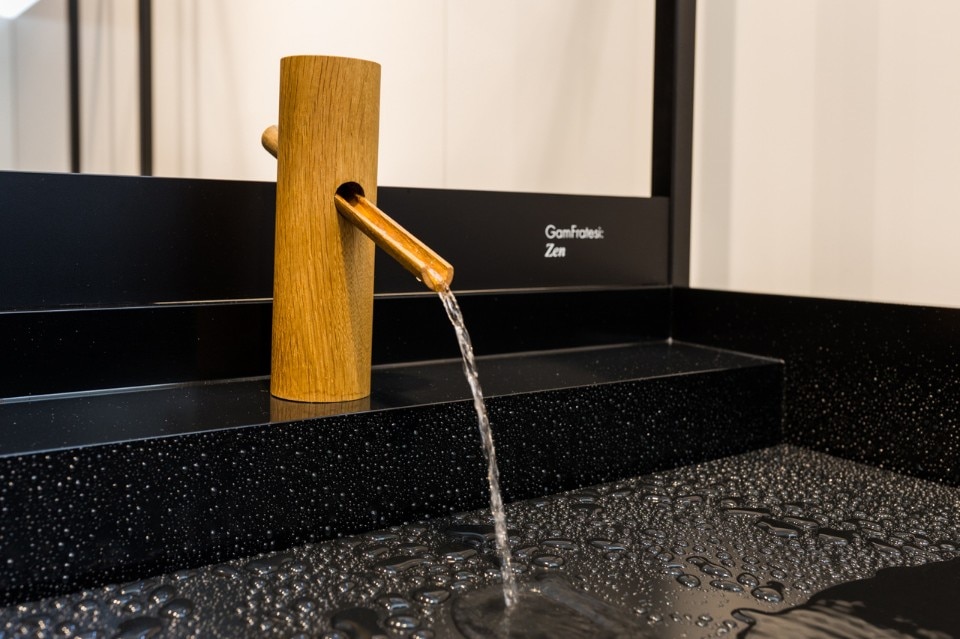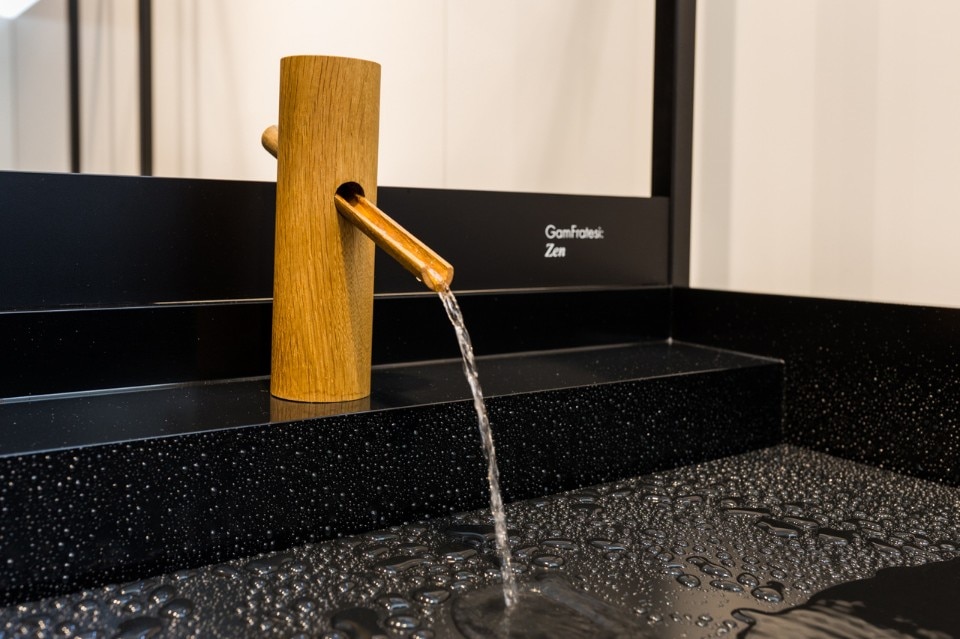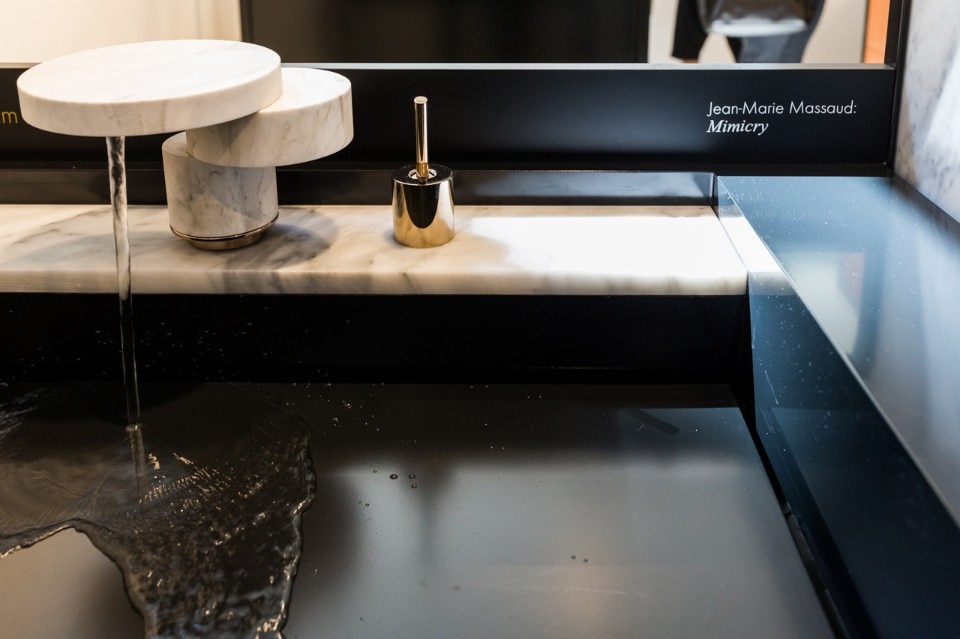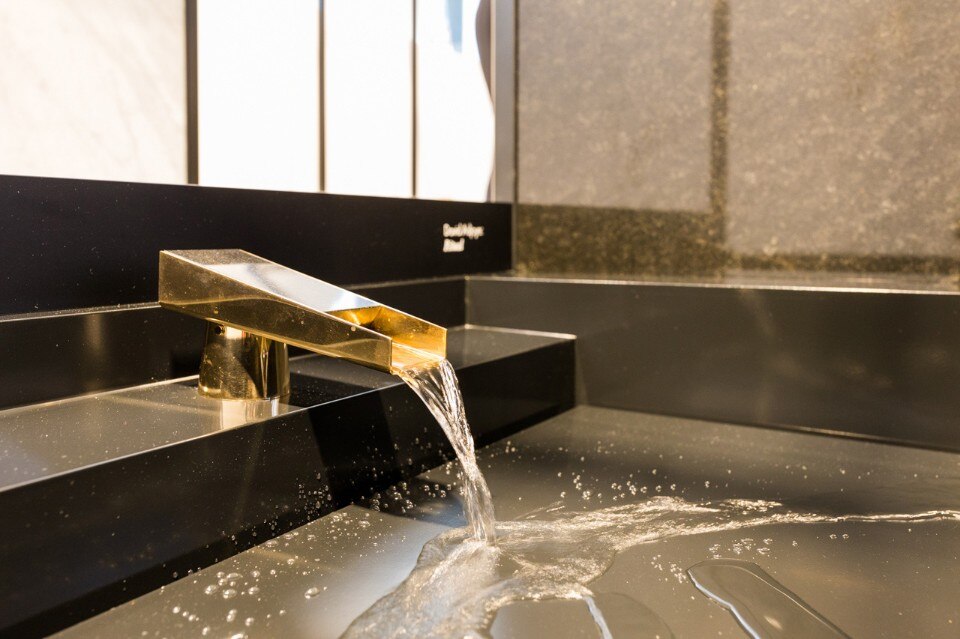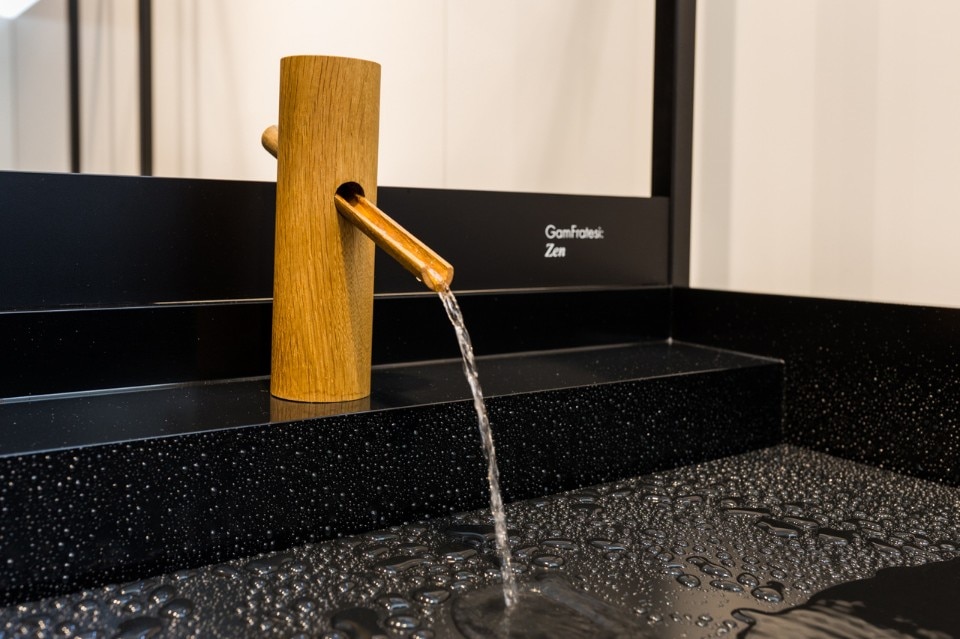 Zen by GamFratesi for Axor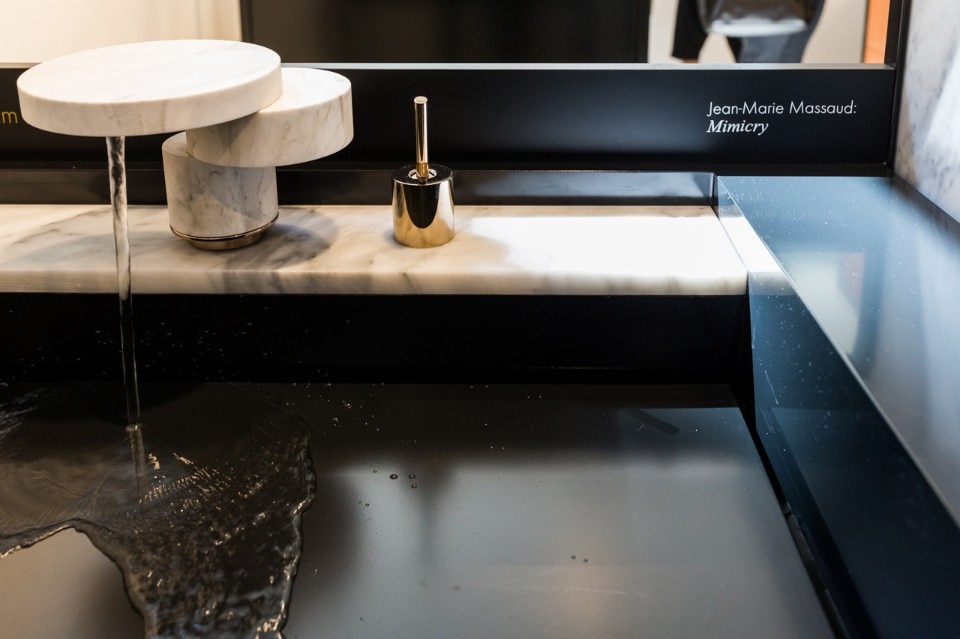 Mimicry by Studio Massaud for Axor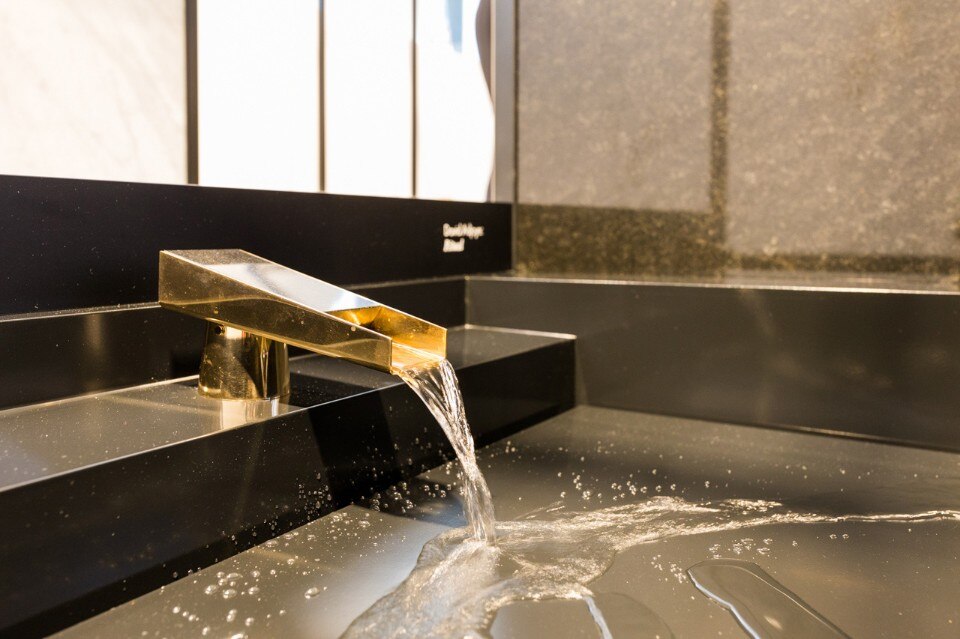 Ritual by Adjaye Associates for Axor

WaterDream 2016
12–17 april 2016
Manufacturer: Axor
via Durini 15, Milan