It Met's project solves the distribution and the furniture of an advertising agency's office located in a three-story building in Buenos Aires, Argentina.

A paneling system that consists of a set of interlocking pieces, available in various configurations, determines different workspaces.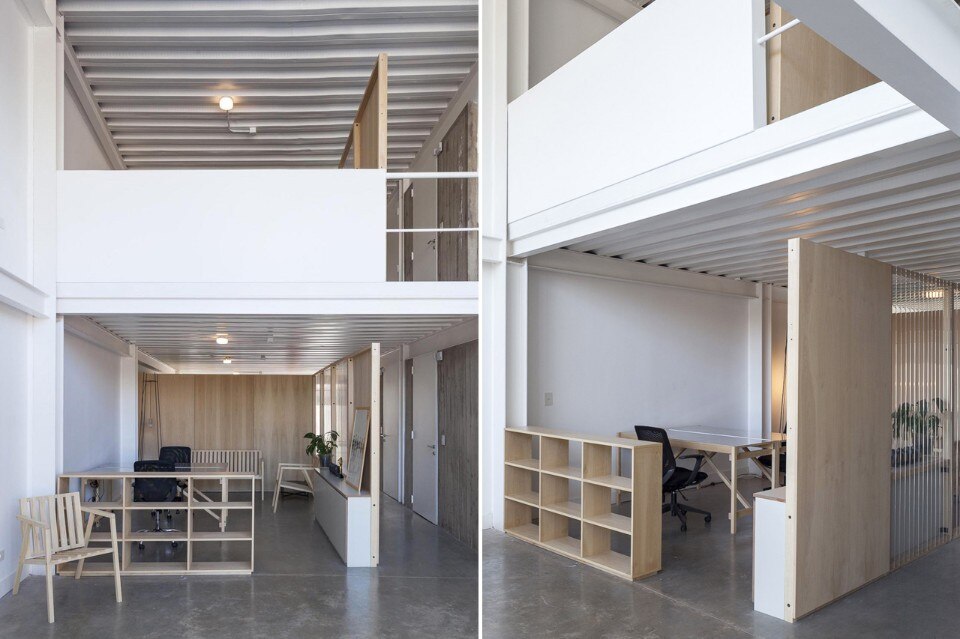 The different units of this catalog work as vertical enclosures. The material of these panels is determined by its function. Therefore translucent, opaque and acoustic panels were developed. The variations are also reflected in the wooden structure. Within the diversity of combinations that characterizes the system, there are panels with side faces prepared to resolve 90º connections.
The system is complemented by the use of metal parts and assemblies for reinforcements. A distinctive feature of this system is the versatility and agility when armed. The catalog of items was developed to optimize construction resources and execution times. Assembly is done with simple tools and can be easily executed by three operators. The space is fully defined through the use of furniture pieces specially designed to complement the paneling system. The tables were developed so that they have the feature to be combined together to form workstations for collective use.

It Met, CircusBA, Chacarita, Buenos Aires, Argentina
It Met, CircusBA, Chacarita, Buenos Aires, Argentina
It Met, CircusBA, Chacarita, Buenos Aires, Argentina
It Met, CircusBA, Chacarita, Buenos Aires, Argentina
It Met, CircusBA, Chacarita, Buenos Aires, Argentina
It Met, CircusBA, Chacarita, Buenos Aires, Argentina
It Met, CircusBA, Chacarita, Buenos Aires, Argentina
It Met, CircusBA, Chacarita, Buenos Aires, Argentina
It Met, CircusBA, Chacarita, Buenos Aires, Argentina
It Met, CircusBA, Chacarita, Buenos Aires, Argentina
It Met, CircusBA, Chacarita, Buenos Aires, Argentina. Axonometrical view
It Met, CircusBA, Chacarita, Buenos Aires, Argentina. Axonometrical view
It Met, CircusBA, Chacarita, Buenos Aires, Argentina. Axonometrical view

CircusBA, Chacarita, Buenos Aires, Argentina
Program: office
Architects: It Met
Completion: 2015