Inaugurated in 2002 by Mourad Mazouz and Pierre Gagnaire, Sketch is a place dedicated to food, art and music. Each room transports you into a completely different universe: the Lecture Room & Library, the Parlour, the Glade, the East Bar and The Gallery.

Every two years, Mourad Mazouz entrusts The Gallery to an artist, and as of June 2014, it was English illustrator David Shrigley who succeeded Martin Creed. Shrigley has lined the walls of the restaurant with 239 drawings on the subject of life, death and beyond. He has also created a limited edition series of ceramic tableware, made by the Caverswall.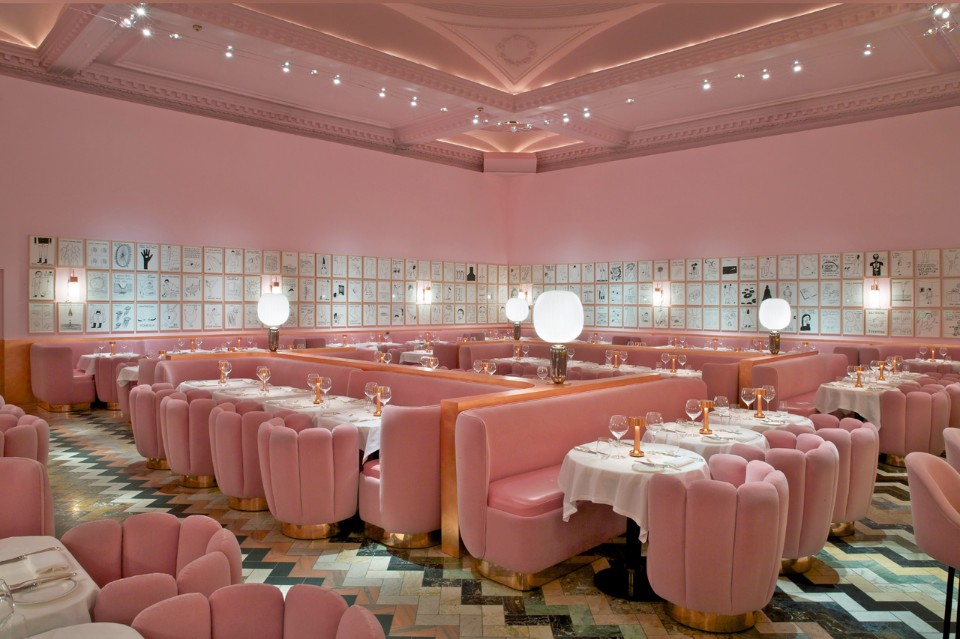 While Martin Creed's flooring had to be preserved in The Gallery, India Mahdavi accepted Mourad Mazouz's invitation to re-invent the rest of the space.
"The location and the space are the starting point to all my projects," says India Mahdavi, "and each project is like an open question, to which there is a unique answer. Each project tells its own particular story."
In contrast to Martin Creed's installation, and in response to David Shrigley's ironic, sometimes unsettling works, India Mahdavi has created a soothing, monochrome interior. With benched seating lining the walls and armchairs made to measure, India Mahdavi has soaked the place in an audacious Hollywood pink to modernise the archetype of the brasserie.
While remaining ever faithful to the avant-garde attitude at Sketch, this harmonious disorder marks a break from the usual eclecticism of The Gallery.


The Gallery, Sketch, London
Program: restaurant
Design: India Mahdavi
Completion: 2015