Born from the collaboration between Gielissen Interiors & Exhibitions, TOTEMS Amsterdam and DVP Europe Eventmarketing, the Dutch Pavilion at the World Expo Milan is truly different than all others: conceived as an anti-pavilion, it is something like a luna park, characterised best as "open festival terrain".
An important component are the so called "rolling kitchens", nine different food-trucks, entrepreneurs from the Netherlands with each their own and unique product and story. Each food-truck has an own story. Each item contributes something to the experience and overall pavilion story.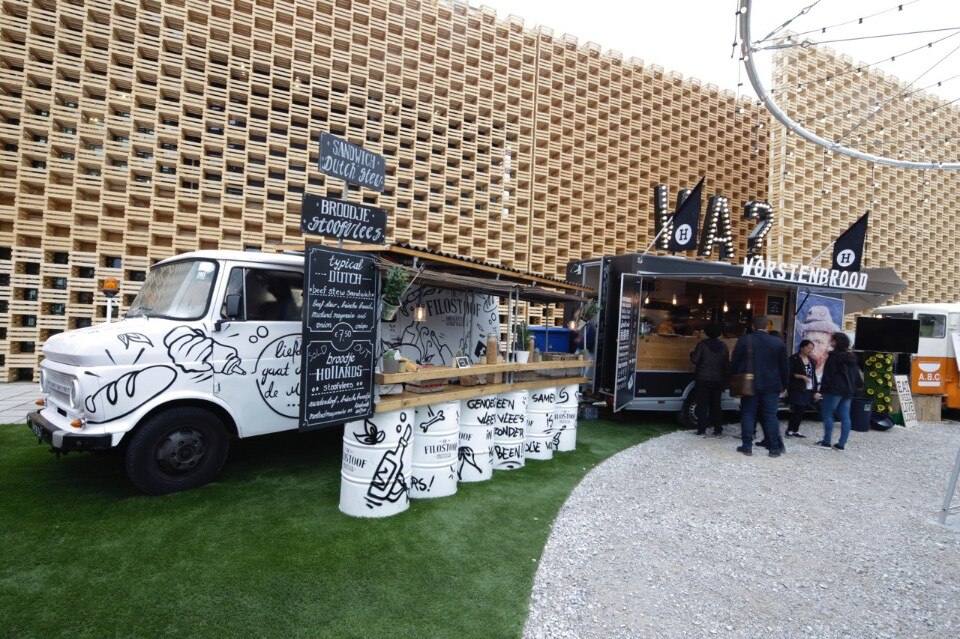 Within the pavilion there is also a Greenhouse – which hosts a shared-dining restaurant. The Greenhouse has a unique roof-top as well.

One of the remarkable highlights is La Molina, the world's only ferris-wheel restaurant.

The Dutch pavilion hasn't a real front door, but is accessible from all sides and recognizable thanks to the large illuminated sign "Holland". Visitors can visit the permanent exhibition, dedicated to the history of the relationship between the Netherlands and the food, and the temporary ones, which explore a series of topics such as nanotechnology or bio-tech, the importance of spices in the kitchen or the curative of foods.

Netherlands Pavilion, "Share, Grow, Live", Expo Milano 2015
Design: Gielissen Interiors & Exhibitions, TOTEMS Amsterdam and DVP Europe Eventmarketing