"My East is Your West", a collateral event of the 56th International Art Exhibition – la Biennale di Venezia commissioned by The Gujral Foundation, unites for the first time at the Biennale the historically conflicting nations of India and Pakistan in a shared exhibition by artists from both countries.
Shilpa Gupta (Mumbai) and Rashid Rana (Lahore) each present a new series of works at the Palazzo Benzon, situated in the centre of Venice on the Grand Canal.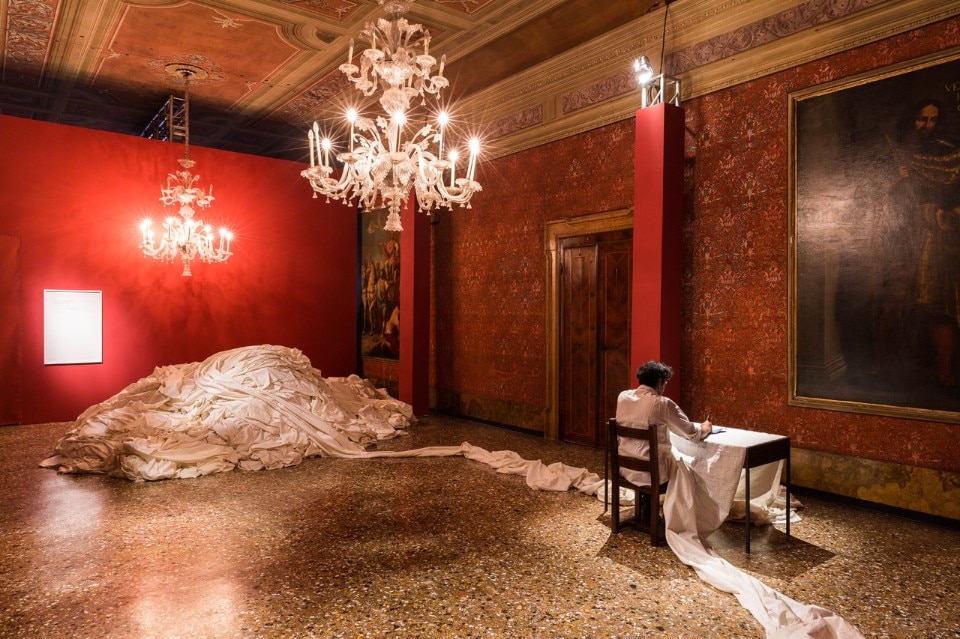 As neither India nor Pakistan has a permanent national pavilion in Venice, this presentation provides a unique platform for artists from South Asia to enter into a dialogue through the arts, representing the Indian subcontinent as one region.
 Titled after a light installation by Shilpa Gupta, "My East is Your West" was born out of the desire to reposition the complex climate of historical relations between South Asia's nation‐states and presents the region as a shared cultural cartography.
Shilpa Gupta's new series of works brings together over four years of ongoing research in the India‐Bangladesh borderlands and the world's longest security barrier between two nation‐states currently in construction. She exhibits works ranging from installation, video, photography, drawings, text‐based pieces and performance.
Among these works, the piece 998.9 – commissioned by Kvadrat – addresses the now more than 3.400 kilometer-long barbed wire fenced border between India and Bangladesh. Stretching from Sunderbans to Teen Math, this fence attempts to shield India from terrorism and smuggling but also creates a potentially lethal boundary for the population in the wetlands of the Bengal delta who live in a volatile environment that is subject to the effects of climate change. To lend a voice to this little known border conflict, Shilpa Gupta created 998.9 which consists of 3,394 meters of hand-woven cloth by the people of Phulia, an Indian Bangladesh border town.
In 2016 Kvadrat will donate 998.9 to Louisiana Museum of Modern Art, Denmark.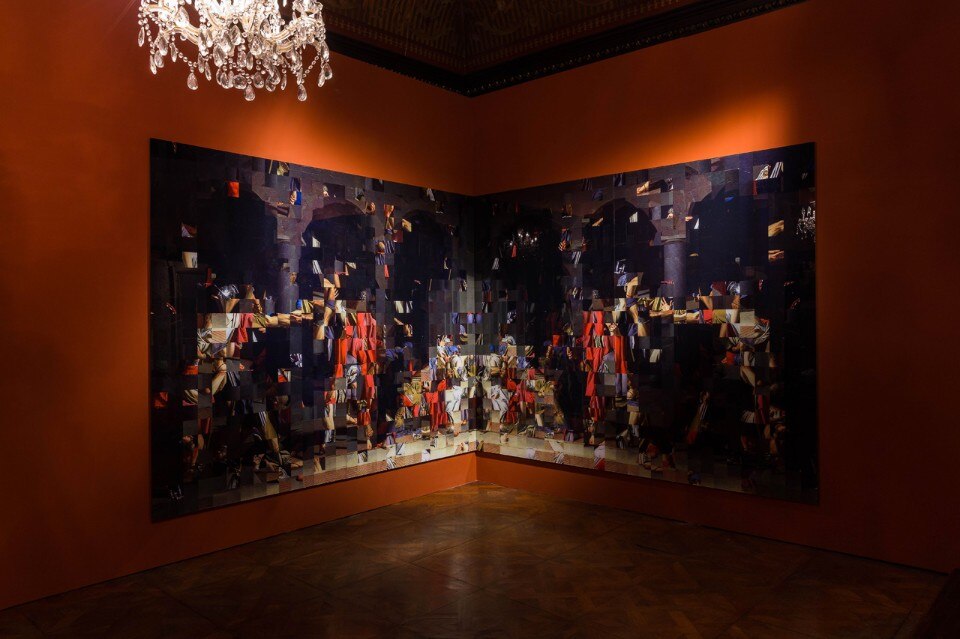 Rashid Rana presents an immersive setting across five rooms surveying the conception of presence, temporality and location as collective experience, across digital printmaking, video and installation. In a live stream video work, produced in collaboration with the Lahore Biennale Foundation, viewers are transported from Venice to Lahore and vice versa.
Reflecting each distinctive practice, both artists explore and examine the integral essence of a people divided, a history which spans antiquity, colonial modernity and a cosmopolitan present entangled in conflict. With works that bring to the foreground entangled realities of the Indian subcontinent, Shilpa Gupta and Rashid Rana develop a material aesthetic that surveys the potential of a common region, separate from the state and its model.

until October 1, 2015
Rashid Rana and Shilpa Gupta
My East is your West
Commissioned by The Gujral Foundation
Advisors: Richard Armstrong, Amin Jaffer, David Elliot, Anupam Poddar, Madhuvanti Ghose
With the support of: The Ford Foundation, The Lahore Biennale Foundation, Serendipity Arts Trust – A Munjal Initiative, International Production Fund, Outset England, Outset India, Rangoonwala Foundation, Radhika Chopra and Rajan Anandan (Google India), Aarti and Amit Lohia (Lohia Foundation), Razi Ahmed (ZZ Ahmed Foundation), Dinesh Vazirani (Safron Art), Rattan Chadda, Arif Rangoonwala, Raju & Donna Chadha
Production partners: Lisson Gallery, Galleria Continua San Gimignano / Beijing / Les Moulins, DLF Limited, Kvadrat, Habib Bank Limited
A special thank you to: Christie's, Lanza & Buccina, Chemould Prescott Road, Vadehra Art Gallery
Palazzo Benzon
calle Benzon, San Marco, Venezia