"FUHA" is the enigmatic title chosen for an exhibition that features Fabrica in collaboration with Daikin for the second year running at the Fuorisalone. It actually represents a poetic and telling synthesis of the sound of the human breath: FU is the action of blowing cold air out of the mouth and HA that of blowing out warm air.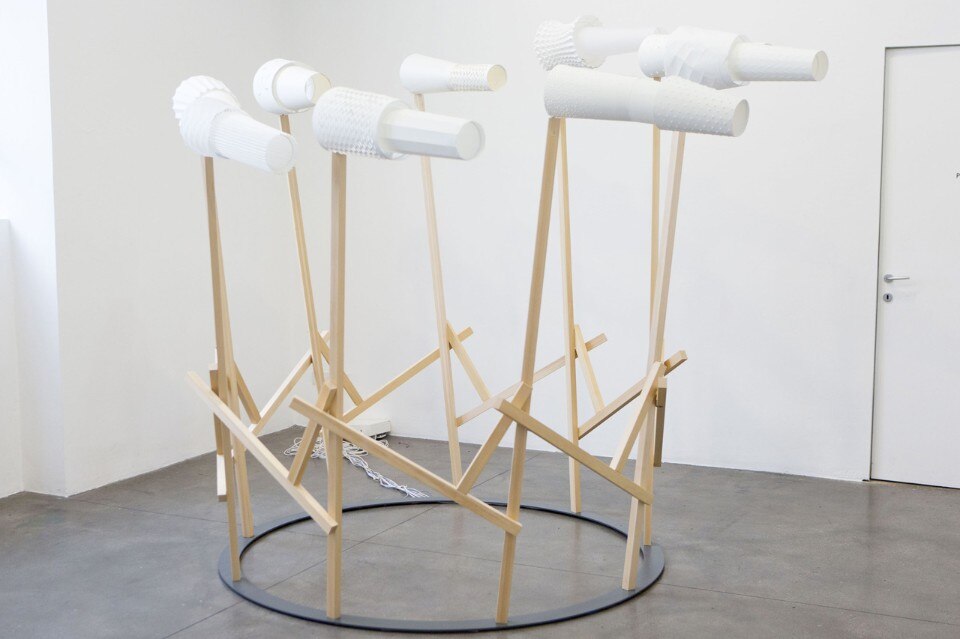 "The brief for this exhibition was to design air, think how air could become a protagonist of design", explains Sam Baron, artistic director of the exhibition and director of the Fabrica design department. "The resulting mise en scène is a highly poetic illustration of what air means to our lives, from a growing tree to the air in our bodies, from its innermost effects to the whole world on an infinite scale."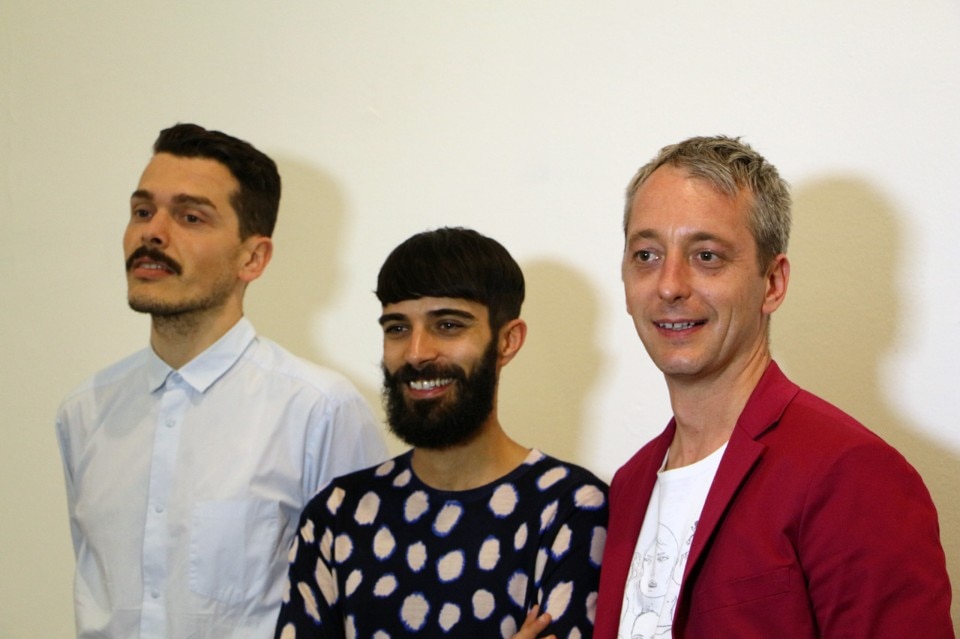 Twenty young designers coordinated by Formafantasma as guest art directors and Giorgia Zanellato collectively created ten installations with an equally poetic colophon: a number of glass vases blown by each of them and a plate bearing their names and the strength of their breath.
The works on show unveil air's various qualities, making them tangible: an interactive printer records on paper the movement of the breath according to the user's lung capacity; the weight of air is made clear by an installation displaying the reciprocal tension between several elements; and a series of drawings in Japanese ink wash illustrates the effects of air over time via a growing tree. Water is another element present in the exhibition: in Leonardo's great machine, showing its synergy with air via a large fan that moves water to activate smaller fans connected to each other.
Fabrica with Formafantasma, "FUHA", view of the exhibition
Fabrica with Formafantasma, "FUHA", view of the exhibition
Fabrica with Formafantasma, "FUHA", view of the exhibition
Fabrica with Formafantasma, "FUHA", view of the exhibition
Fabrica with Formafantasma, "FUHA", view of the exhibition
Fabrica with Formafantasma, "FUHA", view of the exhibition
Fabrica with Formafantasma, "FUHA", view of the exhibition
Fabrica with Formafantasma, "FUHA", view of the exhibition
Fabrica with Formafantasma, "FUHA", view of the exhibition
Fabrica with Formafantasma, "FUHA", view of the exhibition
Fabrica with Formafantasma, "FUHA", view of the exhibition
Fabrica with Formafantasma, "FUHA", view of the exhibition
Fabrica with Formafantasma, "FUHA", view of the exhibition
Fabrica with Formafantasma, "FUHA", view of the exhibition
Fabrica with Formafantasma, "FUHA", view of the exhibition
Fabrica with Formafantasma, "FUHA", view of the exhibition
Fabrica with Formafantasma, "FUHA", view of the exhibition
Fabrica with Formafantasma, "FUHA", view of the exhibition

April 14–19, 2015
FUHA – The expression of air
Foro Bonaparte 60, Milano