Bin is a "rubbish station for the urban office".
The more and more increasing urbanization drives working people to the supermarket or to a nearby take away for lunchtime. They take the meal along to the office in the typical white plastic bags from the reel. Afterwards the leftovers end up in the trash together with the plastic bag.
To diminish this wasteful and environmentally unfriendly waste of plastic material, Bin provides the opportunity of a reuse of the plastic bag. In very few movements the plastic bag is fixed on the two lugs and in no time a rubbish station for the urban office is formed.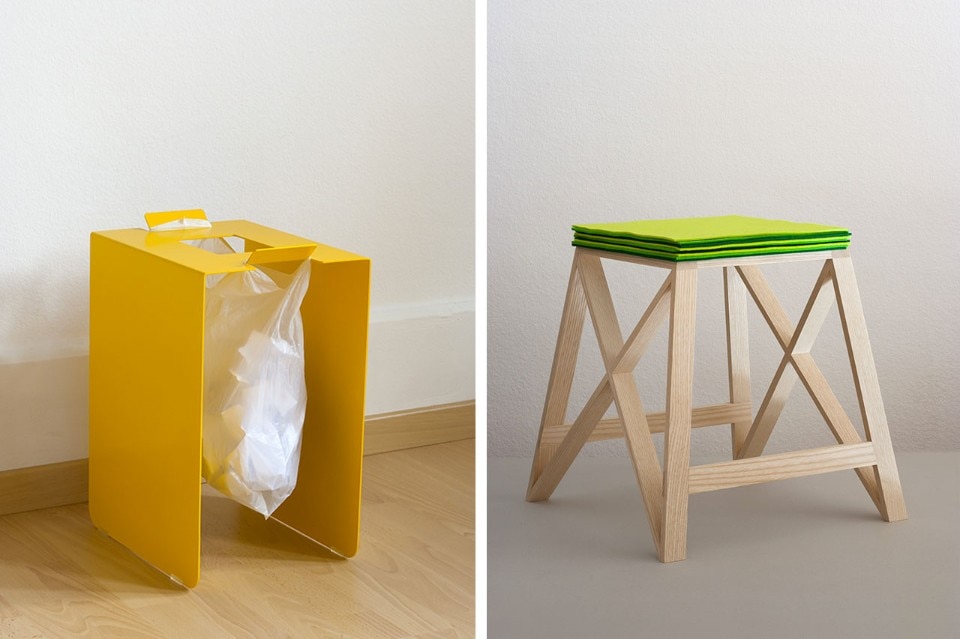 The aim of the Filix project was to define the most delicate stool construction in solid wood. Traditional wood joining methods and a base frame built with crosses generate the required stability and rigidity. Despite the use of solid wood Filix is extremely lightweight and enables to reposition with effortless ease. Besides an ideal sitting height the stool provides the opportunity of a comfortable rest for the feet.
Filix impresses with its filigree form language, with fresh, in nature tones coloured wool felt of the seating surface and with a gentle ash wood grain. Filix supports the lifestyle of the more and more mobile people.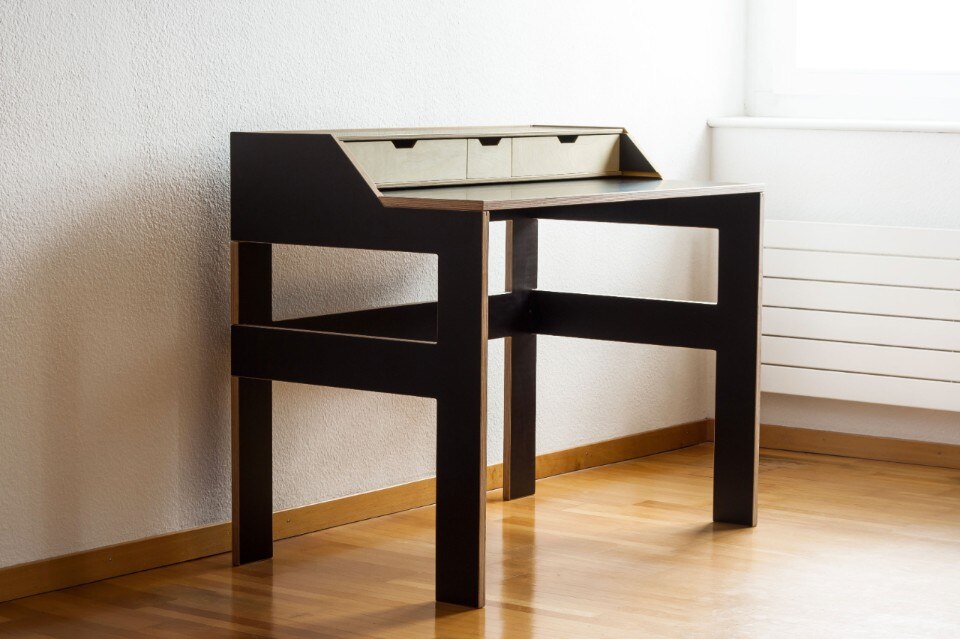 Secmex is a clever secretary for the modern living nomad. Composed of a couple of plate elements the desk is built and taken to pieces within a few easy steps any number of times. An Allen key suffices to unlock the Lamello Clamex joint and secmex is moved very simple and quickly.
Functional and smart in its shape Secmex is the convenient place for the work with a laptop, smart phone & Co. With its measurements the desk is ideal to place also in smaller rooms where a work area is to be integrated.
In addition to the hinged shelf on top of the secretary there are storage possibilities in three drawer boxes for A4 documents, pencils and writing utensils and technical auxiliary equipment. A cable outlet in the rear panel enables a comfortable electricity supply. By pulling out the tabletop for another 20 cm to the blockage Secmex provides more- over enough space for the daily home office work.