Devoted to the theme of balance, the Lithuanian Pavilion at Expo presents a country of deep traditions and set of high technology, its people are able to combine the innovations of modernity with an ancient culture.
The idea is expressed in two identical volumes, which are compared in balance, linked by ramps that makes a challenging route during which people access two different exhibitions.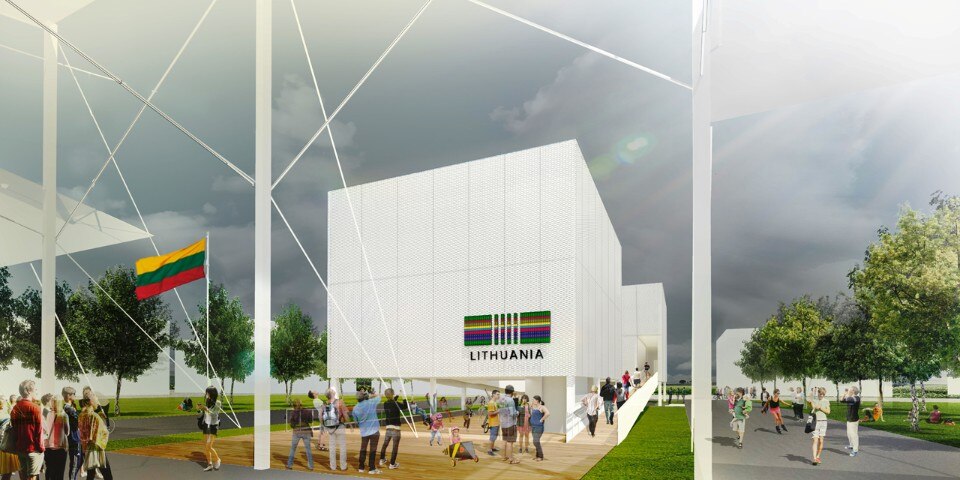 The first part of the exhibitions presented the history of the country with images of nature of Lithuania, the old recipes for the preparation of the food, the customs of the ancestors and crafts that reflects the traditions and culture of Lithuania.
In the second space will be presented new technological Lithuania, innovative solutions and their practical applications. Here will be shown images of modern agriculture. Modern agri-food companies simultaneously will be presenting the most interesting products of the country, which can  be tested in the course of the tasting, or ordered at the bar or even bought at the shop set up in the same room.
The exhibition continues in the semi-open outdoor space that will held interactive art installations, events and an open air restaurant.
At the ground floor a continuous, united space contains an area for events, leisure and restaurant. The volume A at the first floor contains a showroom with a wine and food tasting bar, a souvenir shop and a meeting room at the second floor. The volume B at the first floor contains an exhibition hall and at the second floor administrative offices, servis rooms and storage spaces.
Ramps visually recalls the balancing motion that the two volumes have to maintain "equilibrium" starting at the beginning and ending at the exit of the exhibition.
The pavilion built of a steel structure that will allow quick and easy installation and equally simple dismantling work as Expo will be over. The outside walls are marine plasterboards covered with metal grill at all sides of the volumes A and B.
The stability of the construction is ensured by the truss structures provided in both boxes along the entire perimeter of the second floor. Structural towers of the elevators as stabilizing elements are installed also. The roofs of both pavilions are covered with grass. The ramps and horizontal walkway made of steel structure. For interior partition walls are used plasterboard panels. All technical systems are housed in a vertical shaft specially designed next to the elevators, while all technical facilities are housed in horizontal space under the raised floor and ceiling in the spaces between the beams.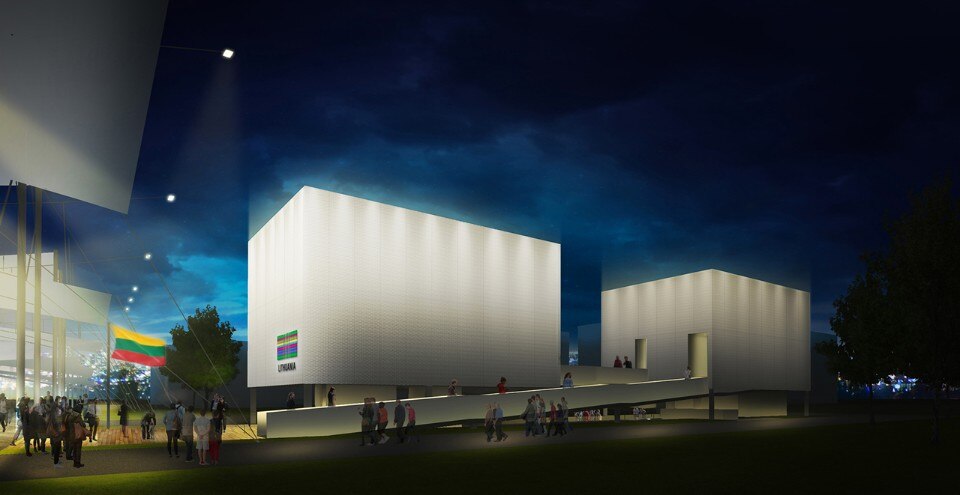 Lithuanian Pavilion, Balance, Expo Milano 2015
Architects: JAS
Structure Engineering : Ribinis Buvis
Architect of record, Construction administration: WOA Workshop of Open Architecture
Structure engineering: Studio Sarti Ingegneria
Engineering: AI Group
Contractor: Bodino Engineering
Client: Repubblica di Lituania, Ministero dell'Ambiente
Area: 950 sqm
Completion: 2015