The project is a residential unit in a continuing generation neighborhood, planned as an extension to the kibbutz located in the northern part of the Israeli coastal strip, adjacent to the Mediterranean Sea.
The semi-detached house was the chosen model out of a number of models presented to the customer. The selected model was not designed for a specific customer; it is trying to answer an anonymous architectural program.
The project dealt with the issue of a makeover from an anonymous residential unit of 200 square meters to a personal and specific residential unit that responds to the needs and loves of a young couple in transition for a small family.
The home owner who was born in the city of Nahariya and her husband, who was born and raised in the kibbutz, set a challenging architectural program which contains natural contemporary materials, large spacious spaces, especially stressed the need for a public space that will accommodate their many friends in comfort and fun.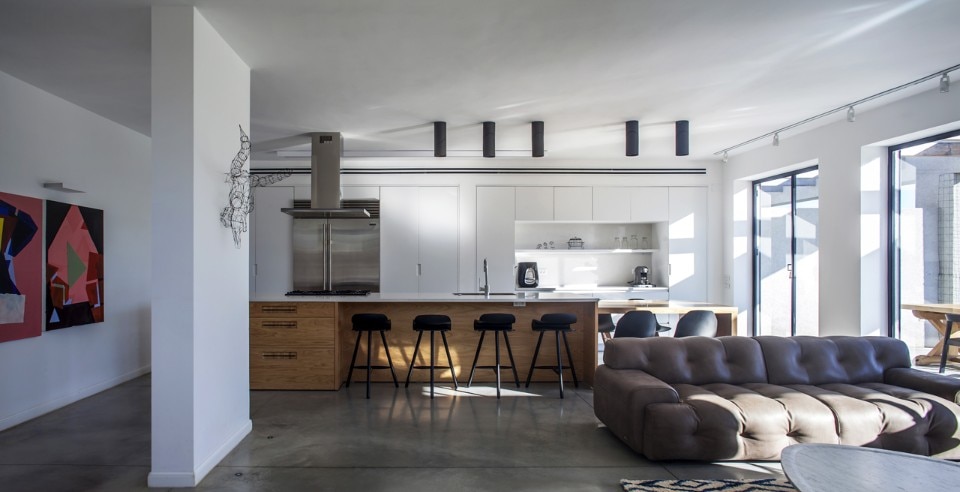 The program chosen by the studio for downstairs is a living room and kitchen, adjacent to a front yard, a guest accommodation unit, office, guest bathroom and utility room.
The master bedroom was placed in the second floor and adjacent to it is an open studio space towards the stair hall, which operates as a flexible space that can be altered in accordance with the future family needs.
The foyer is designed to be the largest space in the house and contains the kitchen, which was designed as a system containing a combination of storage element adjacent to a white painted wall, integrated in the surrounding walls.
The top floor was designed to preserve the building's slope tiled roof structure. This slope ceiling was covered from the inside by male-female 33mm oak boards which were painted in shiny white finish.
The master bedroom is planned as a spacious loft and contains a sleeping area, wardrobe space, make-up unit, shower and toilet.
The materials in the house contain a combination of natural oak with gray and black shaded concrete, joined by black and rusty iron and sand sprinkled transparent glass. The colors contain a scale of black, gray, pale blue, white, joined by textures and finish ranging from shiny to mat and from smooth to the raw and rough.

Henkin Shavit Architecture & Design, A Modern Kibbutz House, Kibbutz Lohamei HaGeta'ot, Israel
Henkin Shavit Architecture & Design, A Modern Kibbutz House, Kibbutz Lohamei HaGeta'ot, Israel
Henkin Shavit Architecture & Design, A Modern Kibbutz House, Kibbutz Lohamei HaGeta'ot, Israel

A Modern Kibbutz House, Kibbutz Lohamei HaGeta'ot, Israel
Program: single-family house
Architects: Henkin Shavit Architecture & Design (Henkin Irit & Shavit Zohar)
Area: 200 sqm
Completion: 2014