The Pavilion of Republic of Latvia represents the idea that sustainable development is reached through an healthy ecosystem, where all material and immaterial values are in balance.

The open space of the pavilion – the space "Under Branches" – is the place where everyone can feel the energy of the Latvian ecosystem. In this space visitors can enjoy the journey of light, sound and smell, and within that emotional experience one can get to know Latvia.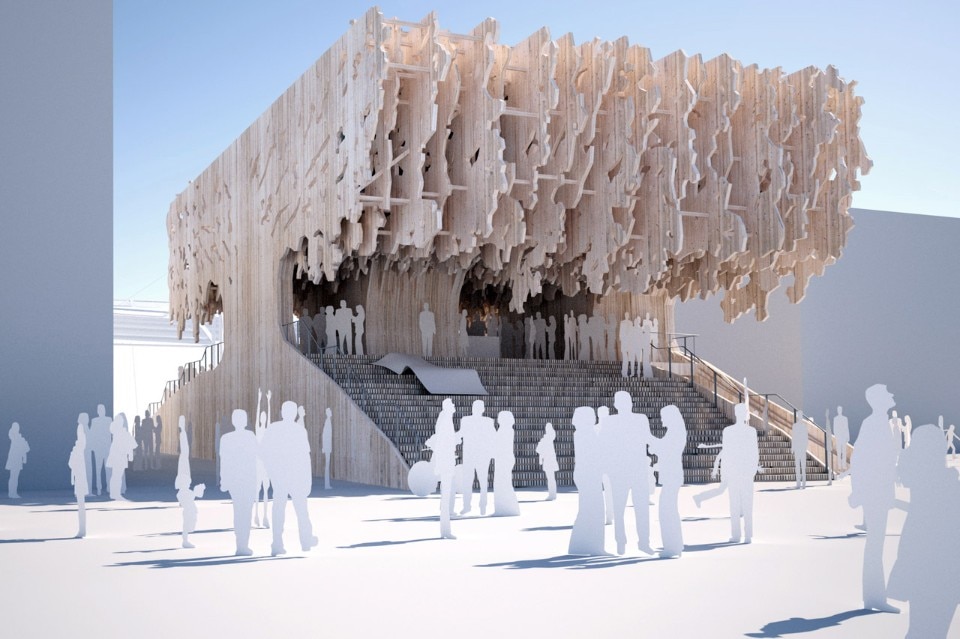 Within the "Roots" there are the kitchen, the service rooms, the store rooms, the changing rooms and the closed exhibition space. The entrance to the Roots is planned from Cascina Triulza, next to the amphitheater of the Under Branches space. The exit from exhibition space is planned to the side street.
Within the "Leafage" there are the conference center and the office space.

The construction of pavilion will use wooden materials as much as possible, which includes cross laminated timber (CLT), plywood, massive wood and insulation of wood fiber. The main frame of construction is made of steel, which is upheld on the concrete basement plate.

Latvian Pavilion, Apiary of Life, Expo Milano 2015
Architects: MADE arhitekti
General Commissioner: Roberts Stafeckis (Ministry of Economics)
Producers: Ģirts Majors, Linda Andersone, Andis Zusts (Positivus Event)
Managing director of the Pavilion: Elīna Vikmane
Artistic director of the Pavilion: Sigvards Kļava
Artists: Rolands Pēterkops (MAREUNROL'S), Voldemārs Johansons, Roberts Rubīns, Anda Poikāne, Dainis Pundurs
Construction supervisor: Jānis Zolbergs (Forma2)
Visual identity: Design agency 'Brandbox', branch of McCann WoldGroup Riga
Area: 1,147 sqm