The Vitra Campus was first opened up to the public with the 1984 sculpture Balancing Tools by Claes Oldenburg and Coosje van Bruggen. Next came the Vitra Design Museum by Frank Gehry (1989), the Conference Pavilion by Tadao Ando (1993) and the VitraHaus by Herzog & de Meuron (2010).

The Vitra Slide Tower and the new Álvaro Siza Promenade further open up the grounds to the public and offer visitors a new experience. At the same time, the tower reinforces the topographical reorientation of the Campus.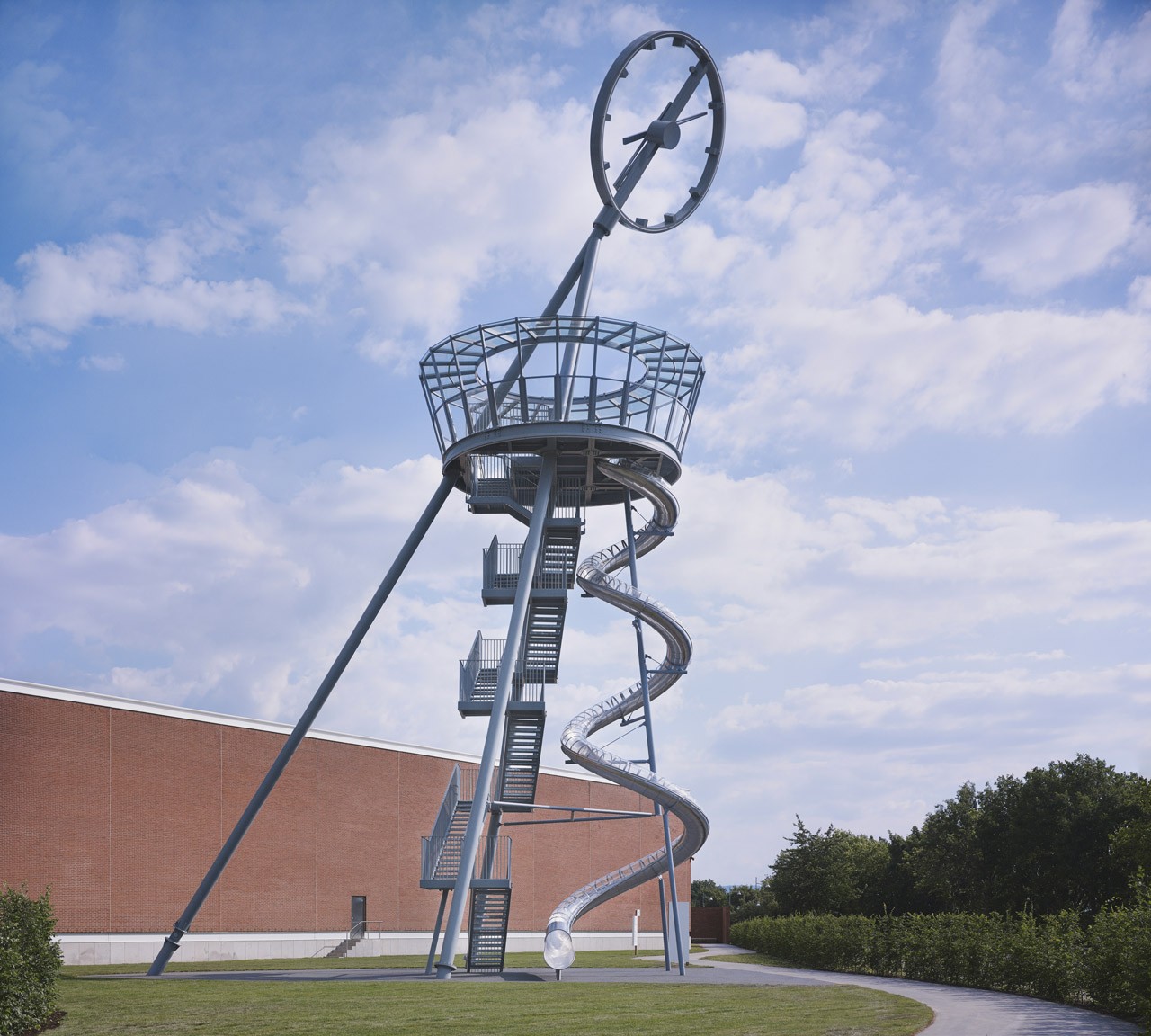 The Fire Station by Zaha Hadid is to be made more accessible to the public. The path from the VitraHaus to the Fire Station was created by Álvaro Siza as a passage with architectural 'episodes' and new landscaped spaces. Höller's Vitra Slide Tower underscores the routing of the new pathway while simultaneously operating as a fully independent element.

Slides are a specific element in Höller's work. In 2006, he constructed the giant slide installation Test Site in the Turbine Hall of Tate Modern in London.
In earlier works, Höller investigated the question of happiness; he constructed carrousels to provide a tangible experience of the sensation of flying; walls of light confound the sense of space; reverse vision glasses make the world appear inverted (1994–2009); and with the Phi phenomenon (1994) he provokes sensory illusions. In such ways, Höller undermines accustomed forms of perception, calling on the participation of the viewer with his experimental set-ups and creating opportunities for self-experimentation. Höller's installations are sculptures of discovery. They offer the possibility of inner experiments leading to the exploration of self. In this concept of the experiment, Höller the scientist remains present.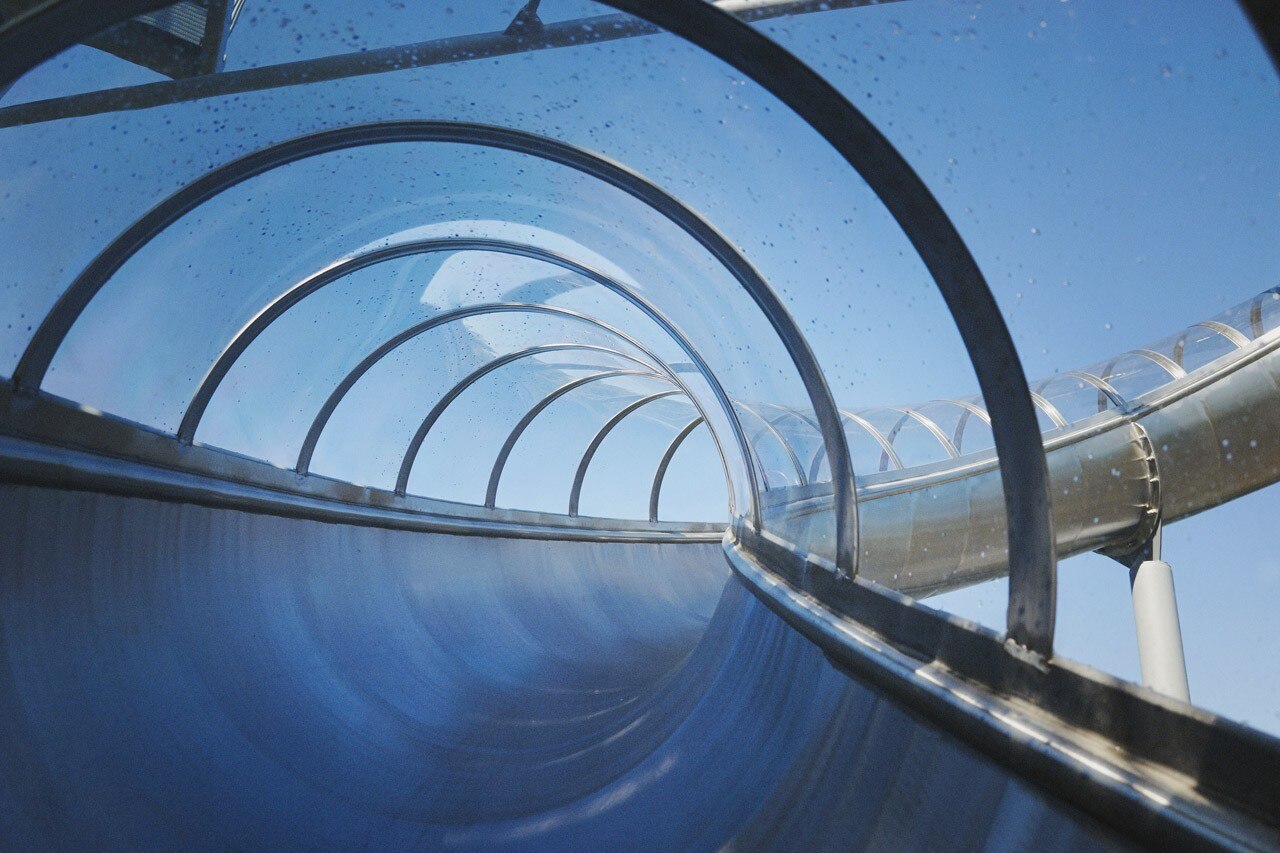 The Vitra Slide Tower consists of three diagonal columns that meet at the top, with a revolving clock mounted at their point of intersection measuring six metres in diameter. The tower can be ascended by visitors and is vertically accessed via a double-flight staircase fitted into the slanted columns with intermediate landings. A viewing platform at a height of 17 metres offers new perspectives of the Vitra Campus and the surrounding landscape. The platform also serves as the starting platform for the 38-metre-long corkscrew tube slide.
With a diameter of six metres, the clock is mounted at the point of intersection where the diagonally slanted columns come together at the top. It is visible from a distance and illuminated at night, but has no numbers. It is not clear whether the hour mark vertically positioned at the top indicates twelve o'clock or the mark corresponding to the diagonal of the columns. Every twelve hours, the hands will form the Vitra logo for a few brief moments. The clock turns on its own axis, thematically addressing time but not facilitating a practical reading of the time.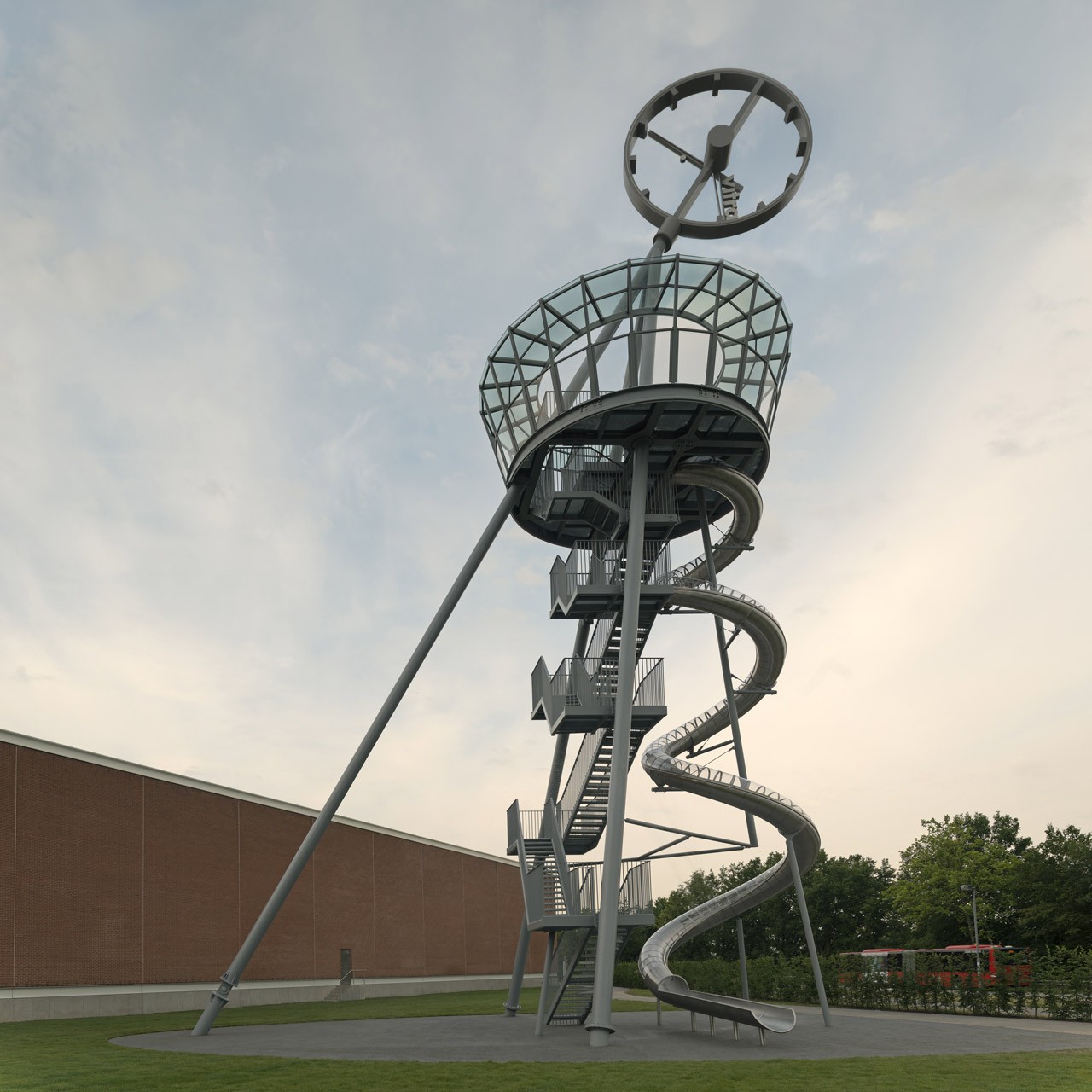 ''A slide is a sculptural work with a pragmatic aspect, a sculpture that you can travel inside. However, it would be a mistake to think that you have to use the slide to make sense of it. Looking at the work from the outside is a different but equally valid experience, just as one might contemplate The Endless Column by Constantin Brancusi from 1938. From an architectural and practical perspective, the slides are one of the building's means of transporting people, equivalent to the escalators, elevators or stairs. Slides deliver people quickly, safely and elegantly to their destinations, they're inexpensive to construct and energy-efficient. They're also a device for experiencing an emotional state that is a unique condition somewhere between delight and madness. It was described in the fifties by the French writer Roger Caillois as 'a kind of voluptuous panic upon an otherwise lucid mind'''. Carsten Höller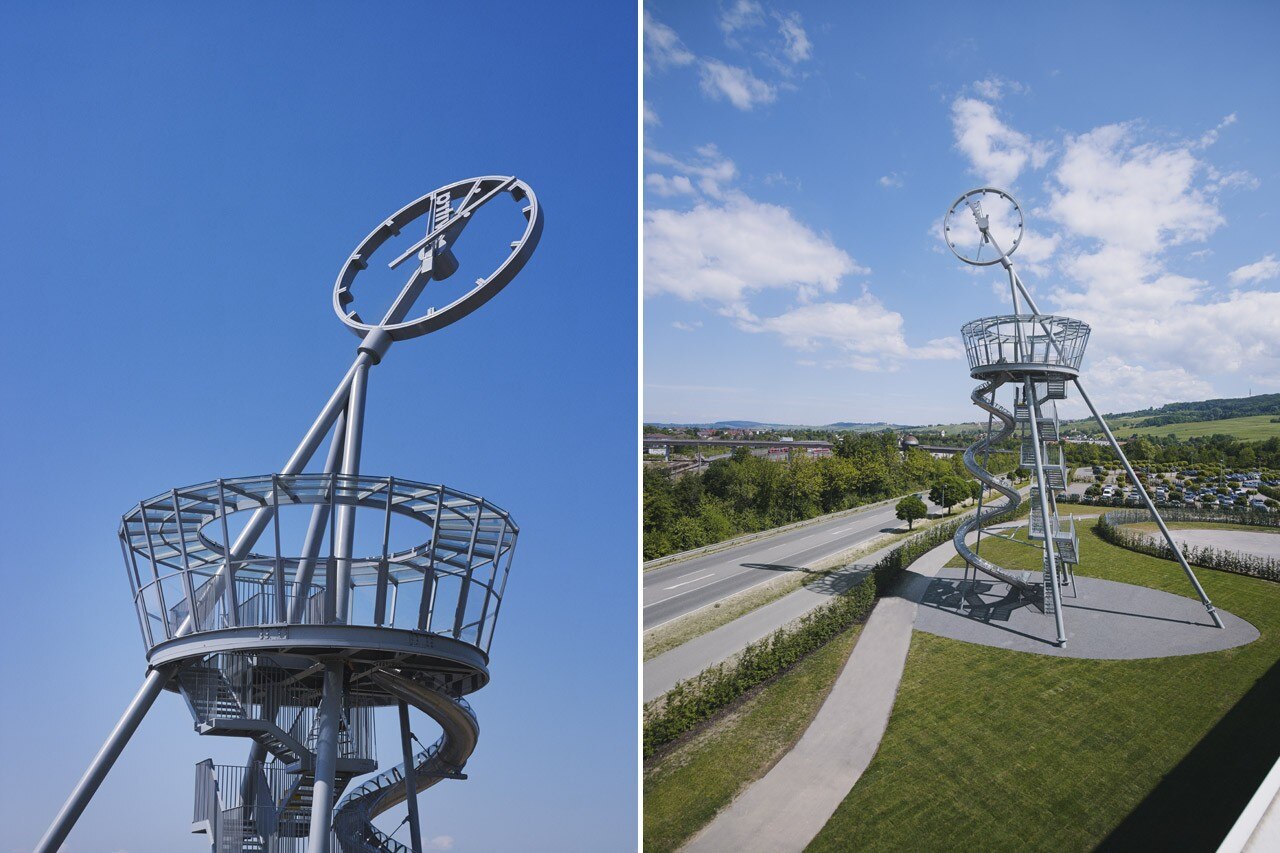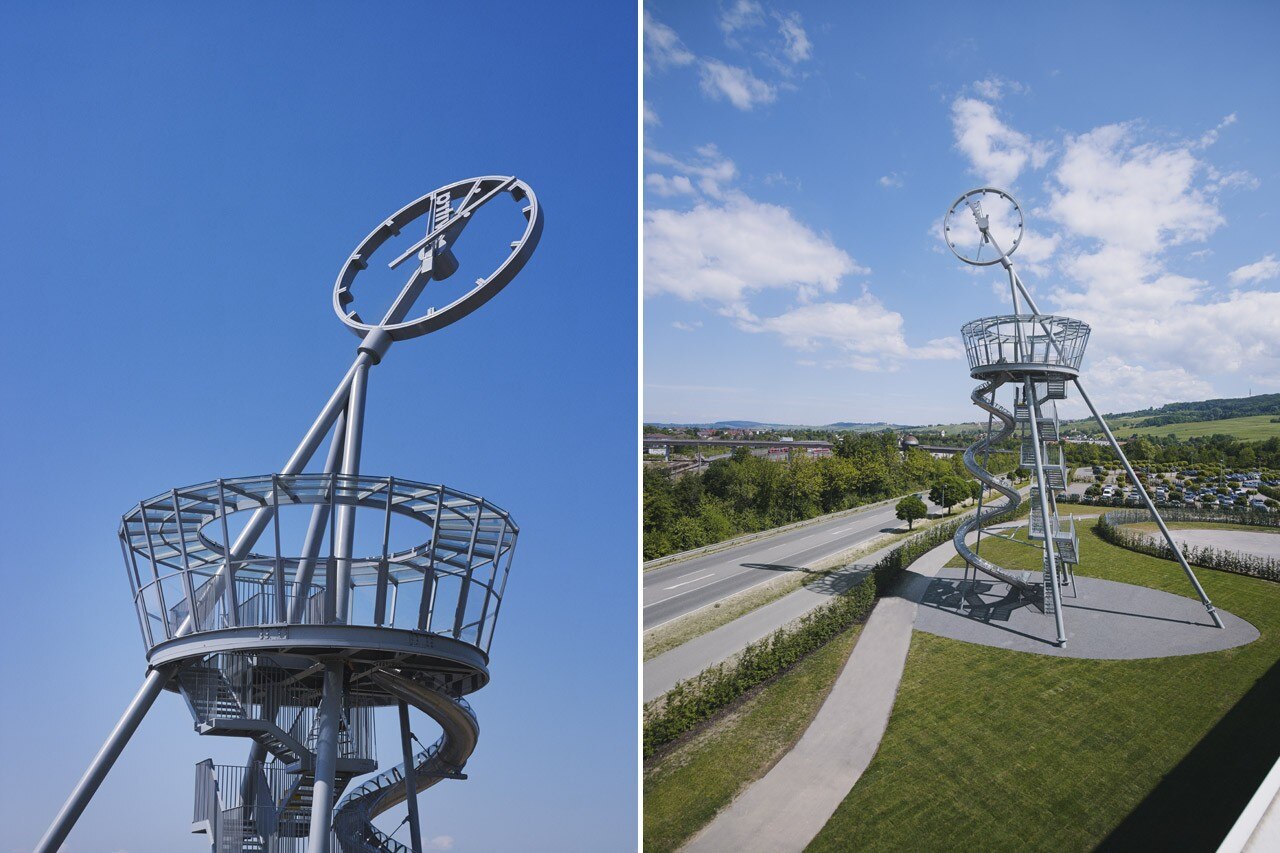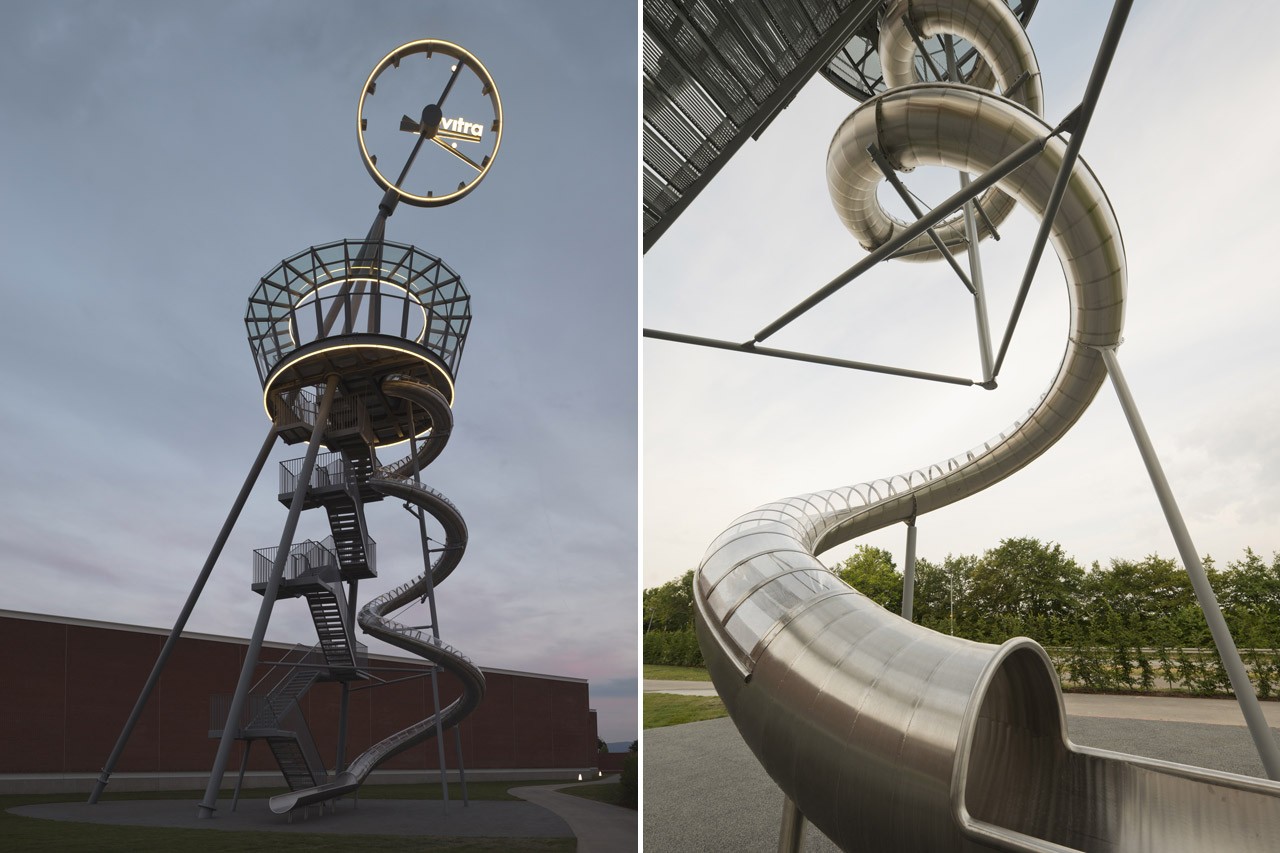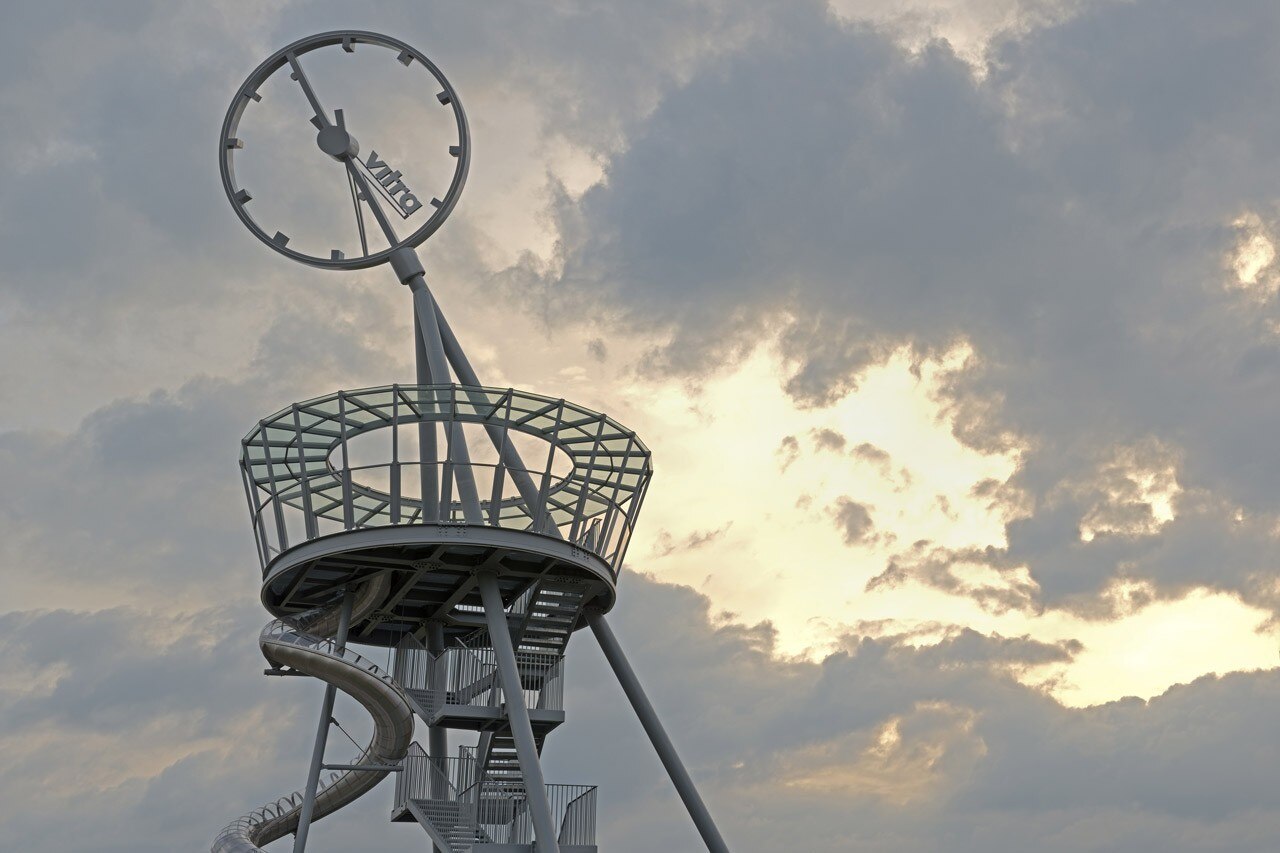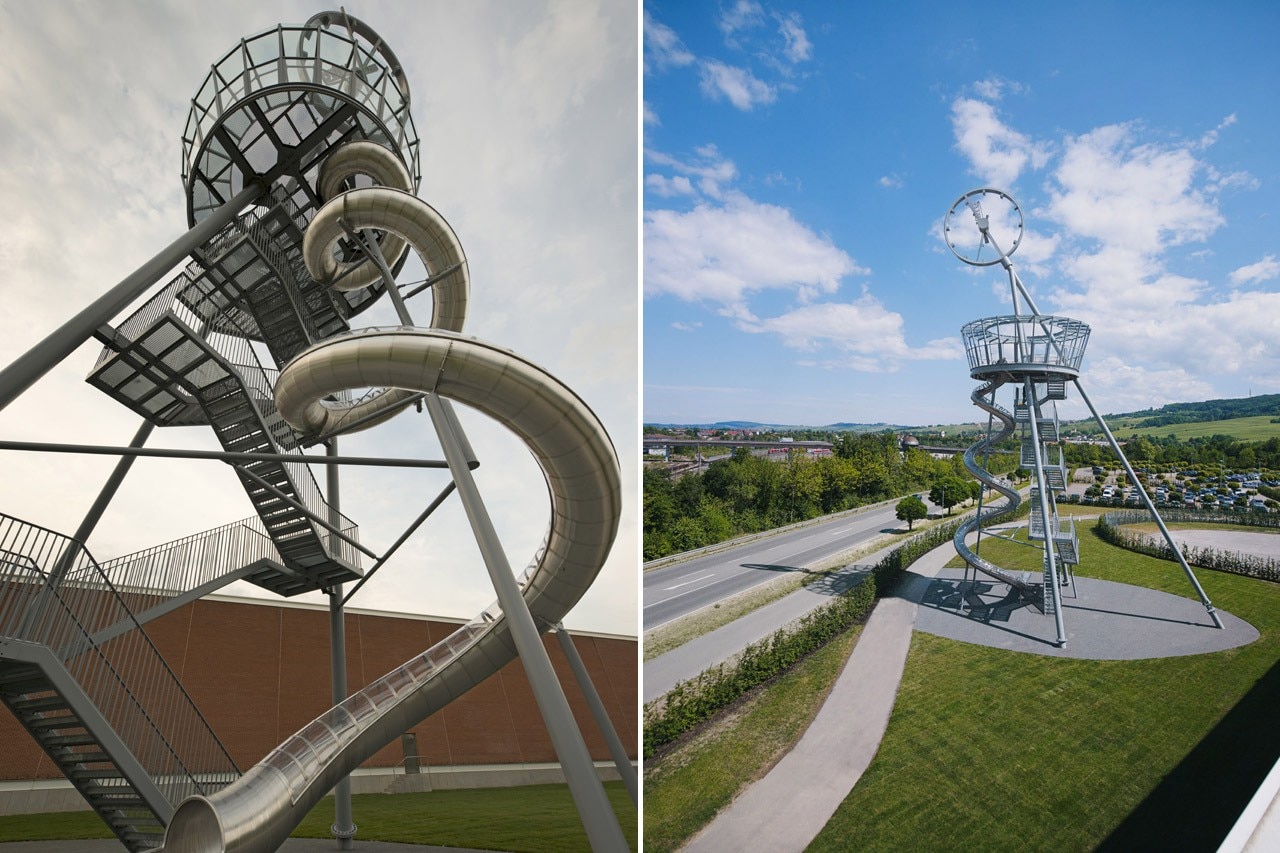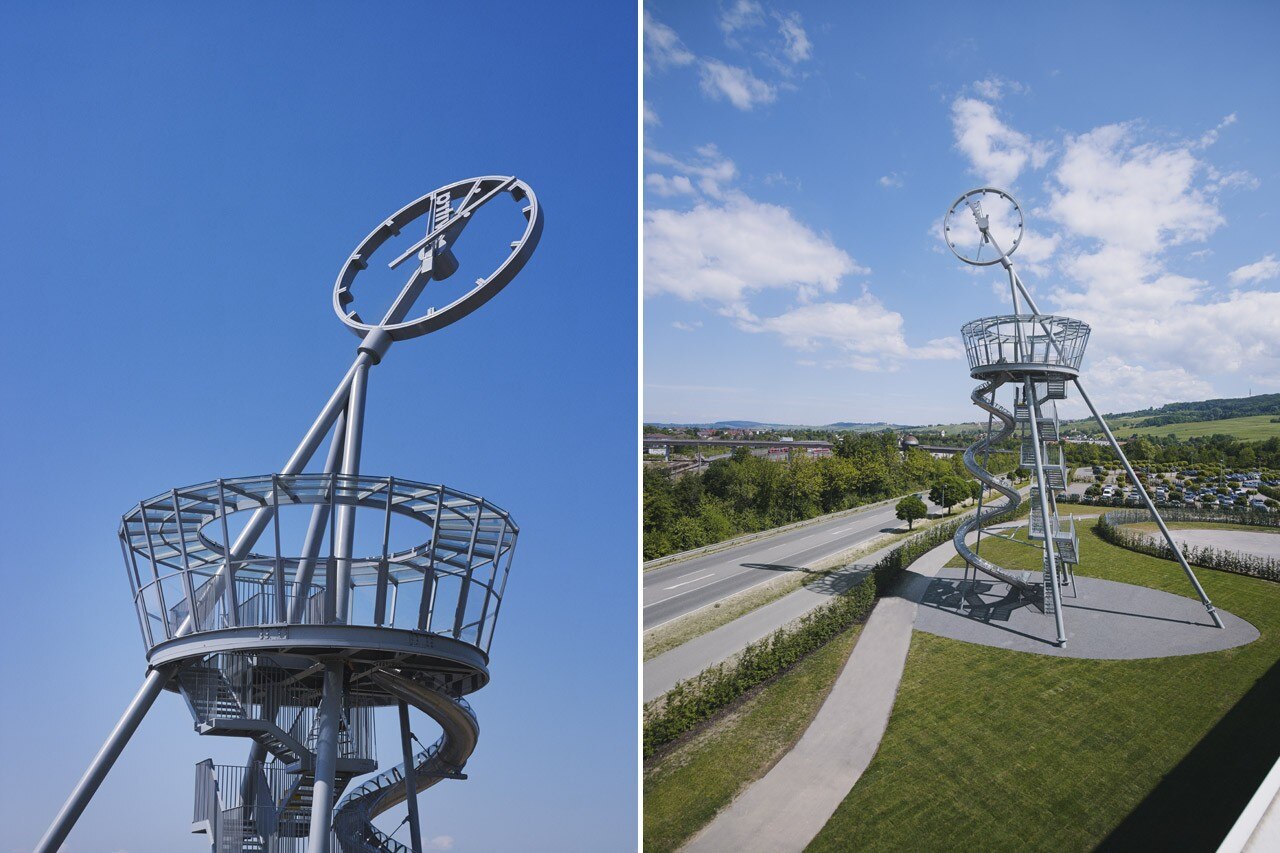 Com_vitra_Carsten_Holler_Tower_20140616
Carsten Höller, Vitra Slide Tower, Weil am Rhein, Germany. Photo Julien Lanoo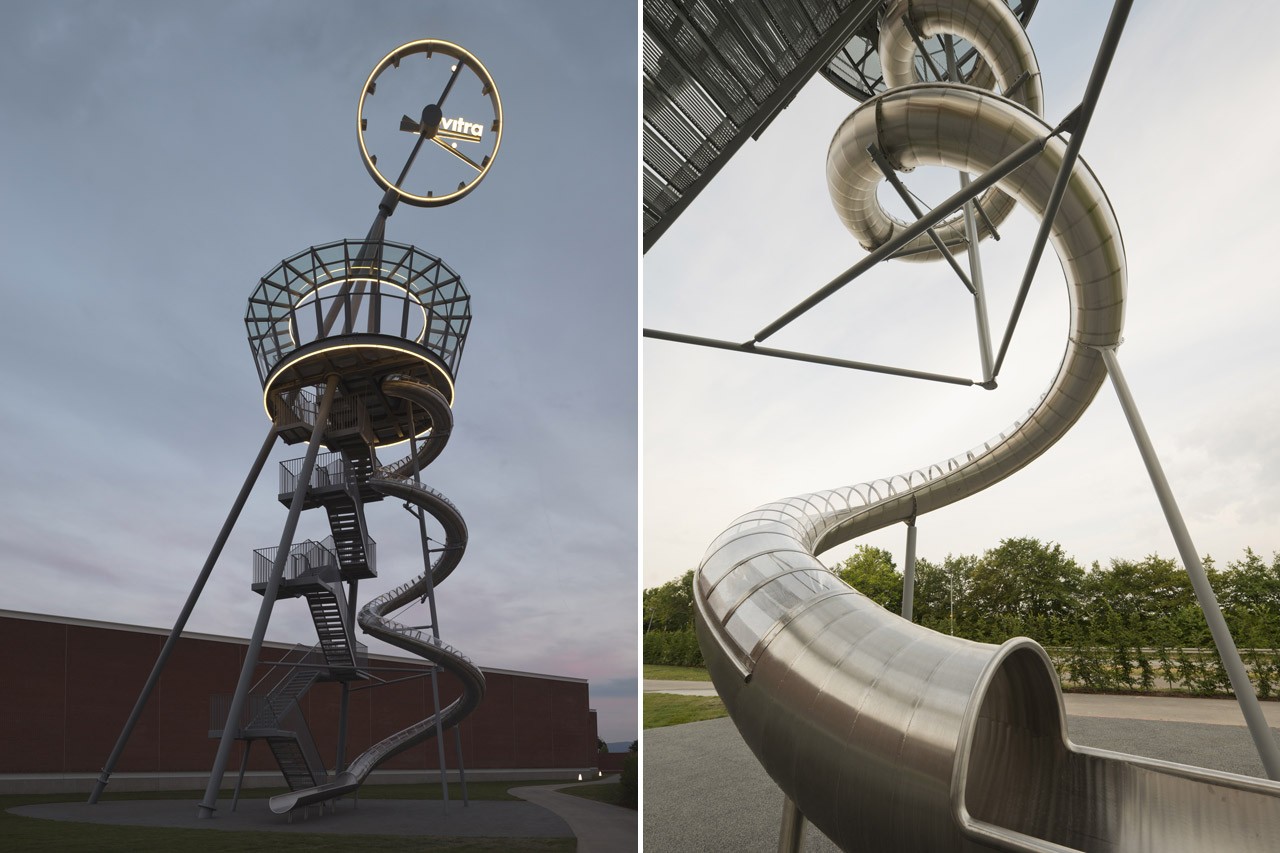 Carsten Höller, Vitra Slide Tower, Weil am Rhein, German.: Photo Attilio Maranzano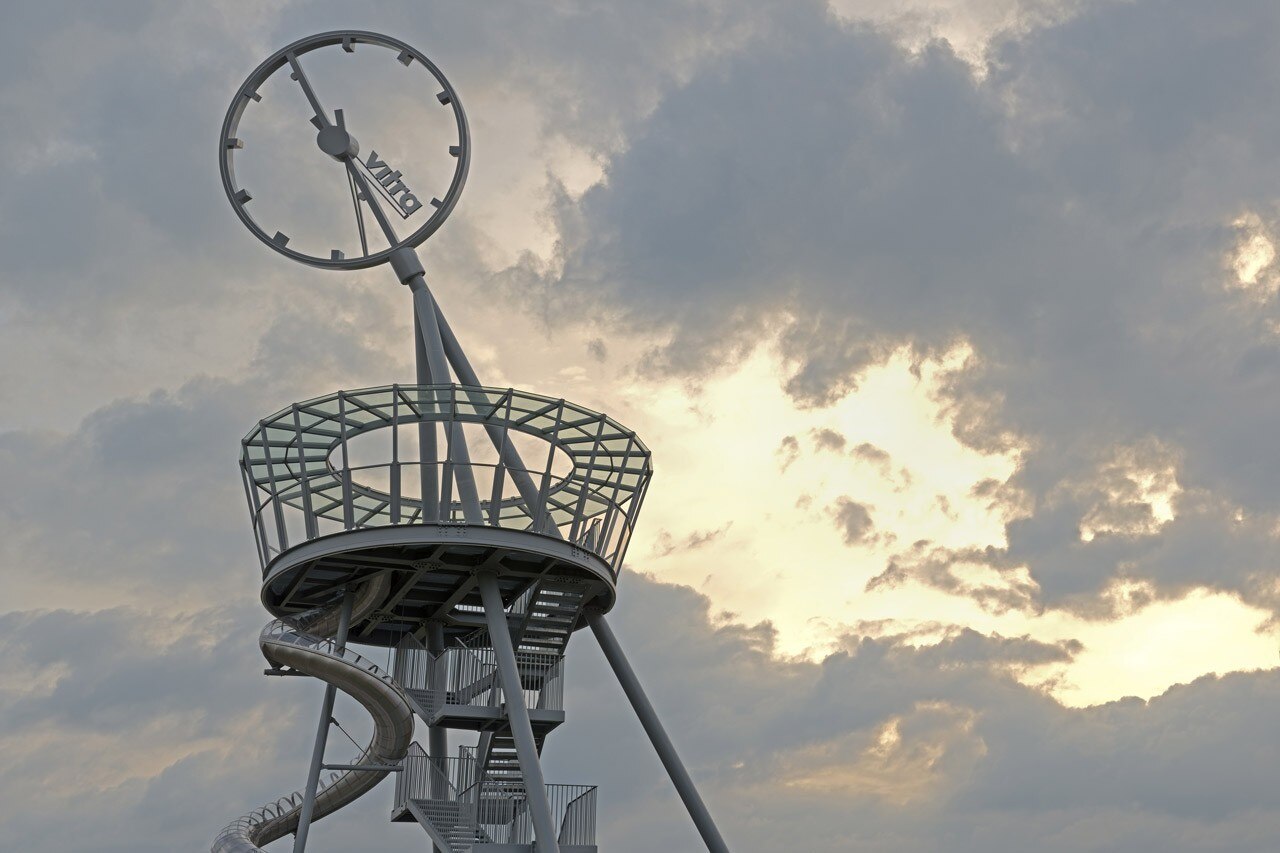 Carsten Höller, Vitra Slide Tower, Weil am Rhein, Germany. Photo Attilio Maranzano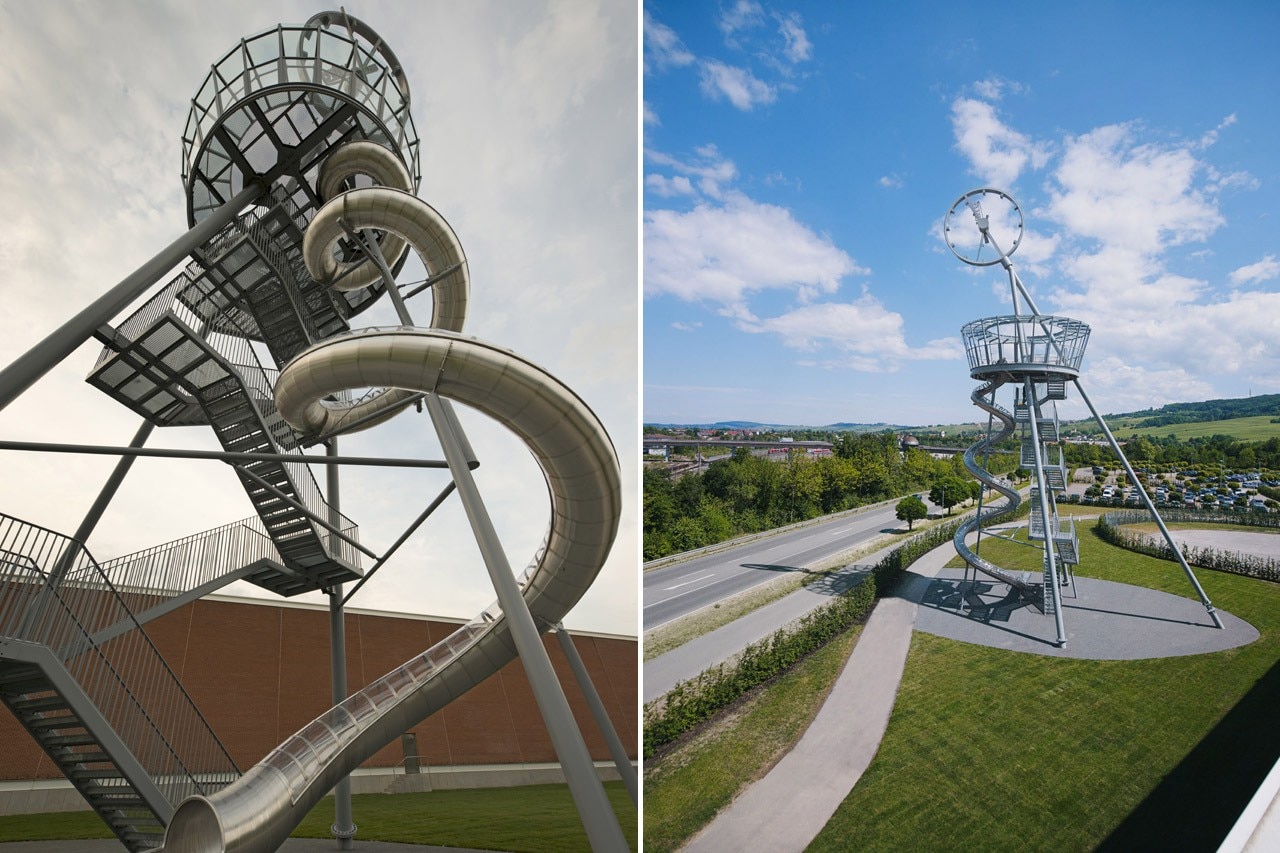 Com_vitra_Carsten_Holler_Tower_20140616
Carsten Höller, Vitra Slide Tower, Weil am Rhein, Germany. Left: photo Attilio Maranzano. Right: photo Julien Lanoo

Vitra Slide Tower, Weil am Rhein, Germany
Program: viewing tower
Design: Carsten Höller