Jabłka Adama ("Adam's Apples") is a new store with Apple computers in Poznań.
Architects were inspired by the name of the store – a combination of apples from Apple company and the name of one of the owners – Adam. The main theme of this interior became the apple fruits and everything that goes with them.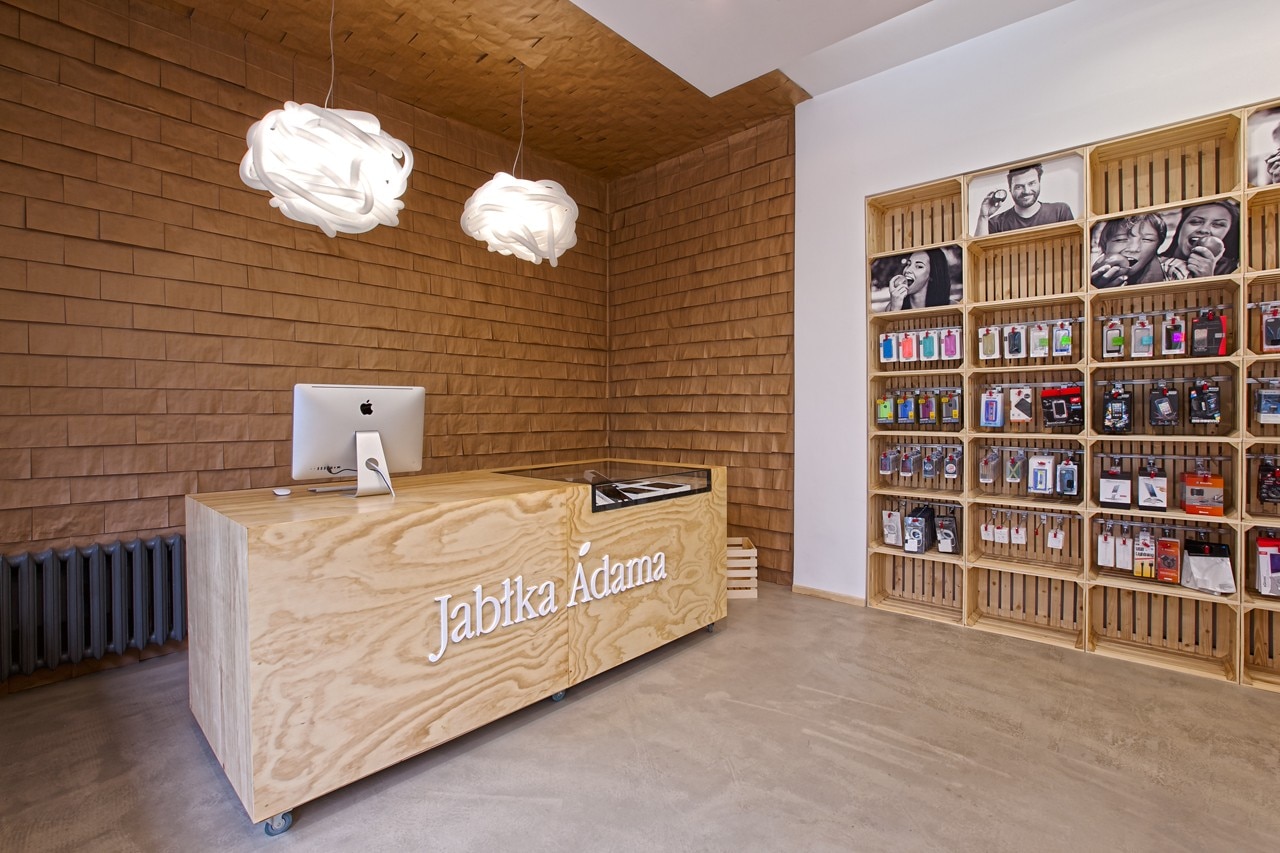 Typical exposing table was exchanged for a stall on wheels, built with wooden frames. Similar to the stall, a customer service point was designed as a simple, big wooden box.
Wooden boxes, usually used for selling fruits, this time, went on the store's walls to hold accessories.
As paper bags are usually used as a package for apples, architects came up with the idea to reuse them on store walls. Duplicated and superimposed, they create an outstanding yet raw and eco detail.
Along huge windows, designers placed long, comfortable bench with pillows that makes interior more cosy and provides more comfy time while shopping.

mode:lina architekci, Jabłka Adama, Poznań, Poland
mode:lina architekci, Jabłka Adama, Poznań, Poland
mode:lina architekci, Jabłka Adama, Poznań, Poland
mode:lina architekci, Jabłka Adama, Poznań, Poland
mode:lina architekci, Jabłka Adama, Poznań, Poland
mode:lina architekci, Jabłka Adama, Poznań, Poland
mode:lina architekci, Jabłka Adama, Poznań, Poland
mode:lina architekci, Jabłka Adama, Poznań, Poland
mode:lina architekci, Jabłka Adama, Poznań, Poland
mode:lina architekci, Jabłka Adama, Poznań, Poland
mode:lina architekci, Jabłka Adama, Poznań, Poland

Jabłka Adama, Poznań, Poland
Program: computer store
Architects: mode:lina architekci
Project team: Paweł Garus, Jerzy Woźniak, Kinga Kin
Branding: Minima
Area: 60 sqm
Completion: April 2013