As part of the commemorations of Marseille's year as European Capital of Culture, the new Vieux Port pavilion by Foster + Partners has recently been inaugurated, alongside new nautical club pavilions and a new sheltered events space on the Quai de la Fraternité at the eastern edge of the city's port.

For this events pavilion, the British architect has designed a simple canopy of stainless steel, which, supported by slender pillars, is open on all sides. Its polished, mirrored surface reflects the surrounding port, creating a slender profile for the structure and creating a striking visual effect.

In an effort to reconnect the harbour space with the city, and inviting pedestrians to the area, the pedestrian area around the harbour has been amplified — and will extend to the water's edge over the years —, while traffic will be reduced over the next years.

The boat houses and technical installations that previously lined the quays have been moved to new platforms and clubhouses over the water.

The landscape design was developed with architect Michel Desvigne and includes a new pale granite surface, in the same shade as the original limestone cobbles. The simple, hard-wearing, roughly textured materials are appropriate to the port setting. Improving accessibility, kerbs and level changes have been eliminated.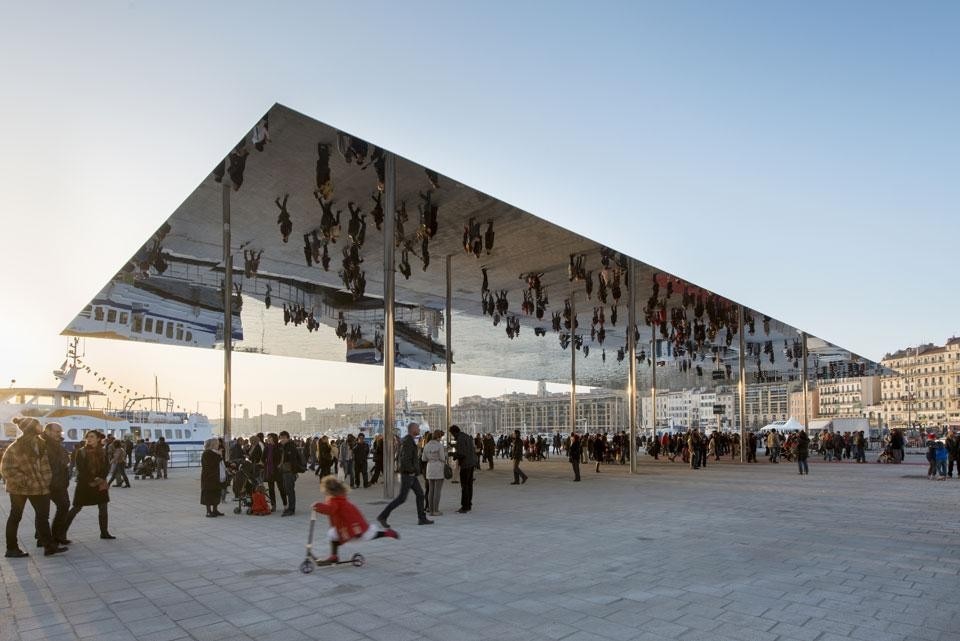 Foster + Partners: Marseille Vieux Port
Client: MPM, Marseille Provence Metropole
Program: Regeneration and Semi-Pedestrianisation of the Vieux Port in Marseille
Site Area: 100,000 square metres
Pavilion dimensions: 46m x 22m x 6m height
Completion: 2013
Architect + Design Team: Foster + Partners (Norman Foster, Spencer de Grey, Grant Brooker, Andy Bow, Roger Ridsdill Smith, Jurgen Kuppers, Max Neal, Merino Ranallo, Adeline Morin, Caroline Tarling, Andy Coward
Collaborating Architect: Michel Desvigne (Lead Design); Tangram Architects; Ingerop Mediterannee; AIK Yann Kersale
Structural Engineers: Foster+Partners
Structural Engineers (Local): Ingerop Mediterannee, Marseille
Mechanical Engineers: Foster+Partners
Mechanical Engineers (Local): Ingerop Mediterannee, Marseille
Main contractor: Bouygues/GFC, Vinci/Eurovia (Landscaping, Paving); Vinci/Urban NT (Urban Furniture); Eiffage (Canopy)
Lighting Design: AIK Yann Kersale, Paris