An architectural critic from Russia once asked me: "Do you believe in utopia?" I said every project we make aims at being a little utopia. To create inspiring spaces, overlapping perspectives, and amazing light, to achieve provocative detail and material connections — these are core aims which have been realized in this small project for a semi-public Gallery House and Guest House embedded in the dense fabric of the Sungbuk district of Seoul, Korea.

I have been many times to Seoul and have designed a number of projects for sites in Korea that were never realized. From the design of the Samsung Family House in 1995 to the Busan Cinema Competition of 2005 to the World Design Park competition of 2007 — none of these works were ever realized. It is a great pleasure to offer this little flower to Korea realized with love and care in collaboration with Jongseo Lee and Inho Lee.

This house is a composition in sequential movement, which begins after one passes through the gate from the city outside into a private courtyard of bamboo-formed concrete and stone. Here one sees embedded in the concrete wall, the plan of the 3 pavilion composition of the project with its symphonic bars of light. The sheet of water unifying these pavilions splits into two at a brass entry fountain and recycles again to the pool above. Entering, one glimpses the gallery, which unifies the lower level of the project. The first experience at the entry pavilion brings the viewer at elbow height to the water sheet with views of the entire 3 pavilion composition. Here at the center of this place is an inner feeling for me — utopic — with the sky, water, vegetation and the reddened patina of the copper walls all reflected in different ways.



Many modern houses have views out while this project, made especially for this site, has a view in. I remember my first trip to Seoul in 1994 and a visit to the Secret Garden. The deeper inner spirit of place and reflection is one of the many aims of our project. Inside the pavilions, one experiences the dance of light from the 55 skylight strips that are analogues to musical staff lines. This light changes during every season and throughout every day. Here time and light are merged.

The special red wood Cabreuva Vermilha was chosen to pick up the hues of the reddened patinas of the walls, giving a unity of color to the spaces. We are happy this project is geothermally cooled and heated and the realization of all the special details are due to the great support of our client.



The ambition to have semi-public concerts and to exhibit artworks here is a foundation of this project, which gives me the impression of a community aim at the poetic dimensions of life.
Sir Thomas More coined the word "utopia" in 1516 to describe a fictional isolated island in the Atlantic. The 20th century has seen "utopia" politically dystopian in countless examples.
In a tiny piece of the Earth under the sun one can still imagine... a little utopia. Steven Holl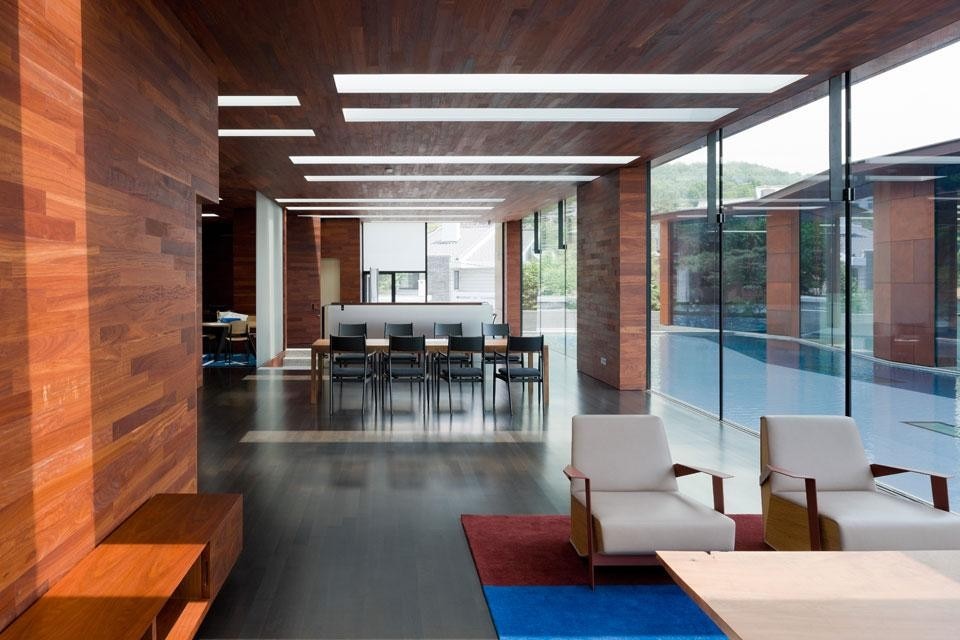 Private gallery and house in Kangbuk section of Seoul, Korea
Design: Steven Holl Architects
Design team: Steven Holl (design architect), JongSeo Lee (associate in charge), Chris McVoy (project advisor), Francesco Bartolozzi, Marcus Carter, Nick Gelpi, Jackie Luk, Fiorenza Matteoni, Rashid Satti, Dimitra Tsachrelia (project team)
Associated Architects: E.rae Architects
Client: Daeyang Shipping Co. Ltd.
Program: residence and art gallery
Site area: 1,760 square metres
Floor area: 994 square metres
Video: Spirit of Space

This light changes during every season and throughout every day. Here time and light are merged