Hungarian architect Tamás Dévényi, from Budapesti Muhely, has recently completed a family home on the edge of a forest near Sóskút, Hungary. The shingle covered house stands on a 1,5 hectare site, creating generous spatial relations with the surrounding landscape.

Borrowing its form and use of materials from the Central-European peasant architecture, the building's modular structure channels contemporary design. The ground plan is created using 12 square metre units — this is the size defined by the inhabitants as an ideal room size. This unit is repeated in two rows next to each other, following a very clear logic: on one side there are the unit sized rooms, and on the other side there is a hallway running through the whole house, nipping off space from the units' width and creating smaller rooms for the bathrooms and storage units.

The pitched roof follows the peasant architecture's symmetrical 41 degree inclination, replicating the house's use of wood and metal: Above the heated apartment, the roof is covered in wooden shingles; the wide eaves and the roofed terrace are covered in metal sheets. Unified with the roof, the walls are also covered in shingles. The northeast façade is sheeted in metal; alongside the striped metal rolling shutters, these elements seek to add diversity to the house's overall image.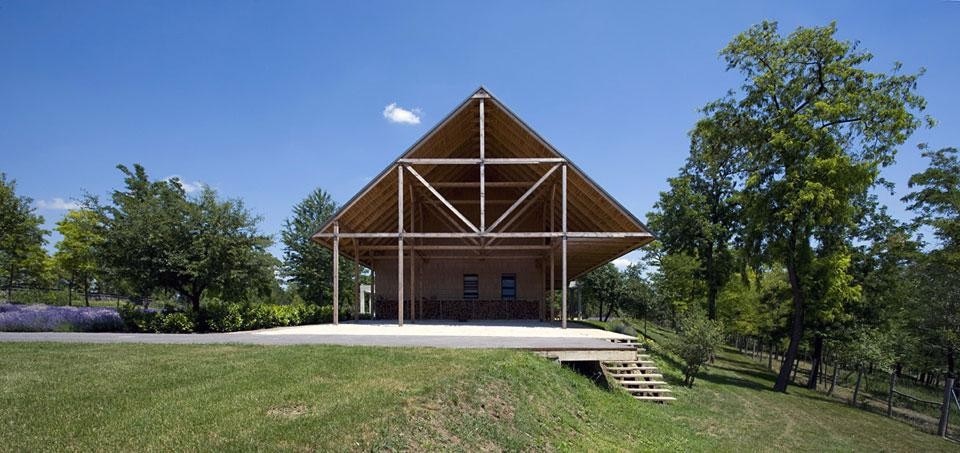 Tamás Dévényi, Budapesti Muhely: H House
Leading architect: Tamás Dévényi of Budapesti Muhely
Landscape: Zsuzsa Bogner
Completion: 2011
Gross Floor Area: 180 square metres