Following the fantastic response to our Autoprogettazione 2.0 global open-source design challenge, launched by Domus with FabLab Torino, the selection committee — comprising of Paola Antonelli (Curator, MoMA NY), Enrico Bassi (FabLab Torino), Massimo Banzi (Creator of Arduino; FabLab Torino), Joseph Grima (Editor-in-chief, Domus) and Clemens Weisshaar (Designer, KramWeisshaar) — has selected the seven projects that will be on display at The Future in the Making, in Palazzo Clerici, during the Salone del Mobile.

Filippo Mambretti and Mirko Carsana, Massimo Barbierato, Michael Tomalik, Pietro Leoni, Andreas Kowalewski, Carlo D'Alesio, and Paolo Cardini will see their projects fabricated and displayed in a temporary FabLab set up inside Palazzo Clerici. The selected designs will also be published in Domus and made available for download on our website, in acknowledgement of the project's open-source philosophy.

Read below for some more information on each of the selected projects.

Chaise_Lounge, by Pietro Leoni
Chaise_Lounge (above) is a chair for relaxing. The CNC-cut pieces are tailored to fit together in a way that defies stringent constraints, hatching the pieces in a kaleidoscope of infinite forms. This is a small hammock for all, built on a single sheet of 10mm plywood, in which makers can relax after their daily labors.
Jig Saw, by Massimo Barbierato
Jig saw is a plywood table / desk in plywood. The table can be assembled by one person only, without glue or tools. The four legs are strung from one another. When disassembled the table has a footprint of 30mm. The table is cut from one single layer of plywood, from which are generated four legs and a table top, in which are also perforated four grooves, with half the thickness of the plywood.
Guenda, by Filippo Mambretti
Guenda is a modular table lamp, which can be assembled in infinite variations, and optimized according to different typologies found in a FabLab. The lamp is designed in three different modules, which when combined allow for diverse structural solutions. These modules are made of 3mm laser-cut MDF.
The selected projects will be fabricated and displayed in a temporary FabLab set up inside Palazzo Clerici
Lightbox, by Michael Tomalik
Lightbox is a work lamp which includes storage for tools. The main inspiration came from the classic toolbox, allowing to clean up the usual mess found in work tables. The whole object is constructed with 8mm plywood, without any fasteners, and using a simple fluorescent tube.
Wedge side table, by Andreas Kowalewski
The main characteristics of the Wedge Table are its simple construction and its use of only one material. The construction makes use of the reinforcing effect through the interlocking segments, which creates the structure and ultimately the unusual visual character of the design. The Top plate can be fixed with three screws from the bottom with a conical fitted plywood piece. All four individual table segments can be manufactured in joint operations. For storage and shipment the tables can be disassembled, stacked and packed in a small carton board box.
Chimera open source lighting system, by D'AlesioeSantoro
Chimera is an open-source, dynamic lighting, high performance. It is intended for applications whose tasks require visual lighting is functional and qualitative. It relates to production environments such as laboratories, prototyping, quality control, with particular attention to the activities performed on objects of medium, small and micro scale.

Chimera is just as the beast of myth: its proposed configuration of 3 "heads", all with LED light sources, are be mounted on standard, pre-existing mechanical supports. Another key component is the "nervous system". With Arduino, you will program the dynamic interaction between users, working environment and the visual task. All of the heads use the same machining operations, the same materials available in sheet form, and where possible the same manufactured pieces.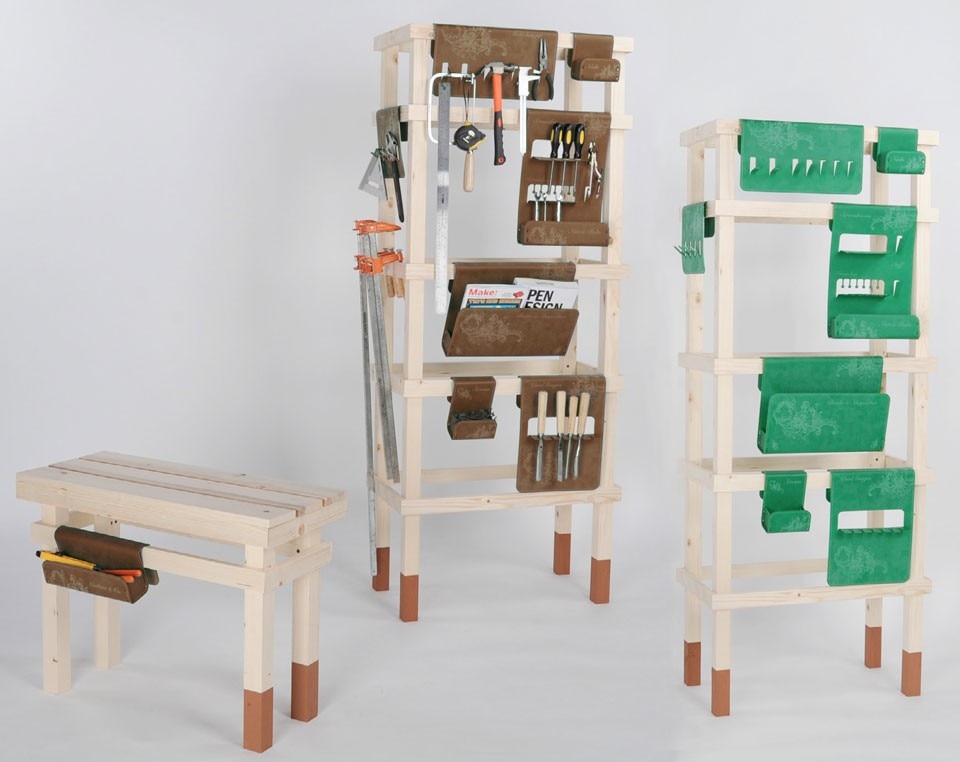 Gringo, by Paolo Cardini
Gringo is inspired by the leather bags of cowboy belts. The project is based on a wooden structure completely customized according to individual needs, or those imposed by the space of FabLab. You could build a rack to the wall, a structure at an angle or a partition that serves multiple environments. To this structure are attached different functional modules, adapted to accommodate multiple tool. Each module can be lifted from the structure and brought to their own work station, linking it to tables or chairs.