Studio Daniel Rybakken will present a selection of new light fittings as part of Luceplan's "Between Research and Poetry" installation at the Salone del Mobile 2012.

The Ricochet and Coherence lamps are conceptual projects researching light and its reflection, and continue in the experimental nature of Rybakken's Colour light (2010-2011) and Light Tray (2011-2012). Based on the "exploded concept of a lamp", the pieces are formed not only of multiple components, but by multiple objects too. Ricochet light also explores the re-direction of light, building on the conceptual underpinnings of Right Angle Mirror (2011). The Coherence lamp plays with the notion of light being another object you place on the table, suggesting that much like with the cutlery and dishes, you also set the table with the light source. This light source then illuminates the massive dome suspended above, diffusing and softly reflecting the light back to the table. Both lights have a 10W LED light source.

The Counterbalance lamp was presented in 2011 and will this year be launched by Luceplan Spa. The idea of a wall-mounted, counterbalanced lamp is made possible here through the use of cogwheels. Force is effectively reflected, allowing both counterweight and lamp to occupy the same space. The lamp's components also become two-dimensional graphic elements in a dynamic installation; counterweight and gears form stark circles intersected by lines of tubing. The lamp features a 14,5W LED light source with 800 lumen.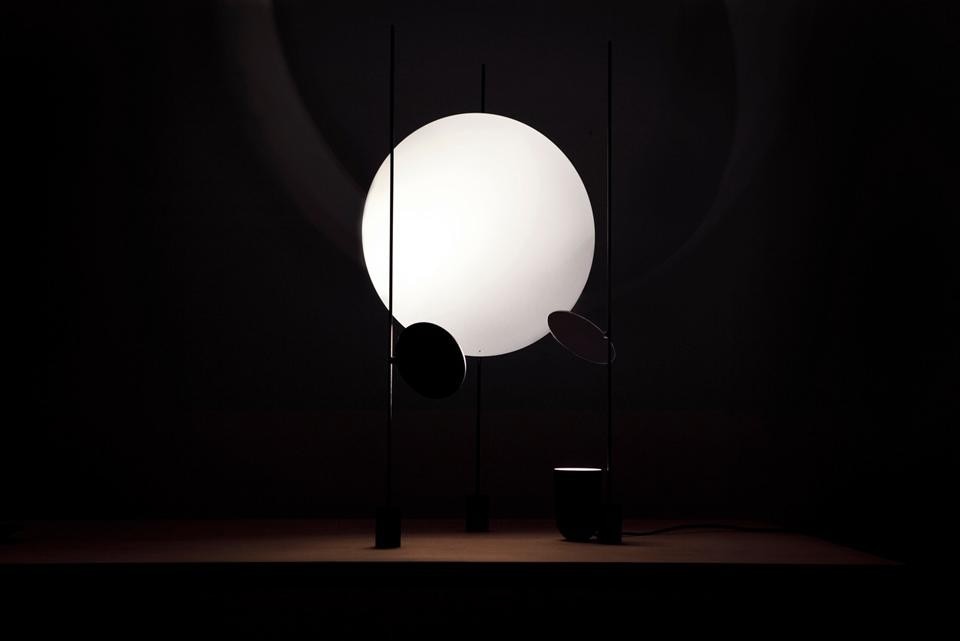 Daniel Rybakken: Ricochet and Coherence
Luceplan, Between Research and Poetry
Via Procaccini, Milan
Launch Reception 19 April, 19:00