Him and her, together at and away from the studio. Livia Rossi has a classic short bob haircut and comes originally from Avellino. She left everything there and moved to Verona in 2012. Together she and Gianluca Giabardo, who sports a thick black beard, formed Dossofiorito.

The name of this interdisciplinary firm comes from an old, abandoned neon sign they recycled. They share a huge smile and a love for what they do day in day out – a rare thing – namely design. Their mission is to show a different angle and narrate sometimes unnoticed aspects of everyday life. Two designers in just one studio focused on a shared style, purpose and life.

Their music choices are quite eclectic: Chet Baker, Billie Holiday, Caetano Veloso, The Smiths, Arto Lindsay, The Arcade Fire, Lou Reed and Nico, and Daniel Johnston. They both love Neapolitan pastries and, when they return to Avellino, where Livia was born, breakfast simply has to be choux pastries filled with cream or a soft rum baba. For Milan Design Week 2016, Airbnb is presenting a project entitled Makers & Bakers at the Marta restaurant, a stone's throw from Rossana Orlandi. Curated by Ambra Medda, it features an interior design by New Zealander Katie Lockhart. The focus is on the meal as a moment of sharing and discovery, and the Dossofiorito selection spans from the Balena carafe to an Epiphytes installation. They tell us more.

Maria Cristina Didero: What is your story? How did you set out and where are you headed?

Dossofiorito: We are partners also in our private life and when Livia moved to Verona we decided to share a space where we could each work on our own designs. We are in a small former industrial workshop in the city's old industrial zone. The name Dossofiorito comes from an old neon sign Gianluca had found in a tip years earlier. We thought it was poetic but we never imagined that we would work together! We have very different design approaches. Gianluca always knows exactly what he wants; he's technically minded and carefully analyses materials and their performance. Livia likes to lose herself, delving and exploring before she forms a clear understanding of the direction to take. Working side by side, we realised how much our individual designs were enhanced by each other's advice and the different takes we had on works. Our first object together, the Lightscape lamp, was a bit of a gamble. That's when we realised that our diversity was complementary and that together we could produce more interesting and complete designs. From then on, our main efforts have gone into joint designs. Over the years, we have worked in several domains, forging strong working relationships with artisans, and we launched our self-produced line Batches a few weeks ago.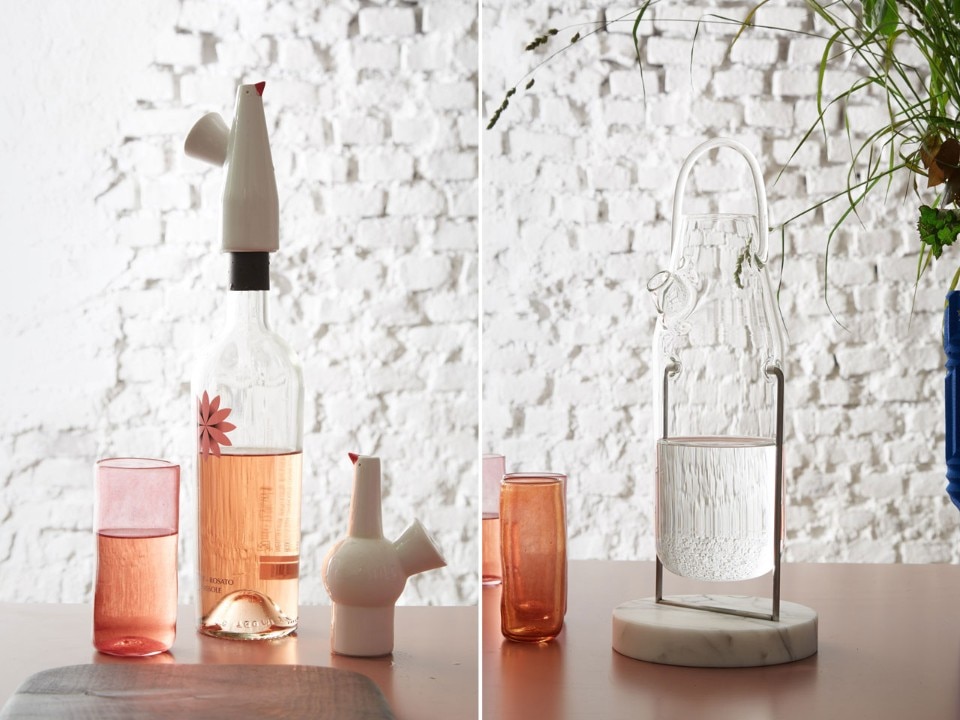 Maria Cristina Didero: What does the future hold?

Dossofiorito: In the future, we will continue working on ambitious independent projects, alongside commissioned designs. We have recently started working with companies so new and different horizons are opening up for us.
Maria Cristina Didero: Why design?

Dossofiorito: It is an incredibly varied field in which knowledge and knowhow go hand in hand. Every day we must be artisans, entrepreneurs, chemists, anthropologists, gardeners, communicators, etc. Sometimes we feel the burden of having to play so many different roles but we love this work and it stimulates us to keep our eyes open, focused on different worlds and ways of being.

Maria Cristina Didero: How do you approach this discipline?

Dossofiorito: Our works often stem from personal and emotional involvement before evolving into an actual object, always produced using fine materials and with great attention to details that tell a story or convey a feeling, an idea that everyone can relate to.

Maria Cristina Didero: Do you have a mentor, someone who has inspired you/or continues to do so?

Dossofiorito: Sam Baron and Tomoko Azumi! We became friends after random encounters but they are now points of reference. We often talk to them and ask for advice. We are always struck by their helpfulness and generosity.

Maria Cristina Didero: What did you want to be when you were children?

Dossofiorito: Livia would like to be a performer, like her sister. She is attracted to her global travels and encounters as well as the essential nature of her work, centred primarily on her body, her arms and legs – no computers, no equipment, no prototypes... Gianluca would like to build wooden kayaks and cultivate a relationship with water, perhaps from afar.

Maria Cristina Didero: Good reads?

Dossofiorito: Must-read books include Kurt Vonnegut's Slaughterhouse-Five and Galápagos, Calvino's The Baron in the Trees and If on a Winter's Night a Traveller, Borges' The Book of Imaginary Beings and Georges Perec's Species of Spaces and Other Pieces.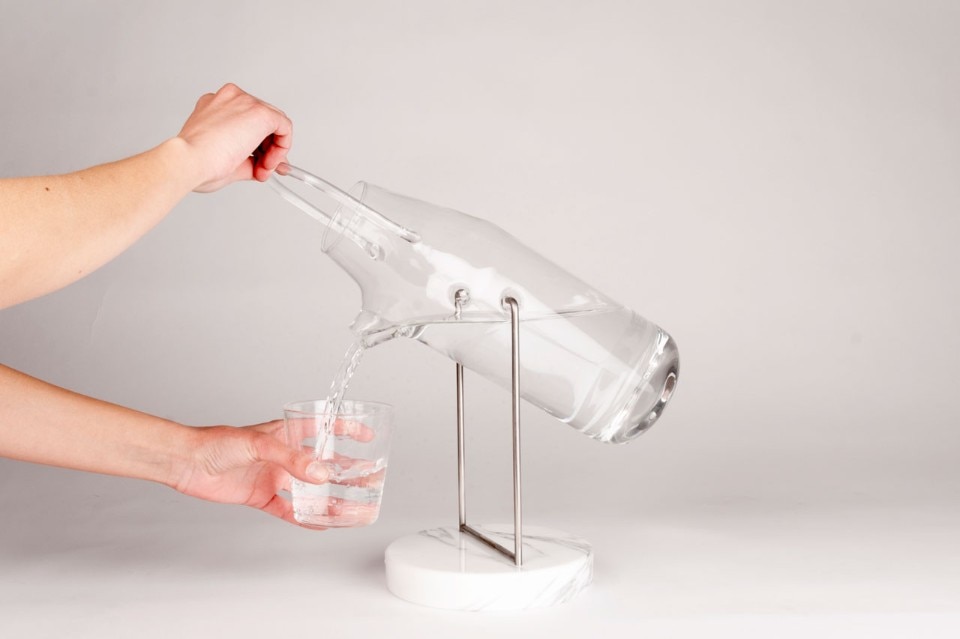 Caraffa Balena di Dossofiorito
Caraffa Balena di Dossofiorito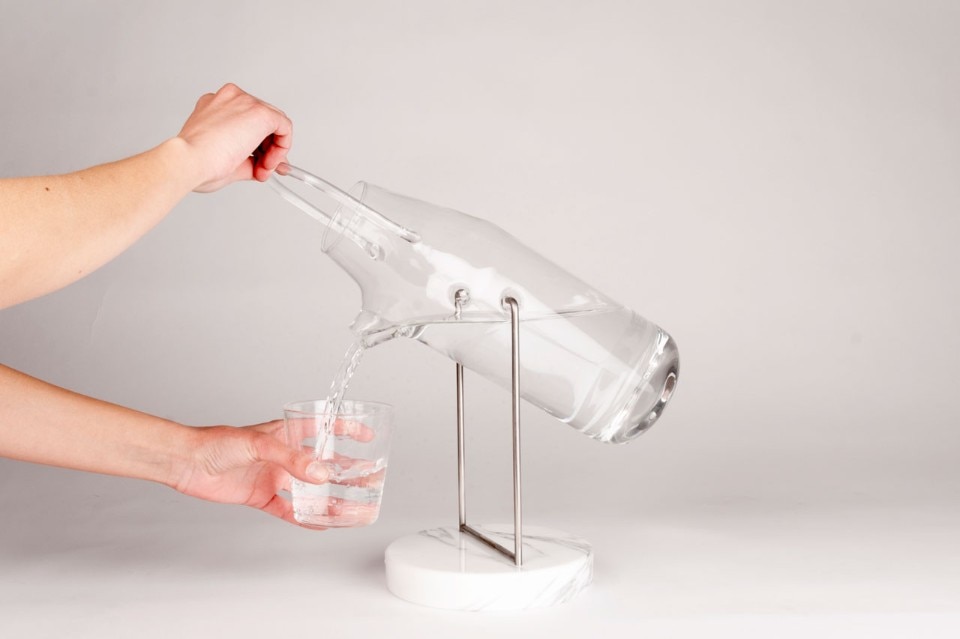 Caraffa Balena di Dossofiorito
Maria Cristina Didero: Films, music and favourite foods – in keeping with the project you are involved in for the upcoming Design Week?

Dossofiorito: Livia adores documentaries. One of her favourites is UP which has, for 50 years, been present at the key moments in the lives of 14 British people of different social extractions. Gianluca knows all the punchlines of the old Moretti films by heart. Be careful or he will make you watch all the clips on YouTube with him. Gianluca can't say no to a good beer. Livia eats extreme quantities of dark chocolate. She's a vegetarian but not vegan because she can't say no to a fried egg.

Maria Cristina Didero: How many designs are you presenting at the Marta restaurant?

Dossofiorito: For Airbnb, we shall have an installation featuring our Epiphytes vases, creating a small suspended forest inside the restaurant. We shall also have two designs linked to the table and actions of pouring/serving drinks: the large swinging Balena carafe, and Pia & Lino, two bottle cuckoos that turn serving a glass of fine wine into an acoustic performance. This design was developed exclusively for the Ognissole winery in Puglia and will be presented for the first time at the Airbnb event in Milan.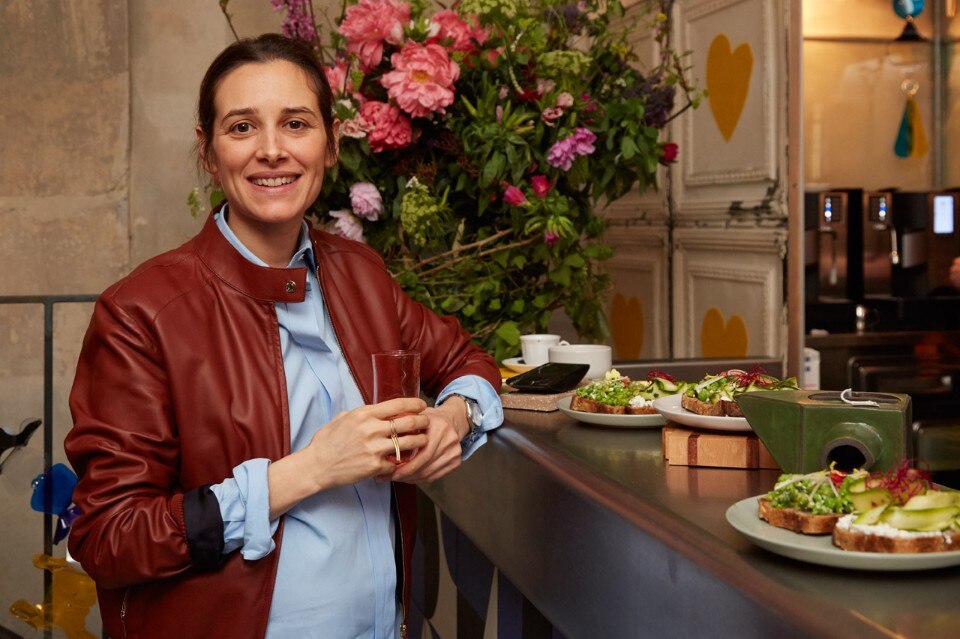 Airbnb "Makers & Bakers": Carter Were, baker from New Zealand
Airbnb "Makers & Bakers": Carter Were, baker from New Zealand
Airbnb: "Makers & Bakers", the installation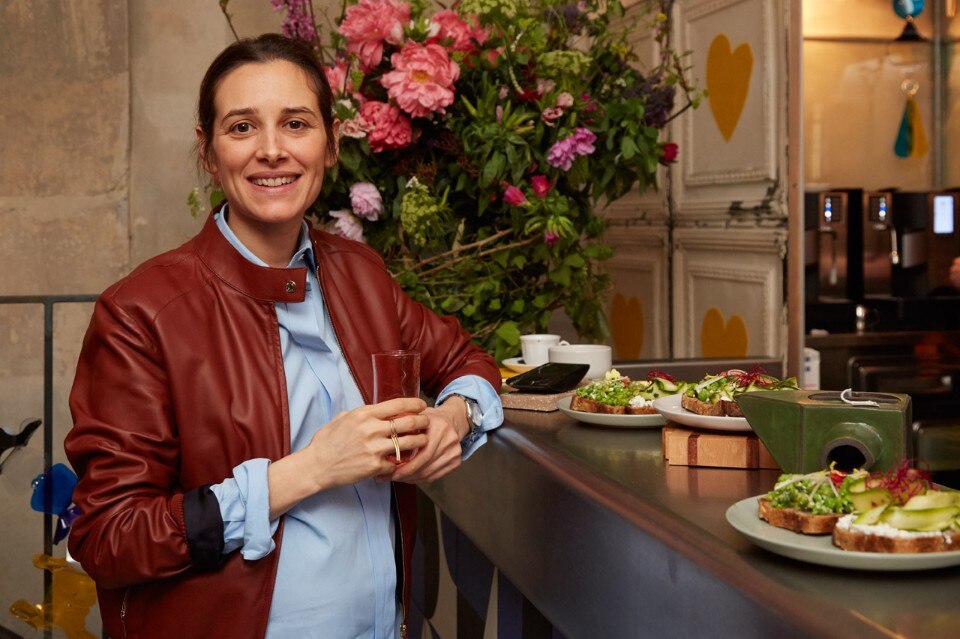 Ambra Medda, curator of the Airbnb project "Makers & Bakers" at Marta's restaurant
Maria Cristina Didero: Can you explain the concept behind Epiphytes?

Dossofiorito: The initial inspiration was a visit we made a few years ago to the botanical gardens in Leiden, Holland. We were fascinated by all the orchids growing not in pots but hanging head down from the branches of large trees. We were curious and started researching epiphytes – which in nature do not grow in the ground but on the branches of other trees. As well as many orchids, they include some ferns and cacti. Our Epiphytes ceramic pots allow the home cultivation of these plants as they grow in the wild. We previewed the design last year at the SaloneSatellite but have worked throughout the year to develop the materials and production. At last, we have the final design.

Maria Cristina Didero: Why did you choose the name Balena (whale)?

Dossofiorito: How do you make a heavy vessel full of water light? It was by thinking about these opposites that we developed the Balena carafe. When suspended over its marble base, Balena oscillates without difficulty, allowing you to easily and effortlessly pour a drink.



Dossofiorito
Ristorante Marta, via Matteo Bandello 14, Milan