Sala Comacina overlooks the western shore of Lake Como. It is a small village where the stratification of human settlements, as well as of the surrounding landscape, has developed over time considering the geomorphologic conformation of the land.

It derives, therefore, a very evident settlement pattern, which starts from the lake with a great urban density and thins out towards the mountain and the forest above.

In this context, architect Lorenzo Guzzini has worked on the renovation of the attic of a building built in the 90s without any particular architectural-typological characteristics, and that denies the relationship on the top floor with the lake in front.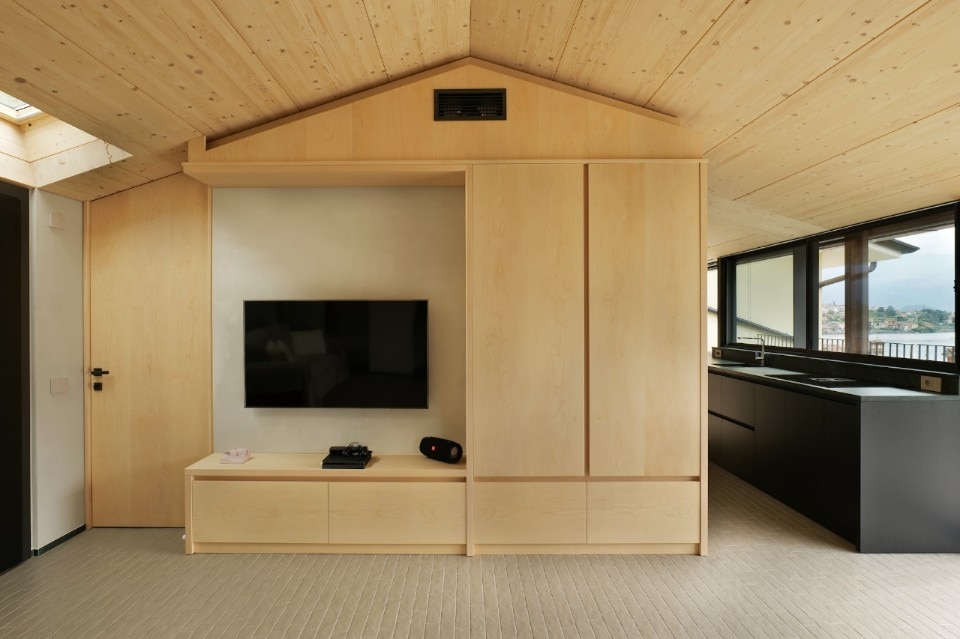 The original composition of the room ignored the context with the service functions placed on the south-east side, blocking the perspective towards the lake. The proposal gives back to the attic the direct relationship with the surrounding landscape by retracting the roof's pitch upstream and opening to the lake a terrace in length on the front.
After eliminating the existing skylights and regularizing the elements on the roof with the realization of a glazed line towards the north-west, the functional spaces have been grouped in a central block, ensuring natural cross ventilation and double facing of the apartment. Internally the light wood cladding and the absence of artificial colors play with the powerful daylight dampening it and offering a unique atmosphere that dialogues with the surrounding landscape.
Project:

Mansarda Piffaretti

Architectural Project and Construction Management:

Lorenzo Guzzini

Structural Design and Management:

Claudio Sosio de Rosa

Client:

private

Location:

Sala Comacina, Como, Italy

Construction year:

2020-2021