Designed by Elena Martucci just before lockdown, the sunny Casa LP welcomes the new life of a woman and her son: after 25 years of career in the publishing world, the owner now works remotely, like many of us, opting for flexible spaces for different uses.

The heart of the house is a living room with a kitchen that hides a projector and bespoke closets. Here she welcomes clients and collaborators in a convivial and familiar environment. The kitchen island, in fact, stretches from 330 cm to 600 cm while the large custom-made closet hides the home office. Matt lacquered white, it backdrops the dining room and the kitchen and houses a laundry room storage room, a refrigerator and a wine cellar, the appliances and part of the office. In some places it has been 'cut' to make room for art works such as a photograph by Luigi Ghirri. Designed according to the owner's requests, it contains shelves and floor drawers that can be opened by foot to match her habits.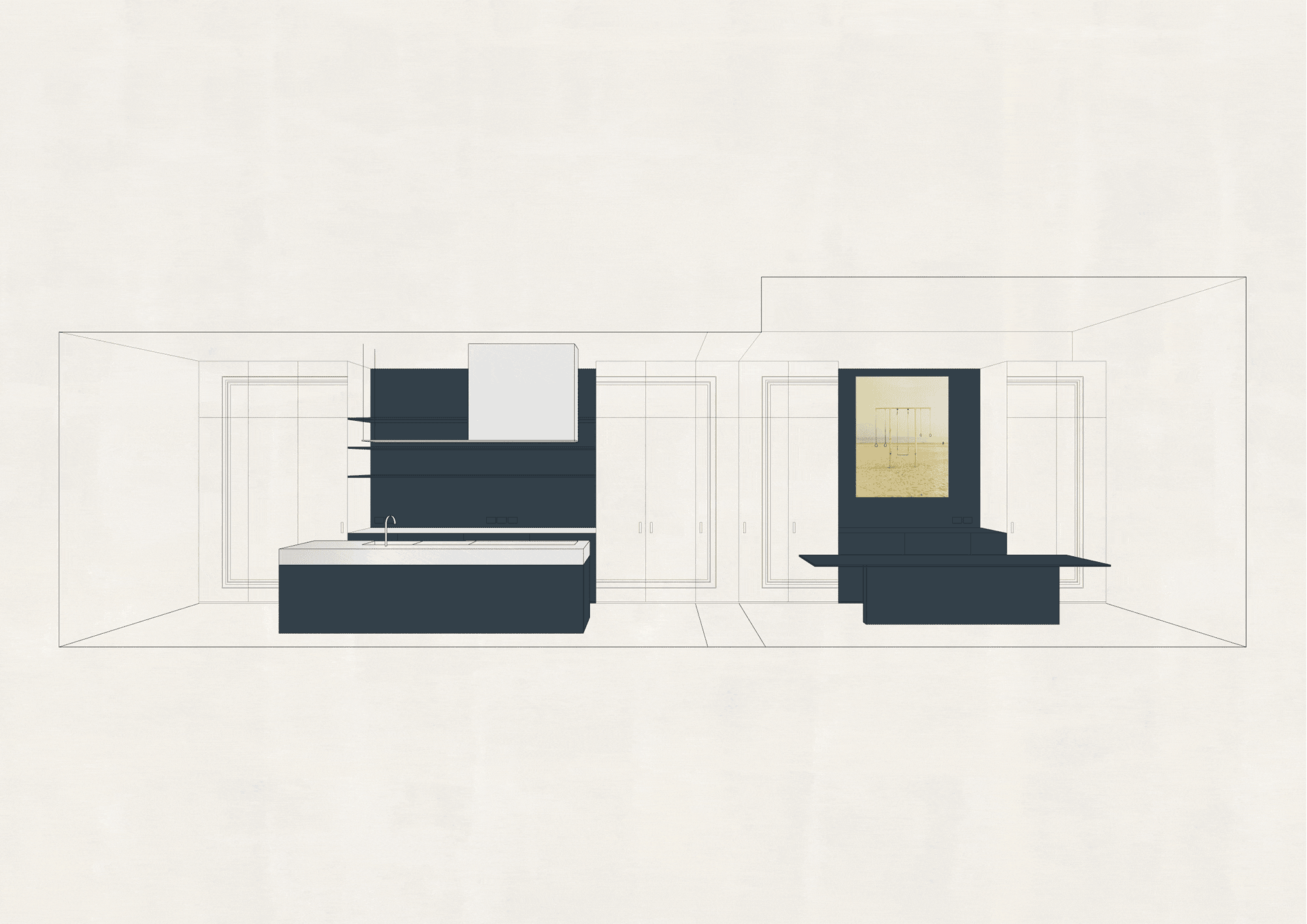 The 1930s layout of the house, which overlooks Gio Ponti's Montedoria offices, has remained unchanged except for the demolition of the two long walls of the corridor, whose absence is underlined by darkened iron frames. The original parquet floor is combined with a concrete skimming plaster casting, while the entrance door – now doubled in size – has been transformed into an entrance closet. The graphics of the plaster ceiling-frames are echoed on the closet doors, while generous iron thresholds separate the different areas.
The master bedroom is divided in two to obtain a comfortable walk-in closet that extends to the master bathroom with a bathtub and shower. The son's room is reminiscent of the world of soccer but in a minimalist key: the walls recall the San Siro stadium stands, while a large rectangular net of 5m x 1.5m is suspended at half height. The interior design of the living room was made by Antenor de Almeida of Arcarreda and combines contemporary design with modernism, with exotic touches such as a Berber carpet and a small table in green Guatemala marble.
Project:

Casa LP

Program:

apartment renovation

Architect:

Elena Martucci

Team:

Ivan Zazzali, Federica Wetzl, Lisa Pokorskaya

Area:

158 sqm

Completion:

2020