"A court of domestic deviance" : this is how Alan Adam Nathaniel Furman define his collaboration with Abet Laminati on show at the Camp Design gallery during the Milan Design Week. The project focuses on contemporary design through three pieces: a bookcase, a chair and a piece of furniture that unfolds like a smokescreen.

The collection Three characters in the second act: The Royal Family is an ideal continuation of the previous collection Four characters in the first act. If in the latter, Furman designed a masterpiece of post-modern culture, through a lucid synthesis of a boundless universe of shapes and decorations, in the Three Characters in the second act, through his imaginative ability of expression, he implements a violent intrusion into the domestic space.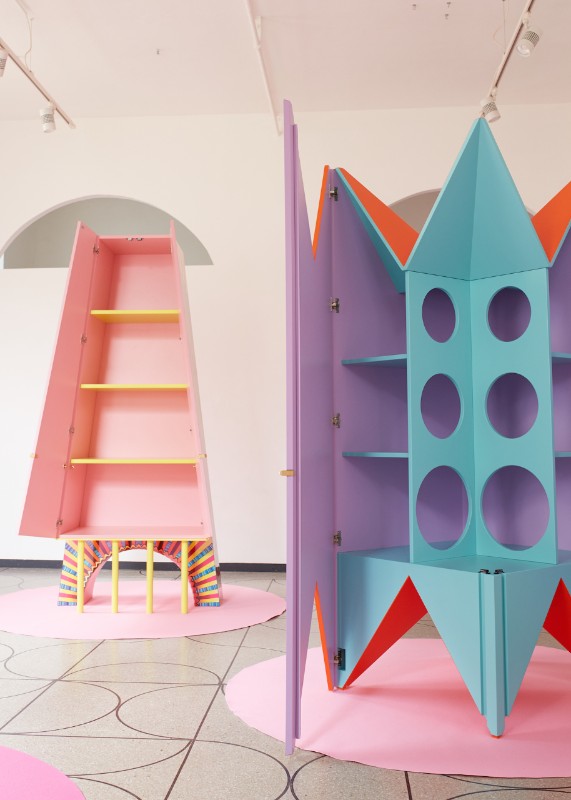 Goioso, Benevolente and Solidale are the members of a family on which Furman operates a social subversion constructing a real bourgeois nightmare. As he said "A model 21st Century family of two parents and an insanely spoiled child, the father is the mother, the mother is the father, both the mother and the father are the father and the mother, while the infanta is also the infante but is free to be neither, or both, or something in between."
laminate has the ability to dress up the most boring piece of MDF and and turn it into a drag diva
From this disintegration Furman construct an irreverent universe of colors and shapes: a hymn to freedom, first of all, where sacred and profane, present and past, collapse into a single gesture of possibility, where the achievement of a new type of aesthetic freedom turns the bourgeois family into The Royal Family. The collaboration with Abet Laminati, a company that historically boasts collaborations with personalities of the calibre such as Mendini and Sottass, makes the material a part of the operation.
As Furman states, laminate has the ability to "dress up the most boring piece of MDF and and turn it into a drag diva telling bitchy jokes, or turn a plank of plywood into magic beam of queer chinoiserie that would lift the spirits of even the most miserable of minimalist aesthetic puritans."
Designer:

Adam Nathaniel Furman

Curator:

Camp Design Gallery

Where:

Camp Design Gallery, Via Giovanni Segantini 71,

When:

8th-14th April

Venue:

Fuorisalone 2019