Mindcraft, an exhibition project promoted and organised by the Danish Arts Foundation andt he Agency for Culture and Palaces, born to encourage Danish artisans and artists, is back once again at the Minor Cloister of San Simpliciano. The term, which derives from the word "mind" plus "craft", replaced the artisan expression handcraft to underline how conceptual design can join with the qualities of craft skills.
Among the numerous exhibitions in Milan – the first being held in 2008 in Zona Tortona– we remember the evocative installation for the 2015 Forisalone, in which GamFratesi covered the entire flooring of the Cloister with a mirror-like surface, and the installation last year, curated by Henrik Vibskov, was a labyrinth-like itinerary and overturned bells.
This edition's curator, Ditte Hammerstrøm, opted for a more discrete installation in which metal tubes, painted yellow, traverse the arches of the hallways and support the works, whichthus become protagonists of the scene.
Padded textiles completely clad the low walls of the cloister to become comfortable seats. The 15 works chosen by Hammerstrøm share an experimentation with materials: from Aurora Borealis by Iben Høj, a textile sculpture with fibre filaments that are charged with sunlight and then light up at night, to the poetic A Family by Kasper Kjeldgaard, a structure composed of five round elements installed on equidistant pointy brass boards. Overall, the installation is homogenous with many courageous choices, but what's missing is the amazement we became used to in past editions.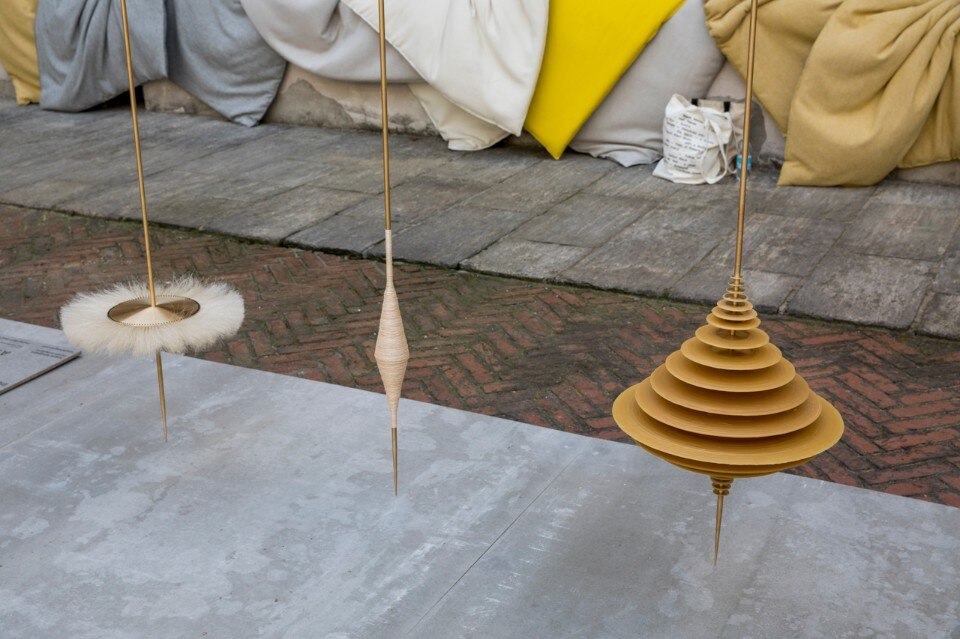 Exhibition title:

"Mindcraft"

Curator:

Ditte Hammerstrøm

Location:

Chiostro Minore di San Simpliciano

Address:

Piazza San Simpliciano 7, Milan