This article was originally published on Domus 1069, June 2022.
Helping the creative community to find its way. This isn't a global mission but a project regarding one community in particular: the designers, art directors and architects of London's new Design District, located near the Underground station of North Greenwich. The hub is made up of 16 buildings designed by 8 architects where residents can rent out a desk, a studio apartment, an entire floor or even a whole building to start up their businesses. Whether in need of a 3D printer, a sewing machine or a potter's wheel, these workshops provide the tools, support and spaces needed to succeed. There are also conference rooms, event spaces and even a basketball court on the roof.
But how does one find one's way in London's new home of creative industries? The signage design was entrusted to the local DutchScot studio, founded by Ross Goulden, Alex Swatridge and Jacob Vanderkar. A wayfinding system was required that could adapt to this centre's surprising and varied constructions. The solution celebrates the district's eclectic nature and residents, using the distinctive shapes and materials of each building as key elements. Each of the main entrances to the district bears a master plan with 16 models, each one using the characteristic construction materials of the architecture for each building. For the interior signage, the district's logo was used in the form of an arrow, and the signs were installed on existing urban furniture. The typography and colours were used to facilitate navigation between the courtyards and buildings, which are named alphanumerically.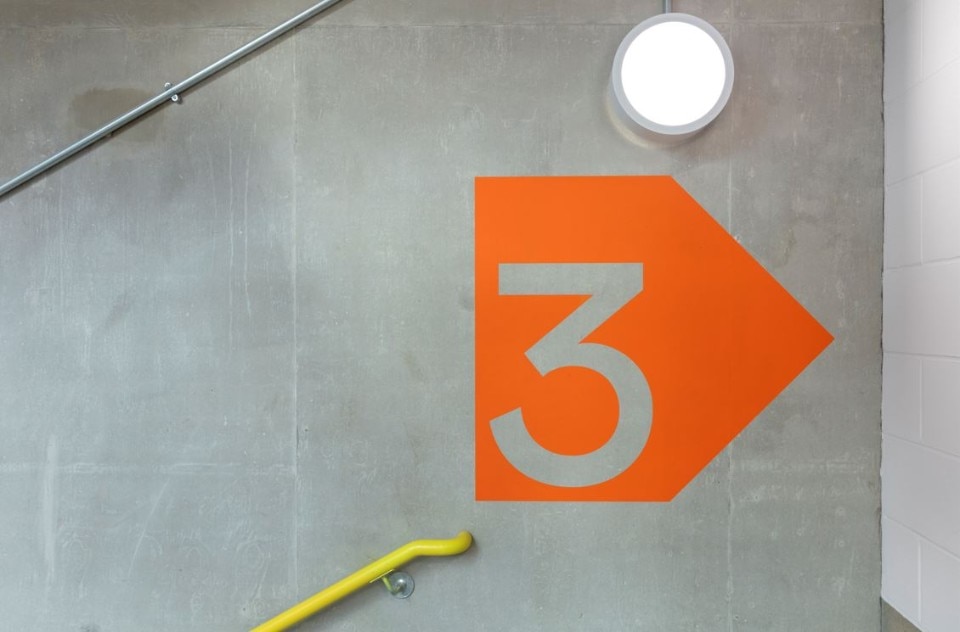 Each resident also has a magnetic bulletin board outside their own unit that can be personalised with their own brand in a graphically coordinated way. The font for the entire project is Mabry, designed by Colophon Foundry. On one hand, this character is inspired by late 19th-century grotesques (for example, Briete by Schelter & Giesecke, 1890), and on the other by the mathematical rationalism of early 20th-century geometric sans-serif fonts (like Futura designed by Paul Renner in 1927). In its application, Mabry evokes a vague past while capturing a particular version of the present, but it also embodies an amorphous atemporality.
The way ahead is set, but surely this is not enough for creatives: ideas are formed along different and unpredictable paths. The design conceived by the DutchScot studio is able to help them find their way around the tools provided to achieve this goal.