This article was originally published on Domus 1068, May 2022.

Kombucha is a beverage with many health benefits. It is made from slightly sugared tea, fermented using SCOBY (the acronym for "symbiotic culture of bacteria and yeast"), which takes the form of a gelatinous disc floating on the surface of the liquid that feeds off the added sugars and tannins found in the tea leaves. Considered a nutritional supplement that assists bodily functions thanks to its numerous positive effects, it is antibacterial, antioxidant, energising, detoxifying and able to strengthen our gut flora.
This drink with ancient origins has been consumed for over 2,000 years in Asian countries. Today, it is very popular in the United States and is also gaining ground in Europe and Italy. Swee is a brand of kombucha produced by a brewery in Tbilisi, the capital of Georgia and a city with a rich cultural and culinary heritage, enriched over the centuries by numerous different influences.
The Swedish studio Bedow recently designed the brand's identity and a new look for Swee's packaging. The innovative design is intended to represent the gastronomic patrimony of Georgia, which is famous around the world in its own right, but also to celebrate the use of fresh, organic ingredients. "We embraced the opportunity to transform functional information into a visually playful infographic system," says Perniclas Bedow, creative director at Bedow. "Swee's use of locally sourced, all-natural ingredients is what makes it stand out. Instead of hiding the list of ingredients on the back, we did something original, making the contents an important tool in creating a system of flexible and distinctive design."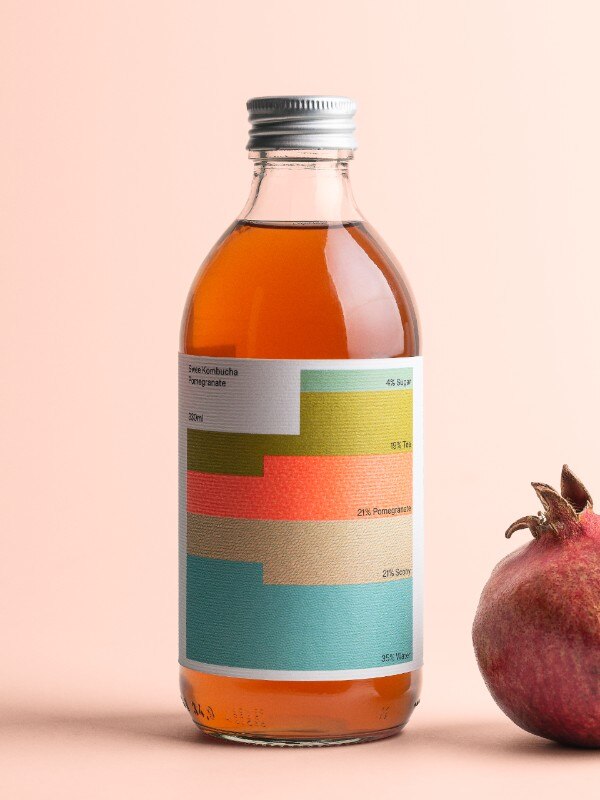 The goal was to build Swee's design around the "100 per cent natural" concept, where the list of ingredients becomes the very foundation of its identity. Each ingredient is represented by a colour and a pattern that, when combined, create distinctive colour graphics, representing the percentage of each ingredient. This offers endless potential variations and clearly embodies the brand's identity. The Swee logo is designed to reflect the drink's character, using hundreds of oscillating dots that call to mind yeast and bacteria in a Petri dish.
However, the design system is not just limited to the packaging; it can also be easily applied to all forms of communication. For example, the still-life photos, also based on the brand's infographic system, portray the ingredients one on top of the other, and their size is related to their percentage in the recipe.