At the Triennale Milano, on the occasion of the Milan Design Week, the exhibitions "il Salone / la Città. A 60-year history of side events in the city" (open from 4 to 12 September) and "Carlo Mollino. Hyperformal Allusions" (open from 4 September to 7 November) have been presented.
Curated by Mario Piazza and conceived by the Museo del Design Italiano, "il Salone / la Città" tells the story of the most important cultural productions, projects and installations of the Salone del Mobile from 1961 to the present day, retracing the history of the event that established strong ties with the city of Milan and the international design community. 
From Piazza del Duomo to Piazza San Fedele, from Triennale to Palazzo Reale, to the city's historic homes, the exhibition is a journey that celebrates the opportunities for dialogue and cultural exchange generated by the design event. Through materials from the Triennale and Salone del Mobile archives, topics such as craftsmanship, the birth of Italian style, reflections on living, ecology and the finiteness of resources are explored.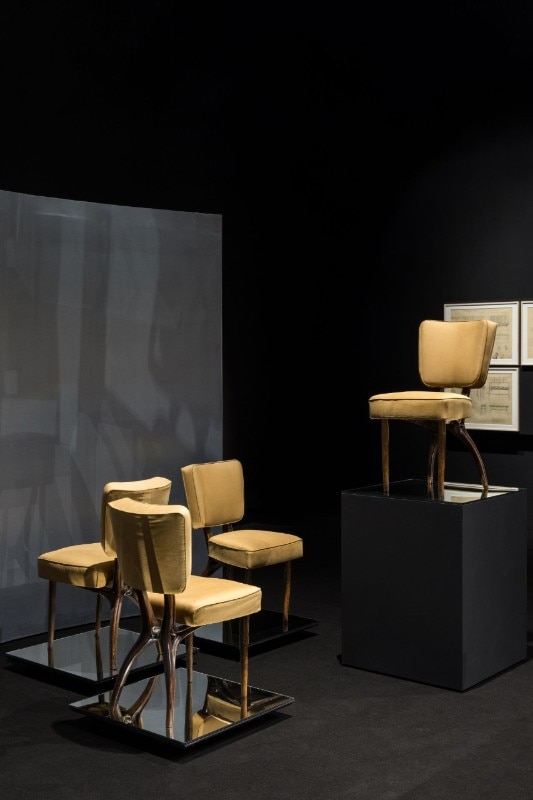 "Carlo Mollino. Hyperformal Allusions", curated by Marco Sammicheli, presents furniture designed between 1944 and 1946 by the Italian architect and designer for Casa Albonico in Turin. The exhibition reinterprets the designer's work, highlighting little-known aspects such as his obsession with form, his interest in engineering, physics and aerodynamics, his link with the second wave of Futurism and his collaboration with artists. 
The installation project, designed by the studio bunker arc / Carlo Gandolfi – Roberto Molteni, also displays unpublished correspondence and original drawings from the archives of the Politecnico di Torino, and a site-specific installation by artist Corrado Levi, a student of Mollino.
Exhibition:

il Salone / la Città. A 60-year history of side events in the city

Curated by:

Mario Piazza

Opening dates:

4 – 12 September 2021

Opening hours:

4 September: 11 am – 7 pm (last entry at 6 pm); 5 – 12 September: 11 am – 10 pm (last entry at 9 pm)

Exhibition:

Carlo Mollino. Hyperformal Allusions

Curated by:

Marco Sammicheli

Installation:

bunker arc / Carlo Gandolfi - Roberto Molteni

Opening dates:

4 September - 7 November 2021

Opening hours:

4 September: 11 am – 7 pm (last entry at 6 pm); 5 – 12 September: 11 am – 10 pm (last entry at 9 pm)

Venue:

Triennale Milano