They are just beginning, but the trio of designers María Gil, Inma Carpena and Lorenzo Pérez – in art Estudio Pot – knows exactly what to talk about. Their projects, presented at Habitat Valencia 2019, range from product design to art direction with the lowest common denominator of anecdotal narrative, with curiosities on anthropology, declined in a colorful naïve key. But they have very little ingenuity.

Formed in graphic design, jewelry design and product design, and specialized in techno-artisan manufacturing development, the three young designers from Valencia create a clear language through objects for the house, sculptures and stages for electronic music festivals. Their reference material is, as their name says, ceramics, and they are not afraid of wider collaborations with artists and craftsmen, to the point that for their porcelain works they have established a collective together with 5punto1 (artists) and the companies Díez Ceramic and Keramic.

When asked about their possible Memphis inspirations, they responded by saying that their references go directly to the origins, as in the case of the 1940s buildings in Tiruvannamalai, India, "form which Sottsass himself was inspired" and that influenced the shape of the South Beach Stage at the Festival Internacional de Benicàssim (FIB 2019), among the best known indie music European festivals.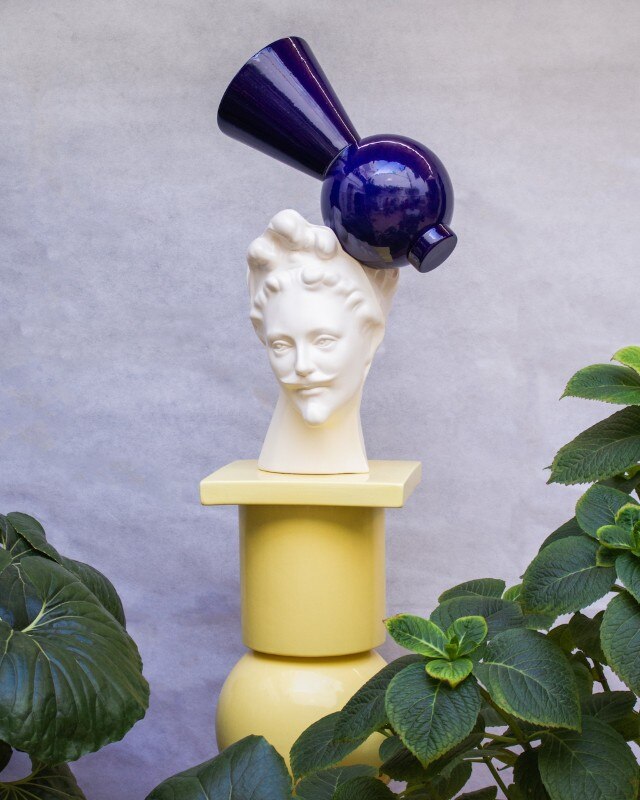 Among their most unusual objects we find the porcelain statue dedicated to Clementine Delait, the famous bearded lady who lived in the late nineteenth century and who made her physical 'deformation' her strenght, freeing herself from the aesthetic stereotypes of her time. Clementine combines modern and classical style, rethinking the role of sculpture today. From historical figures we move on to more traditional and timeless objects such as the Alfabeguer, or Albahaquera, a container for aromatic plants whose birth dates back to 1392. The version reinterpreted by Estudio Pot recalls a robotic aesthetic from the 90s with the contemporary colours of vermilion red and mint green. Coming up next is a collaboration with a fashion brand and ceramic production for a restaurant in Spain.
Design studio:

Estudio Pot

Designer:

María Gil, Inma Carpena, Lorenzo Pérez

Website: