The Extruded Ribbon Console is formed from a single slab of deep blue Azul Macaubas stone. The new furniture piece was designed by Marc Newson for his first solo show in Greece, which ran at Gagosian Athens. It is his first marble design in 15 years.
The piece is conceived as a curvilinear shape extruded into three dimensions – a sinuous loop that outlines the form of a table when seen in profile. It's a continuation of the forms explored by the Australian London-based designer in his Lathed and Extruded furniture series, which were presented at Newson's first Gagosian show in 2007.

But for the Athens exhibition, Newson departed from the grey Carrara and Bardiglio marble typically used in the series in favour of the Brazilian Azul Macaubas stone, allowing the piece to be reimagined in Greece's national colours of blue and white.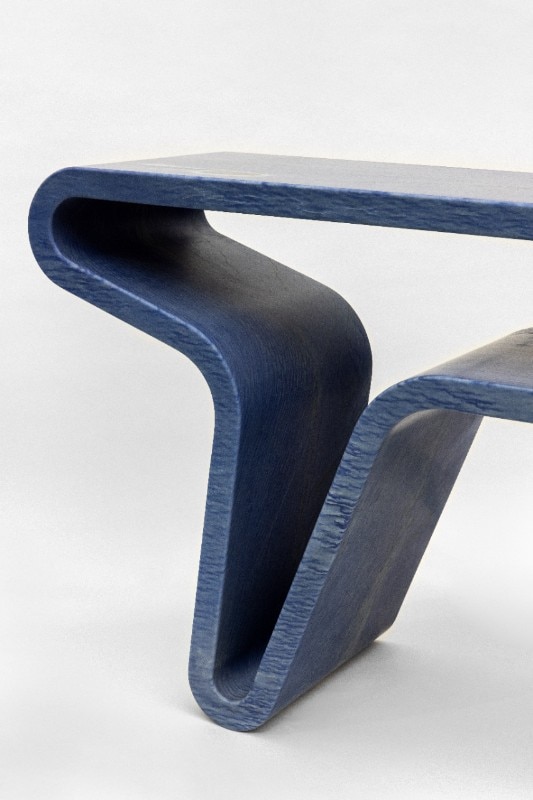 "Azul Macaubas was selected for its specific blue tone and similar material qualities to marble: robustness and durability," says Newson's studio. "Both this stone and marble are noble materials that have a classicism and mythical quality to them."
The CNC-milled console also pushes forward Newson's experimentation in pairing classical materials such as marble and stone with technology to show off the technical possibilities of the material.

The slice through the richly veined stone has revealed a deep indigo spot surrounded by a white ring that is positioned on the surface of the console and recontextualised as an evil eye – an apotropaic symbol deeply rooted in Greek tradition. One of a limited edition of three, it's unlikely this naturally occurring motif will be replicated in the two subsequent consoles.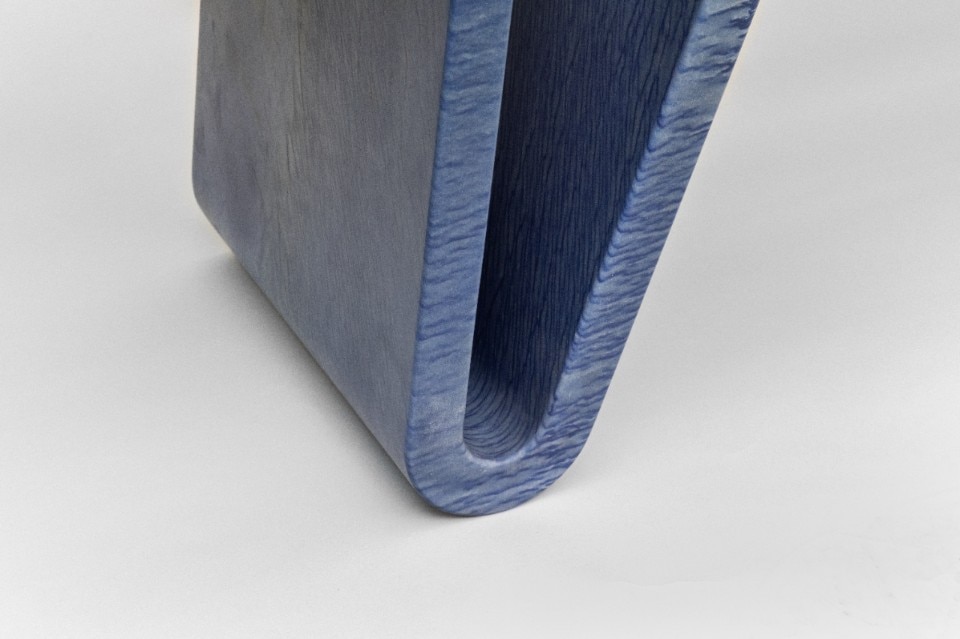 "Marc was aware of this spot and chose to show it on the outside of the first edition of the piece as within the context of the Athens exhibition it reminded him of an evil eye, an ever-present symbol across Greece," explains Newson's studio. "Given the inherent variances of stone, no two pieces will be the same and so this 'spot' may not be present on other consoles."
A number of other new works were presented in a blue and white colourway for the show. Among them are variations of the cloisonné chair and lounge, which are covered in Newson's circular "orgone" motif created using an ancient enamelling technique. The Murrina White & Blue Table on show has a top with a dense blue-dotted pattern made using the historic Mediterranean murrine technique that sees multicoloured glass canes fused together and sliced to reveal their patterned cores. The pieces created using intricate heritage techniques in many ways artificially replicate the molecular structure revealed in the cross section of the Azul Macaubas stone. 
The console is an edition of 3+2 artist's proofs and is for sale. 
Photo Credits: Paris Tavitian, courtesy of Gagosian Gallery