The time of the year has come where the whole of Italy stops and the centre of the nation switches to Sanremo, a small seaside town on the coast of Liguria, North West Italy. Once a refined holiday resort for the Italian and European bourgeoisie of the 1920s to 1940s, the settlement has maintained its decadent charme and, since 1951, has forever bound its history to the Festival della Canzone Italiana, the Italian song festival also simply known as Sanremo Festival.
The event, which despite its name, has to be thought of as a song contest rather than as a festival as we traditionally intend it, has also the merit of being the forefather of Eurovision.
In seventy and counting years of history all sorts happened at Sanremo. Scandals, drama, suicides (and attempted ones), but also many masterpieces that contributed to shape the Italian national songbook, forging memories that transcend generations. In recent times Sanremo has got its silver back, dusting off its derogatory associations to mainstream culture and the prejudice of being obsolete, attracting a new breed of artists also coming from genres such as (t)rap and indie as well as a new audience made of Millennials and Zoomers. Social media have proved to be a pivotal platform for the proliferation of a Sanremo retromania which daily unfolds via memes, reels, crazy outfit photos and even Fantasanremo – the festival's own take on fantasy football.
Surely, sociologists may find in this Sanremo comeback another – if needed – proof of the collapse of the barriers that once used to keep youth clusters and their music genres firmly separated among them and from the dominant music culture of airplay and TV shows. Think that in 1992, the band Statuto, which came from the underground, indicted a referendum among its Mod fanbase to obtain the authorisation to run in the festival.
The resurrection of Sanremo in terms of pop culture appeal may seem like an attempt of hybridisation of the fashion extravaganza of Met Gala and the music show of the Eurovision Song Contest, moved by a desire of imitation instilled by globalisation. 
As one can tell, Sanremo isn't just about music. Stage design always represented a pivotal element in the history of the competition, and so do costumes. Just over the past two editions the names of winners Måneskin and Mahmood & Blanco have been associated to the brands dressing them, respectively Gucci and Valentino. But that's no news, as in the past the cream of Italian fashion, like Versace, Cavalli and Ferrè had brought their creations on the Sanremo stage, fitting the likes of Loredana Bertè (1986), Mietta (2000) and Giuni Russo (2003).
Whether an incarnation of the great Italian haute couture tradition or an element of performativity, clothes have been essential in shaping the iconography of the Sanremo Festival.
We selected 10 (plus one) cornerstone outfits. 
Anna Oxa (1978, 1986, 1999)
"Anna Oxa a Sanremo conciata come una punk londinese" ("Anna Oxa dressed up like a London punk at Sanremo") sang Max Collini in the autobiographical stream of consciousness of the cult Italian indie band Offlaga Disco Pax's 2005 song "Robespierre". Oxa, who is set for a Sanremo comeback this year, debuted on the infamous stage in 1978, just a handful of months from the birth of Punk in London, a youth culture yet fairly unknown to most italians. It was her friend and colleague Ivan Cattaneo, who had just returned from a trip to the English capital and witnessed the rise of the subculture, to style her, shocking the audience watching from the comfort of their homes.
Oxa would later return to Sanremo another 13 times, winning two editions and even hosting one next to legendary anchorman Pippo Baudo. More than anyone else she incarnated, with the attitude of a chameleon, the power of fashion design at the Festival. In 1994, for instance, she was among the first to reveal the belly button at Sanremo when wearing a black hooded dress perhaps inspired by the costumes worn, the year before, by Grace Jones in James Bond: A View to Kill. The outfit has made the history of Sanremo, with singer Noemi recently tributing it in a Alberta Ferretti dress in 2022.
Equally iconic was the outfit Oxa worn when conquering the 1999 edition. An essential yet impactful look, made by a crop top and flared low rise trousers and enhanced by a slicked back hairstyle. An outfit that introduced Sanremo to y2k fashion and that now resonates stronger than ever. 
Righeira (1986)
By the mid-Eighties Italo-pop duo Righeira represented for Italy the perfect combination of infallible pop hooks and a sophisticated sensibility for the arts and fashion, which was never truly understood by the public. If on the cover of their debut LP the duo wore ties by Italian post-modern design institution Memphis, for their 1986 Sanremo performance they opted for an outfit by Calugi e Giannelli, embellished by some Galliano elements and by custom-made extra-long ties sweeping the stage floor. The hairstyle, which was equally fundamental to the identity of Righeira, was a masterpiece of Orea Malià, the Bologna hair salon that made the history of Italian subcultures. 
Tom Hooker (1981)
The Eighties have been the decade that marked the rise of Milana as the capital of haute couture, but also the time of the aerobics craze and of Italo Disco. During one of the most fascinating Sanremo editions in terms of stage design, Italo legend Tom Hooker brought all of these elements together when sporting a shiny red and blue catsuit that made him look as a hybrid of an anime character, a Jane Fonda devotee and a Nanni Strada lycra design concept. The roller skates, then, were the flawless icing on the cake. When one says zeitgeist, aye.
I Ribelli (1966)
Costumes can also become a performative tool used to comment on the present. In 1966, at the height of Beatlemania and the consequent divisive public debate on long hair and youth deviance, I Ribelli (the former backing band of Italian r'n'r star Adriano Celentano) sang their "A La Buena De Dios" wearing Fab 4-style wigs which they then threw to the audience in a cheeky and ironical move.
Loredana Bertè (1986)
Sanremo 1986 also made history for the backstage cold war between the then divas of Italian pop music, Loredana Bertè and Donatella Rettore. Although neither of them brought to the festival one of their most memorable songs, their outfits certainly were.
Loredana Bertè caused a stir in the public opinion when stepping on stage in a Gianni Versace-designed PVC bodysuit, with studded shoulder pads and a prosthetic pregnant belly. The costume, which was also worn by stage dancers, looked like the perfect synthesis of an Atom Age editorial and a Thierry Mugler creation, and was recently tributed by Lady Gaga who saw the avant-garde and performative potential of this dress. 
Achille Lauro (2020)
With Achille Lauro performativity and fashion design become one, especially during his time at Sanremo 2020 when he borrowed full hands from art, history and music culture. His costumes, designed by Gucci's Alessandro Michele, quoted a range of characters as diverse as Saint Francis of Assisi, Anne Boleyn, David Bowie and Marquise Casati, the noblewoman, art collector and muse of the Futurists.  
A similar concept was replicated the following year, when Lauro performed as a guest at Sanremo 2021, referencing Brian Eno in his Glam Rock phase and the Mina of "Rane Supreme".
Matia Bazar (1978, 1983)
Sanremo 1978 was the second edition to be broadcast in colour. The footage of the time shows one of the most captivating and peculiar stage designs in the festival's history, with the scene's orange and red gradient and groovy typeface which make us grateful for the invention of the PAL system.
Matia Bazar, winners with "...E Dirsi Ciao", blend in with the decor with their crazy outfits rich in knee-high red velvet boots, Yacht Rock-style white suits, glittery mini-dinner jackets, and Middle Eastern flavoured tunics. A compendium of styles that now offers a picture of how Italian music and fashion dared to look up to the Glam Rock aesthetic of the Rocky Horror Picture Show and of Bowie's Spiders from Mars, but also to Marrakech as a sought after exotic and lysergic paradise.
Just a handful of years and by 1983 Matia Bazar are a band revolutionised in their sound, look and line-up. In full post-modern swing, Matia Bazar are as glacial and synthetic as the equipment brought on stage to execute their instant classic "Vacanze Romane". One can trace the influence of Mendini and of his group Alchimia (which would soon design the artwork for the band's album "Aristocratica"), of the video art of the likes of Giovanotti Mondani Meccanini, and of the vision of a synthetic Dolce Vita filtered through a computer monitor as then seen on the pages of seminal Italian magazine Frigidaire.

To make their performance extra special and ethereal was the decision to play on top of the stage structure, visually and conceptually elevating the band's opus.
Elio & Le Storie Tese (1996)
Maximalism, irony and pop culture references have defined the career of Elio & Le Storie Tese since their debut on the Sanremo stage in 1996. The abrasive and tongue-in-cheek reflection on a country thorn by Mafia and corruption of their "La Terra dei Cachi" is matched by a surrealistic performance with the band dressed up as Space Rock heroes Rockets, instantly making their way into the Italian pop iconography.
Patty Pravo (1984)
In the Ninety-Eighties Western pop culture developed a certain taste for everything Eastern, which blended in with the New Wave revival of the Weimar Republic aesthetic. Italian underground was no immune to the trend, as witnessed by films like I Ragazzi di Torino Sognano Tokyo e Vanno a Berlino by Vincenzo Badolisani and by the participation to Sanremo of new wavers Canton.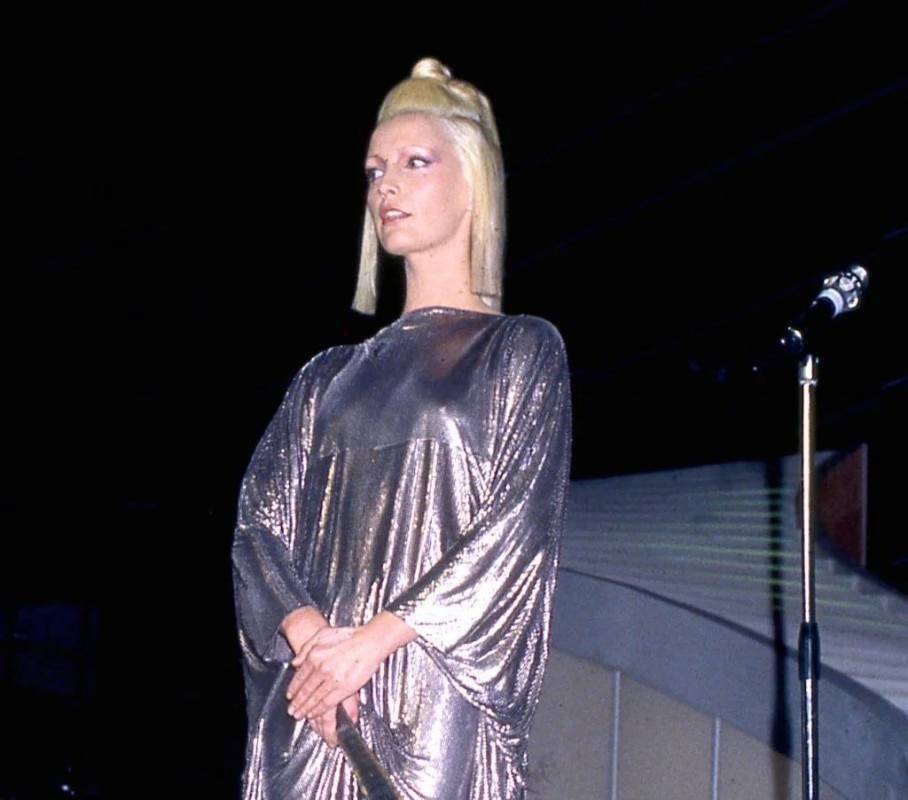 However, prior to all of that, in 1984 Patty Pravo took the stage of Sanremo in a Versace silver kimono, matched by an oversized fan and by a Nipponic-inspired hairstyle. One of the most enigmatic looks of the Italian star, decades before the concept of cultural appropriation became part of Gen Z's vocabulary.
Donatella Rettore (1986)
In 1986 Sanremo reached one of its all-time peaks, both in terms of design and as a tool to read Italian society. It was the year when the young Eros Ramazzotti won the contest with "Adesso Tu", wearing cropped stonewashed jeans, white sports socks and Timberland Docksides, capturing the Italian youth's appeal for Paninaro fashion. In the very same period Paninaro, the scene's magazine, in fact dedicated a comic to the singer. 
Donatella Rettore, instead, wore what perhaps still stands as one of her most spectacular looks. A sinuous white dress sensually revealing a leg wrapped in black tights, crowned by hyperbolic shoulder pads in golden sequin representing a pair of wings. 

Once again, the stage of Sanremo proved to be infallible in synthesising and reinterpreting the multiple influences of global pop culture and design on Italy.
Nada (1969)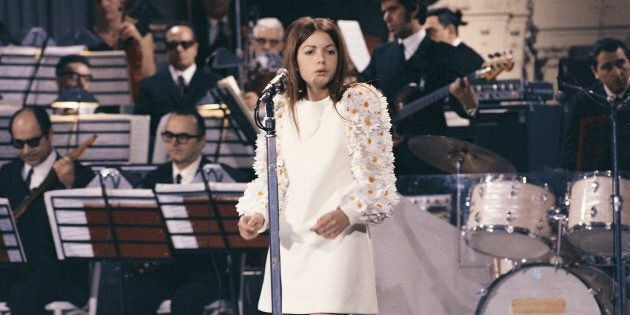 Child prodigy Nada won Sanremo on her debut with the all-time classic "Ma Che Freddo Fa". She did so wearing both the prude innocence of adolescence and the malicious sexual revolution of the 1960s thanks to a pair of white Go-Go boots and a mini white tunic dress with sleeves made of daisies, in a tribute to the flowers of the Sanremo riviera and to youth. During the festival she also performed with a similar dress, this time with flared sleeves in sophisticated white lace.
Bonus: Bad Manners (1981)
Many have been the international guests to grace the stage of Italy's most famous music festival, from Louis Armstrong and Marianne Faithfull to Blur, David Bowie and Depeche Mode. However, Bad Manners were the ones to truly leave a mark in the collective memory, also contributing to export Ska to Italy. 
It all laid in the deranged performance of histrionic singer Buster Bloodvessel who undressed on stage, showing off his B-side to a rather amused audience, among whom also stood director Sergio Leone. Bad Manner's frontman's outfit, for as long as it lasted on, was also quite peculiar for the standards of Sanremo, as it featured black Adidas Samba and a white boiler suit, a garment much-loved by skinheads and a symbol of the British working-class.
Opening image: Anna Oxa, Sanremo 1978. Photo: frame from TV performance.