This article was originally published on Domus 1064,January 2022.


It was the 1970s when Paolo Rizzatto, a Milanese architect born in 1941 and now the winner of five Compasso d'Oro awards, began to study the architecture of light. Together with Riccardo Sarfatti and Sandra Severi, the young student of Franco Albini founded Luceplan in Milan, a company "to provide a service for architects, as architects who design light."
The first design products grew out of this participatory method and attracted the interest of architecture reviews. In the pages presenting innovations in Domus, in January 1977, the 265 made its appearance between a blown glass chandelier by Adolf Loos and a halogen light by Ettore Sottsass. It was a metal lamp designed by Rizzatto for Arteluce and recorded in a photo by Aldo Ballo that set off its essential form and dynamism.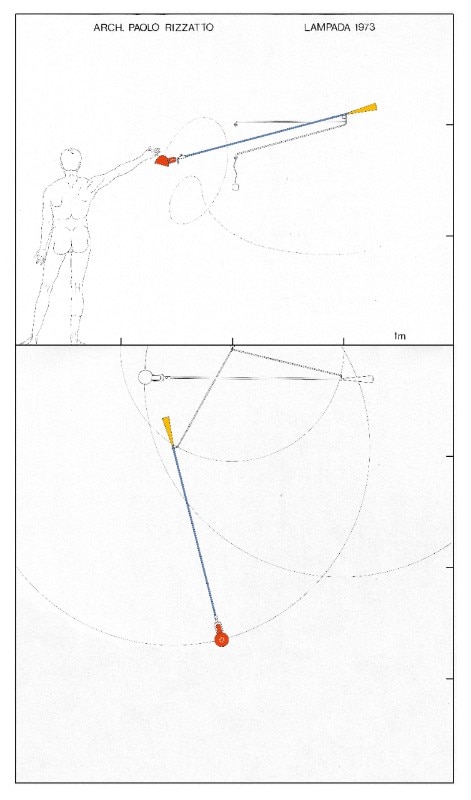 It was a "synthetic" lamp, made up of just a few elements: a perforated shell to avoid overheating, a long adjustable metal arm fixed to the wall and, at the end, a conical counterweight keeping the whole structure in poise and enabling its position to be changed with a simple and fluid movement. The 265 is not a floor, wall or ceiling lamp. As the designer explained, "It's a bright spot that moves in space and sheds light wherever needed." It is a direct light and also atmospheric, a light that follows the user's activities.
From his closeness to Albini, his teacher at the Milan Polytechnic, Rizzatto derived his sensibility for metal, which characterised the lamp and ensured its success over time.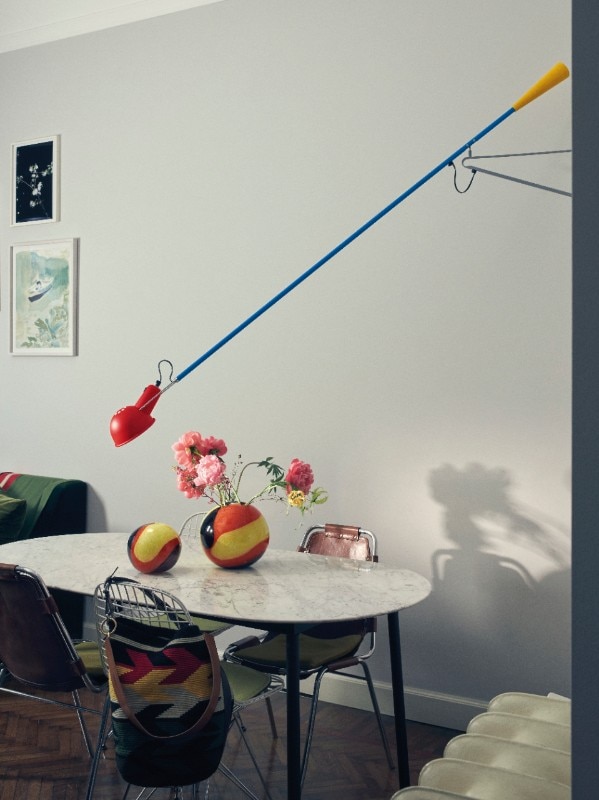 The 265 is the seed of Rizzatto's thinking as a designer. "The reason I wanted to design a lamp was not to produce an object but to produce light. I wanted to design a lamp that would help improve the human experience of an architectural space." As can be seen in the archive drawing, the original idea was to associate a primary colour with each compositional element, a starting point then abandoned in favour of a production in neutral tones.
Now, 50 years later, Flos has decided to be bold and revive the first version of the lamp, renaming it the 265 Chromatica. The shade is again coloured bright red, the support arm electric blue and the counterweight intense yellow. In this way the colours highlight the design components and visually convey their function.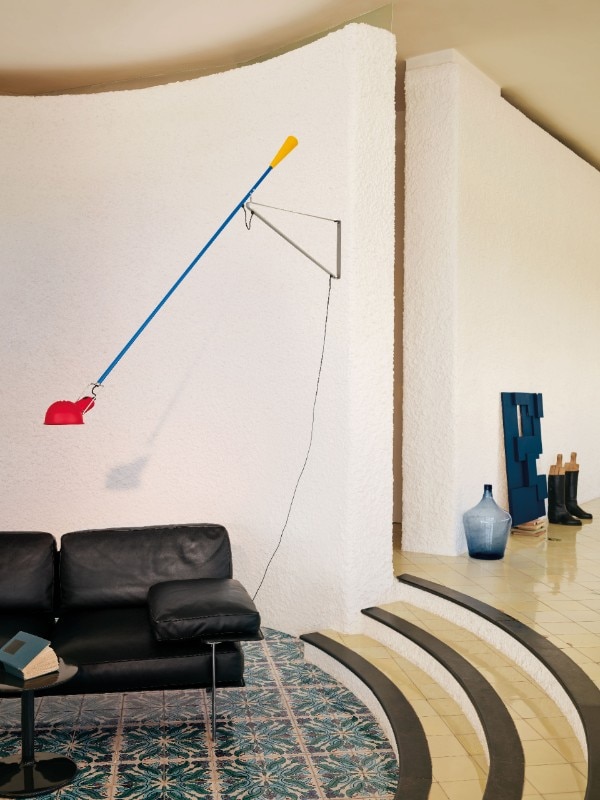 The idea behind it is more relevant than ever. The 265 stems from the need to design light for new types of housing, comprising all the domestic activities of home, work and study in a single space, without neglecting a touch of irony, entrusted to the colour.
Opening image: Lamp 265 Chromatica, Paolo Rizzatto, Flos. Photo Ambra Crociani