Kimpton Hotels chose Amsterdam as its first destination outside the Americas. The interior design of the new Kimpton De Witt was led by London-based firm Michaelis Boyd who worked with Ave Bradley, global senior creative director of Kimpton Hotels. With contemporary timber wall panelling, pale oak timber floors, steel glazed screens and bespoke terrazzo walls the hotel design was inspired by the playful approach of Kimpton and traditinoal Amsterdam.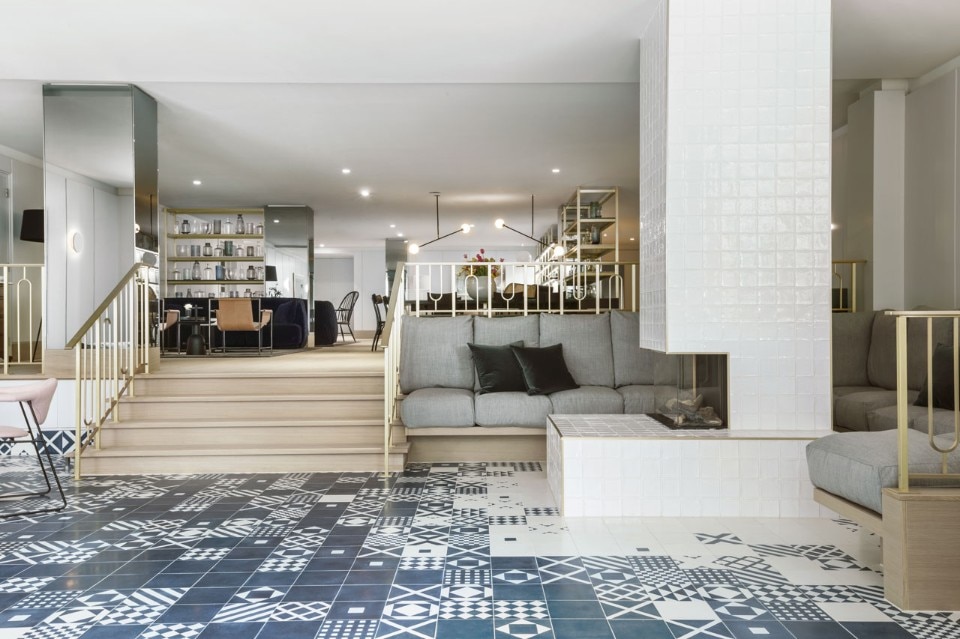 The ground floor has been reconfigured to provide a new entrance with a visual connection to the street and an improved guest journey through a series of lobby and lounge spaces. A former lounge at the heart of the hotel has been reimagined as a new garden room, bringing in daylight and fresh air to the centre of the building and acting as the terrace to the adjacent House Bar. The concept of flora and botanica runs throughout the hotel and the new entrance has been designed to provide a welcoming landscaped retreat from the busy street. The interior furnishings also reference the natural world.
For the hotel reception area, Michaelis Boyd designed a range of graphic blue and white encaustic floor tiles inspired by the traditional Dutch delft tile. Behind the reception desk a ceramic tiled fireplace is surrounded by a ring of banquette seating, with cushions and blankets for reading and relaxing. Walls are animated with a bold selection of contemporary artwork and feature lighting. The House Bar is located within the historical Queen of Holland building. Featuring original beams and timber wall paneling, the interior is painted a dark glossy teal. Michaelis Boyd designed a bird motif wallpaper to run between the ceiling beams – this plays homage to the traditional painted murals that date back to the Dutch Renaissance. Plush velvet seating and low level lighting, the bar is dramatic and cosy, like a XVII century painting.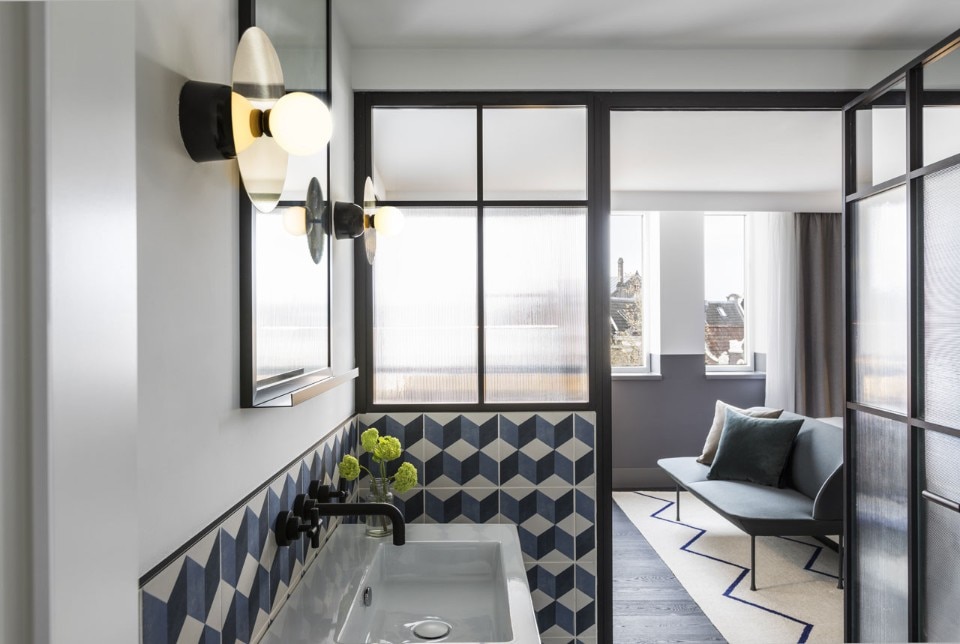 The guest rooms are treated with two interior palettes installed over the 274 bedrooms, providing guests with a unique experience on each visit. Smooth oak floors and colour blocked walls run throughout the guest rooms, which are furnished with a honed marble bedside tables, bold velvet fabrics and custom designed brass hanging rails. The guest bathrooms are defined by bright geometric floor and wall tiles.
Project:

Kimpton De Witt Hotel

Address:

Nieuwezijds Voorburgwal 5, Amsterdam