Poltronova is a celebrated Tuscan company, based then as now in Agliana (albeit no longer on its original premises), that allowed the Florentine avant-gardes to produce the icons of what we call radical design.

Since 1957, Poltronova has never stopped manufacturing or surprising and, for this year's Milan design festival, it presented "Domestic Icons" in Via Vigevano. There could be no better title for this selection of products in several editions and colour options, truly iconic pieces that were central to one of the most exciting times in the history of design. As well as furnishing unusual and unorthodox homes, they are in the permanent collections of great museums around the world. The history of Poltronova is fascinating: Sergio Camilli founded the company and appointed Ettore Sottsass as its artistic director (from 1959 to 1972). After many ups and downs, Roberta Meloni is now CEO, the strength but also and more importantly the brain and heart behind a brand that reorganised its heritage in 2005 to create the Centro Studi Poltronova, take stock of existing material (models and old drawings saved by the workers) and carry forward this anti-conventional tradition with its customary tenacity and verve.
All-white surroundings (both the space and boxes in the architect Pier Paolo Taddei's abstract setting) – where even De Pas, D'Urbino and Lomazzi's Joe (1970) comes in a different colour – played host to a selection of the most iconic and fascinating furnishings in Poltronova's history, still able to thrill onlookers. They included Gherpe, the table lamp-nautilus, and the better known Passiflora, both by Superstudio and dated 1968; the tall Sanremo standard lamp (1968); the Superonda modular sofa (1967) by Archizoom Associati; and the inescapable Ultrafragola (1970) by the maestro Sottsass, who cemented the avant-gardes. A kaleidoscope of objects that surprised those seeing them for the first time and which insiders always love to rediscover. More surprises came in the form of two re-editions and a book.
The first re-edition, Rings (1966), is a jewellery kit containing about 15 pieces in different sizes and colours (black, white, blue, mirror, green and pink – phosphorescent naturally); the different forms were designed by Cristiano Toraldo di Francia (a member of Superstudio) who says: "These rings were produced around the mid-1960s using offcuts from Plexiglas production, when the material was primarily used for shop signs. They were made to my design by a Perspex craftsman with a sign in Via del Corso in Florence using piercing tools and methods: saws, drills, sandpaper and glue. I called them Aurora and Boreale because of the luminous bands in several constantly changing colours of this phenomenon, generated by the encounter between solar particles and the Earth's ionosphere close to the planet's magnetic fields. Small colourful and iridescent optical phenomena worn on the fingers of pale, pink, dark, yellow, brown, smooth or wrinkled hands."
Superstudio also features in the second re-edition, with Sofo a freely composed seating design dated 1966. "Sofo is a seat that can be lined up as on a train or used to build mountains and thrones, regal and non-, or coloured mountains and pyramids firmly planted on the ground although, actually, it is just a block of polyurethane, a cube halved by a sort of S-cut and then clad with a fabric featuring two stripes. It originates from a very simple operation that wastes no materials or intellect and stands as a large, colourful and slightly abstract object, a bit like all those things containing a little joie de vivre and that, for this reason, seem to come from another world."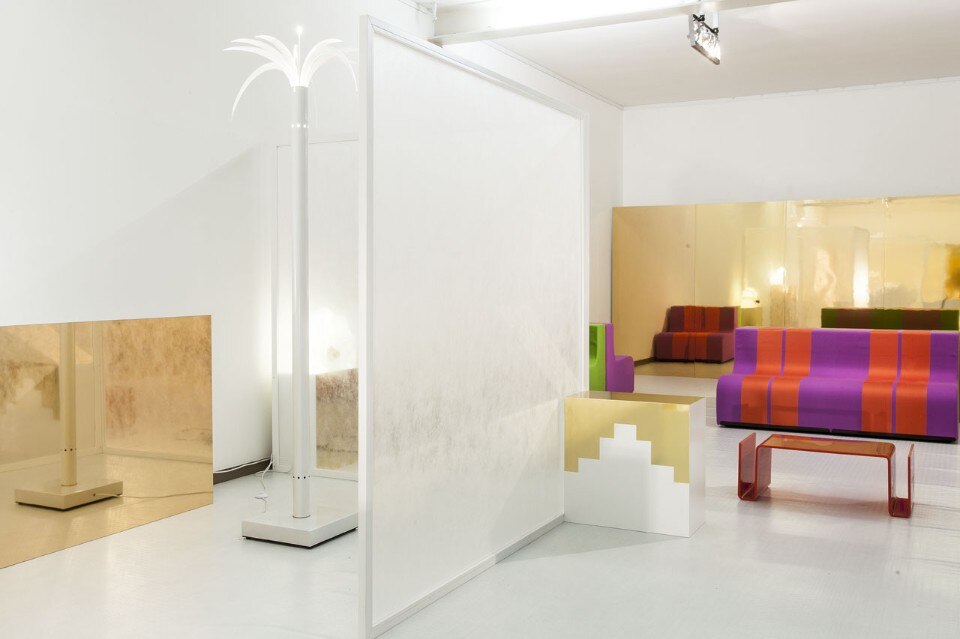 The book is the company's second, after that of 1976 (the first and last) entitled Poltronova Backstage: Archizoom, Sottsass and Superstudio, the radical era 1962-1972. Published by Fortino, edited by Francesca Balena Arista, a professor at Milan Polytechnic, and with contributions by Barbara Radice, Dario Bartolini, Adolfo Natalini, Gilberto Coretti and Cristina Morozzi, among others, the book has a foreword by Michele De Lucchi and contains previously unpublished photographs taken between 1962 and 1972 behind the scenes during the production of company catalogues. It is yet another example of an all-consuming approach to design.
"These designers saw the communication, and so the photographs of their pieces, as an integral part of the creative process", adds Roberta Meloni. "I am happy to present these re-editions as Poltronova has a special history that must be acknowledged. Just think, nearly half the designs developed for the company by all the designers who have worked with us have never made it into production. In those years, the Italian provinces were home to instinctive geniuses who did not work to a plan but were gifted with great enthusiasm and a desire to make things happen. The post-war period was over and there was a sort of anarchy. They worked on seemingly randomly conceived designs such as Archizoom Associati's Tizio Caio and Sempronio (1967); there was fibreglass to hand so they wondered how best to use it or what could be done with a batch of milk..." she adds, with the visible passion that drives this adventure. Basically, back then there was freedom of thought and action.

If we must look to history to gain a better understanding of our present and ideas for the future, then radical design must be seen as one of the great idealistic movements in the history of international design. We should remember its values, ones that spoke of creativity but also of equality, sharing and freedom of expression. That period teaches us that design is not simply products – chairs, tables, lamps – but centres primarily on life, on people's thinking and the constant impulse to change the status quo. 


12–17 April 2016
Domestic Icons
Area 35
via Vigevano 35, Milan