Over the three years that the Los Angeles Philharmonic has paired Mozart with modern architects (stage design) and couturists (costume design) in the Mozart/Da Ponte trilogy series, Amadeus seems to have found his finest match with the innuendo of Zaha Hadid and the spontaneity of Hussein Chalayan in the recent production of Così fan tutte.

The "limited edition" show hit the stage four times in the last two weeks of May, following the 2012 production of Don Giovanni (Frank Gehry + Rodarte), and the 2013 production of The Marriage of Figaro (Jean Nouvelle + Azzedine Alaïa). Christopher Alden directed all three operas, with renowned conductor Gustavo Dudamel at the musical helm.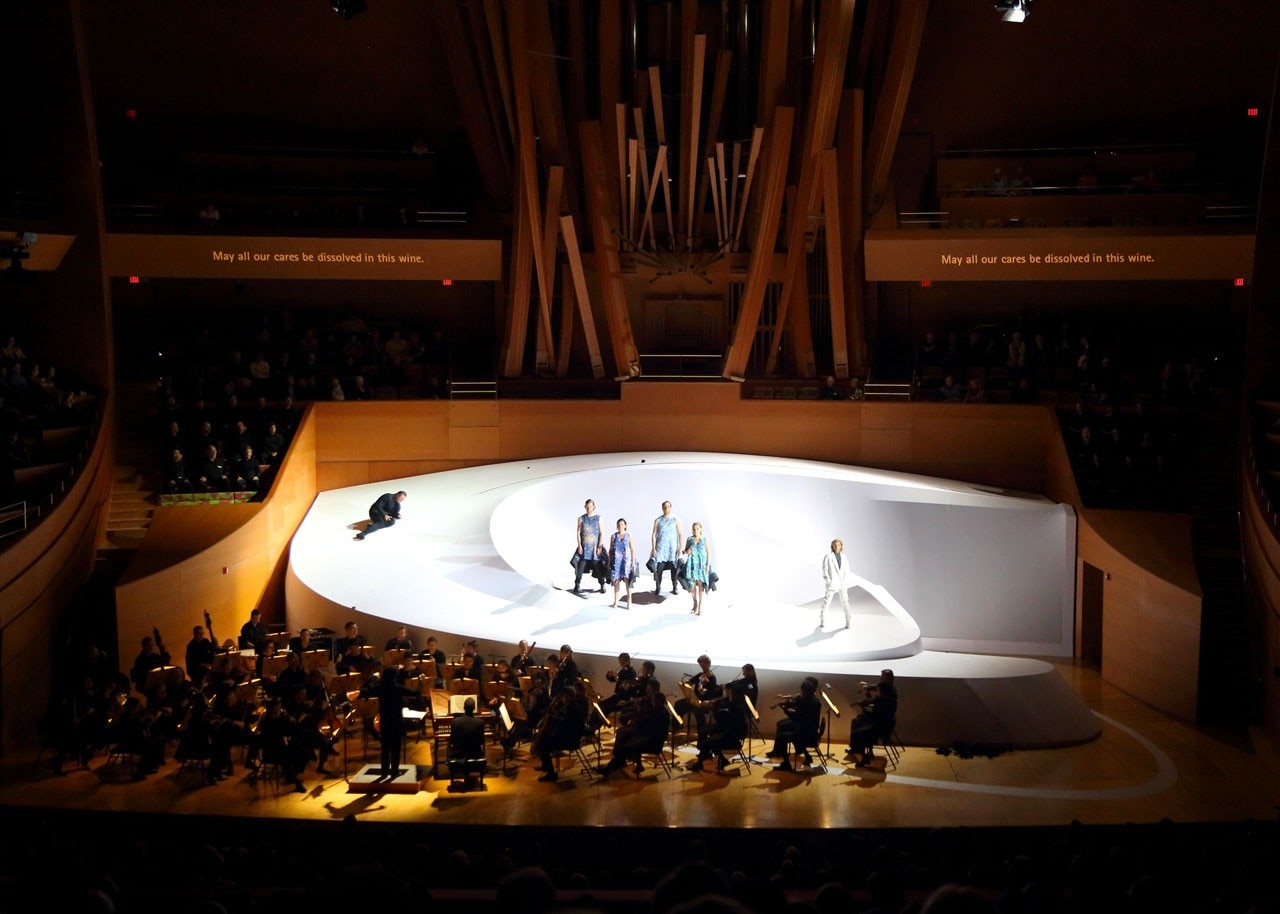 While Gehry and Rodarte's collaboration set Don Giovanni in a futuristic and somewhat detached world of abstraction, and Nouvel and Alaïa induced Figaro into a dreamlike and enchanted state that changed dramatically with each act, Hadid and Chalayan approached Cosi with a devilish playfulness and immediacy that, even in surreal moments, felt decidedly modern and tied to the present. One can't expect an opera from the 1790s to have the same sensitivities to, say, um, gender stereotypes, which most LA Phil audiences will claim now, so Hadid and Chalayan have some laughs with the incongruities.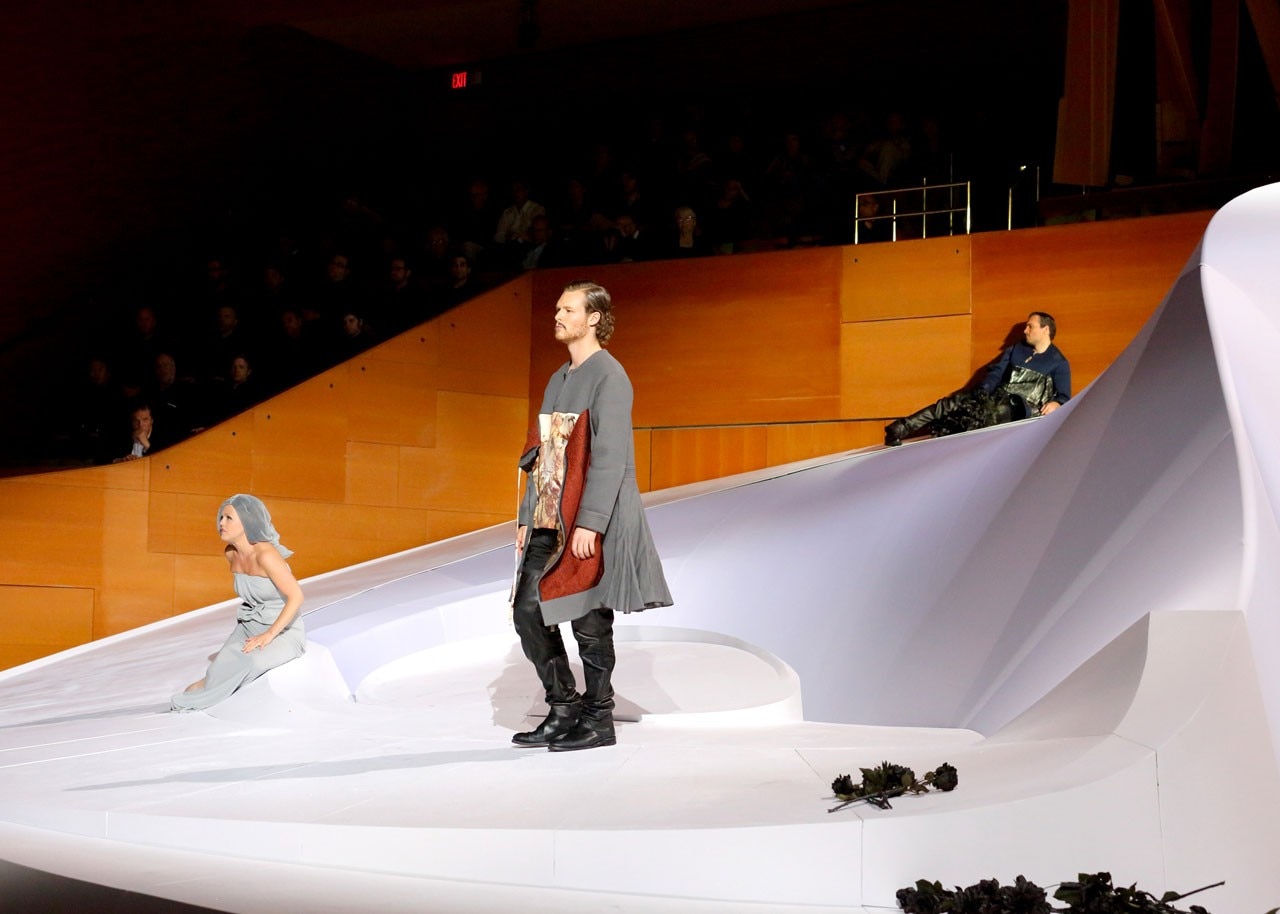 Very briefly, Così fan tutte follows bachelor-creep/philosopher Don Alfonso as he makes a bet with his two younger friends – officer 'bros,' Guglielmo and Ferrando – that their chaste (for now) lovers, sisters Dorabella and Fiordiligi, could not resist the seduction of other men, should the two bros be deployed. Don Alfonso bribes the sisters' maid, Despina (a forward-thinking, cynical, love-who-needs-it? kind of broad) to help him win the bet. Plots are hatched, disguises are donned, flirtation is amped up, and vows are broken then patched up again. All in all, an 18th century romantic comedy that Alden, Dudamel, Hadid and Chalayan make relevant and entertaining to a modern audience.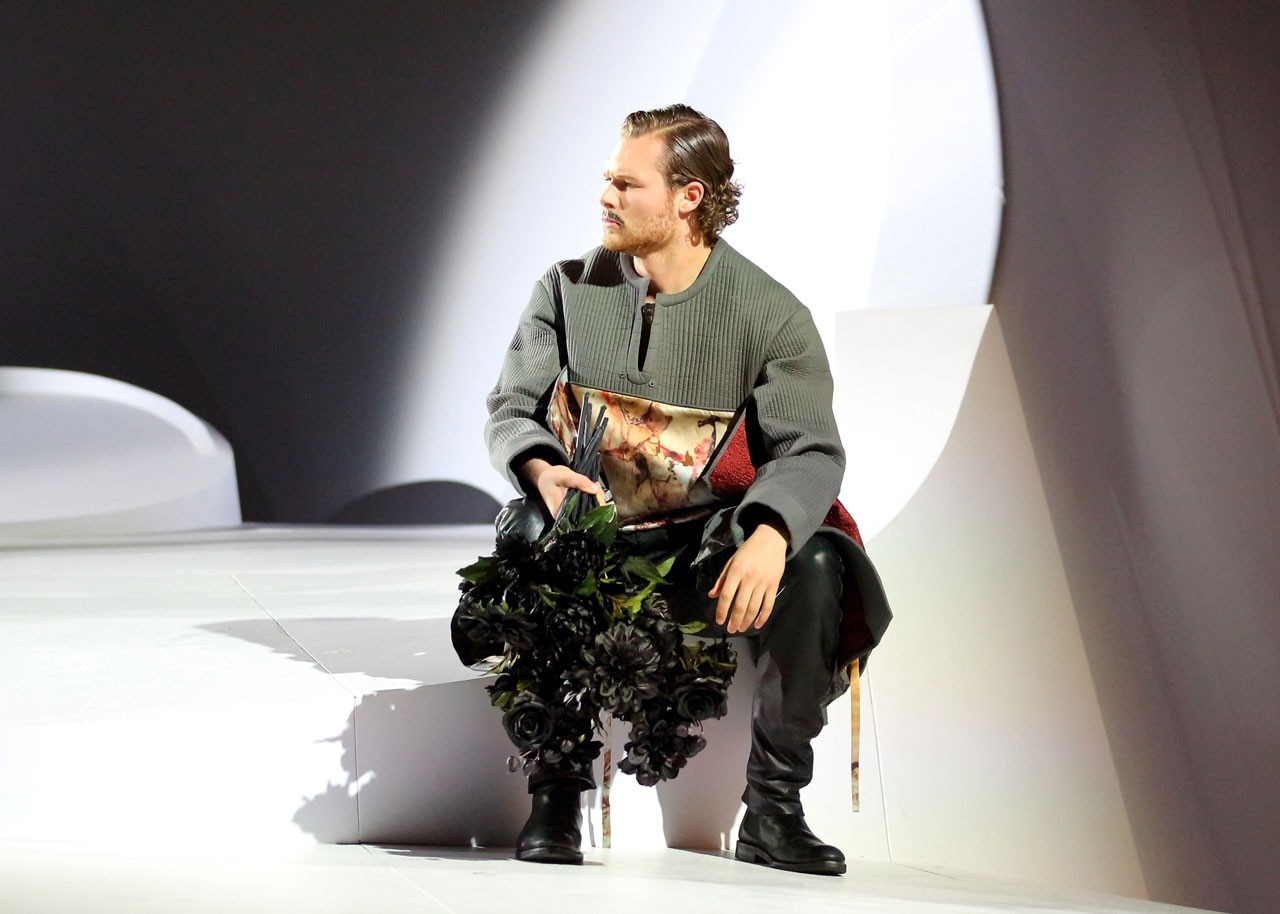 At the peak of its performance, Hadid's stage, a minimalistic "snail," undulates at a sexually heightened scene of implied undress between the characters. This double entendre gets a big laugh from the audience, but otherwise Hadid's design is careful not to upstage the actors. Remaining a static but striking platform for the actors' power struggles, Hadid's stage is an appropriate route and metaphor for the ups, downs and circuitous twists of the plot, as well as its physiological warfare. In form, Hadid's stage avoids crafty decorativeness or excessive theatricality and looks rather at ease with the rest of Hadid's portfolio. While the stage is not strict, it also offers little by way of whimsy. Let's call it a sophisticated introvert, more on par with a pointed soliloquy rather than changing, rapid-fire dialog. In this case, the stage is there to anchor the many moving parts of the opera.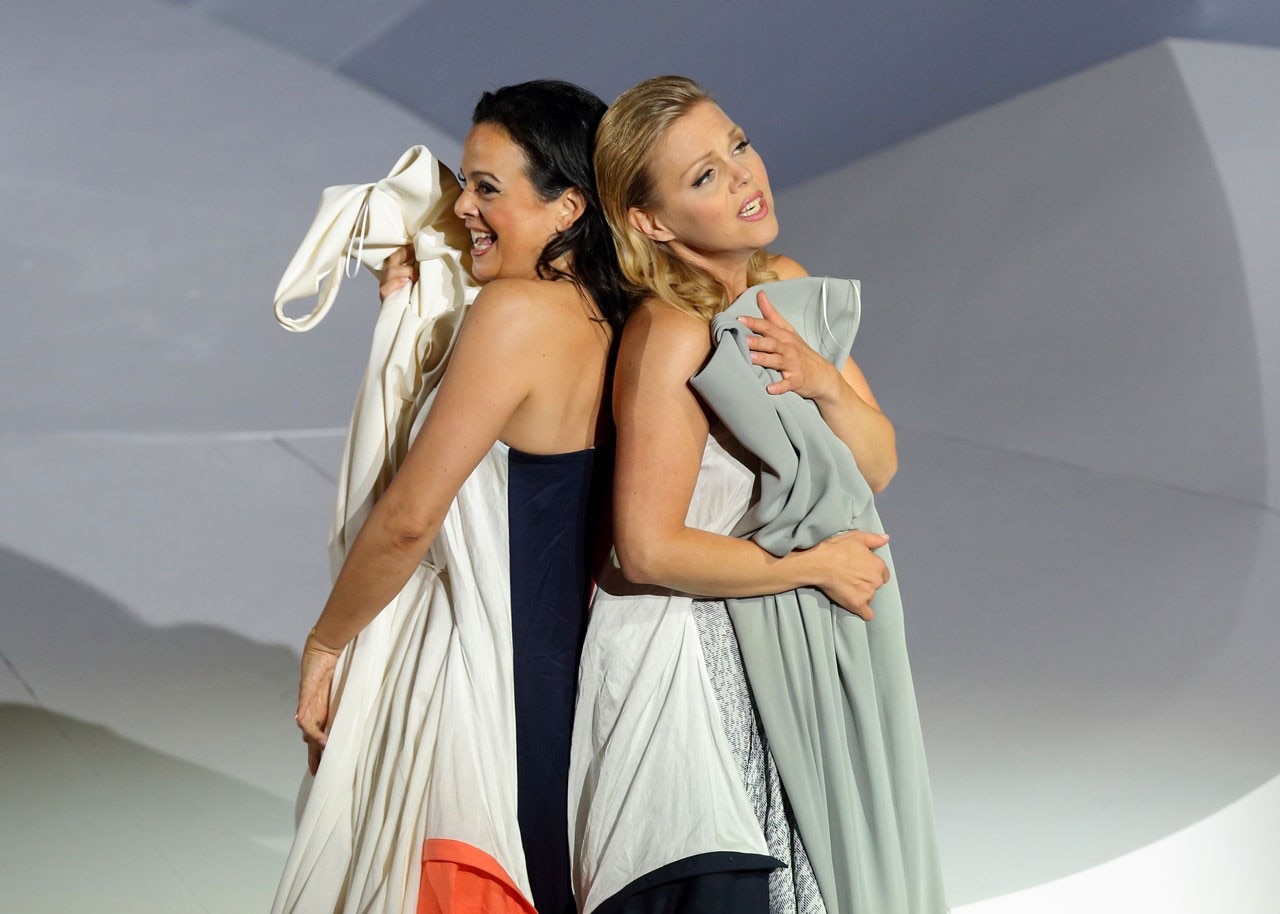 Chalayan's costumes, on the other hand, prove much more extroverted as they grow increasingly manic and mischievous in their exchange with the story and the characters driving it. The costumes never sit still. Initially, Chalayan tricks us into thinking the costumes will be casual, as if ripped from a current lookbook: informal, light summer-wear for the young lovebirds, and sharp tailored suits for the older connivers. Don Alfonso and especially Despina, by the way, look especially cool and curated throughout – a nod, perhaps, to their deliberateness in life, as in wardrobe.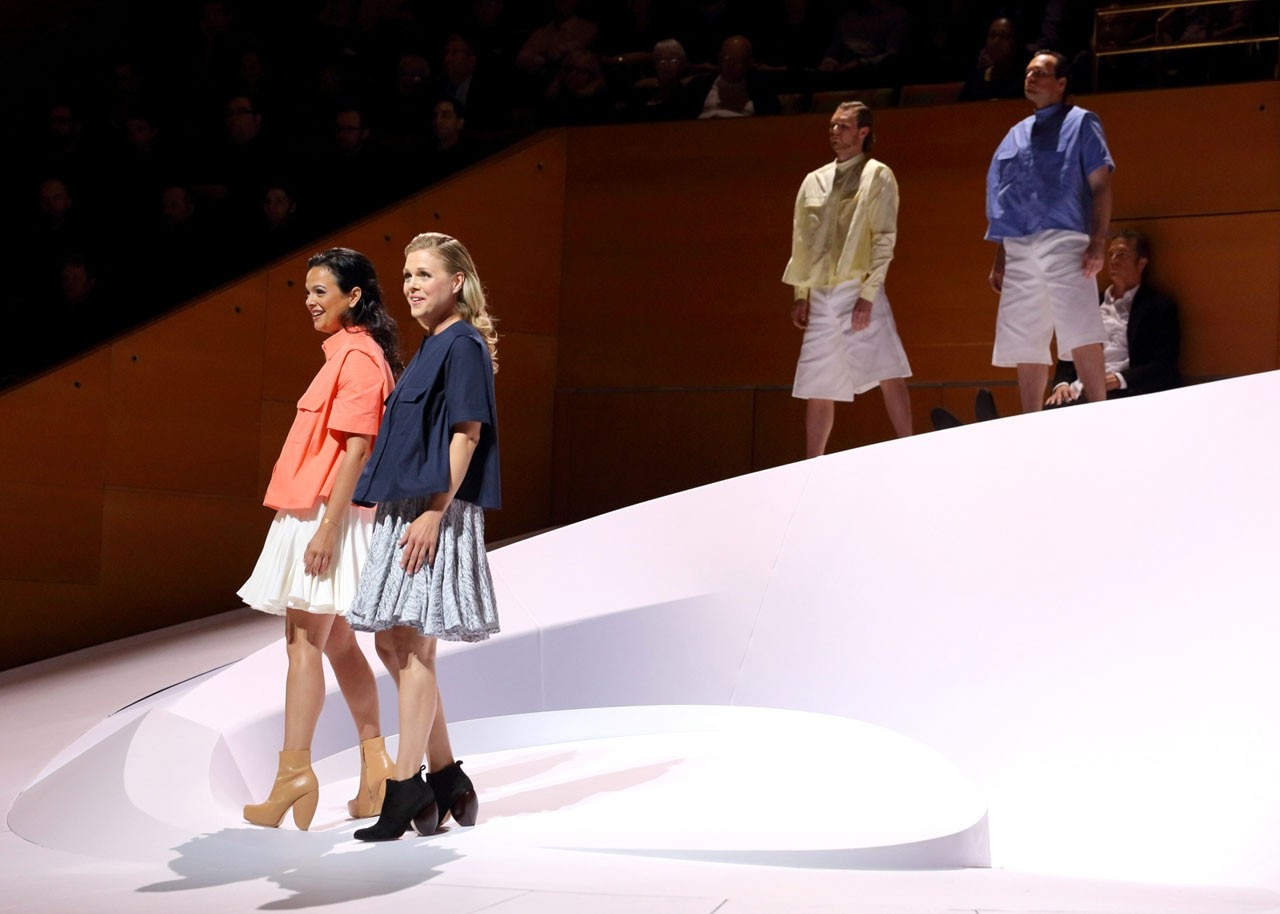 As the story grows progressively more convoluted, however, the young officers, in various states of disguise, look progressively more avant-garde. They swim further into murky mental waters, leaving romantic and entitled innocence on shore, and their costumes become decidedly more runway rather than ready-to-wear. A meta suggestion, perhaps, of the young officers' playing roles to which they're unaccustomed, entering worlds of jealous fantasy and mind-games. Chalayan seems less concerned with suggesting any specific time period or fictional type with his costume design. He keeps characters looking cool and current as they descend further into delusions and psychological tricks, wearing appropriately more complicated and 'advanced' outfits as they do so. Likewise, as the preconceived notions of the young sisters unfurl (with regard to love, lust and chastity, mostly), so do their outfits. At key points of the plot, characters flip open their jackets, which drape behind them, dramatically, still attached to the garments underneath.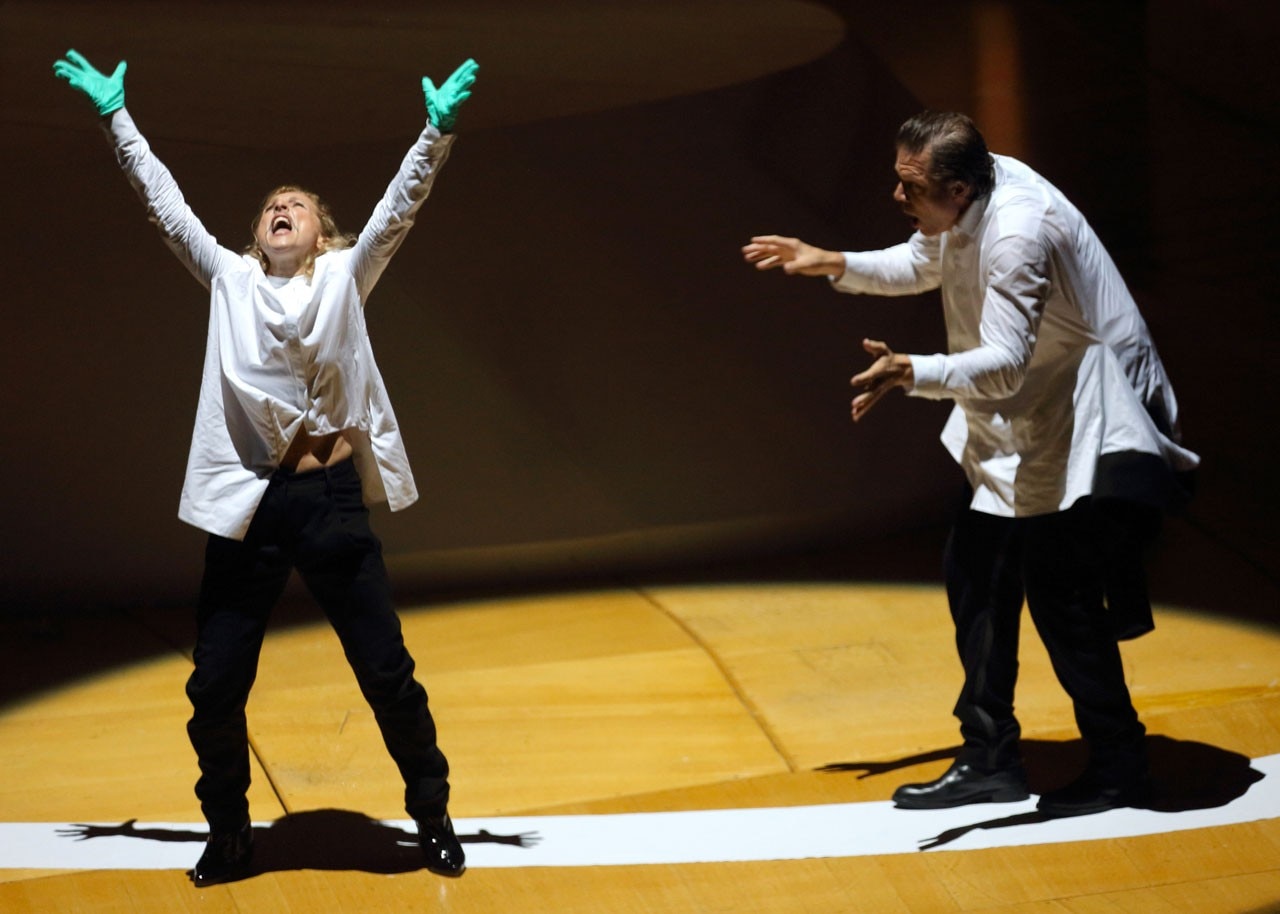 Chalayan's characters elegantly shed skins and slither into new ones on stage. There's even room to read some gender-bending into the costume changes – having cast aside the mirage of 'holy union' with their respective lovers, the two couples meet on stage in similar dressy sleeveless tops, which I take to symbolize a moment of turning inside-out for our characters, letting guards down, allowing disappointments to plant them deeper in reality. Under Alden's direction, the coupling of Chalayan's intricate and determined costumes with Hadid's bold but unaggressive white spiral, creates a visual manifestation of the opera that is complex and a sweet contradiction to what could otherwise be a same-old, outdated plotline.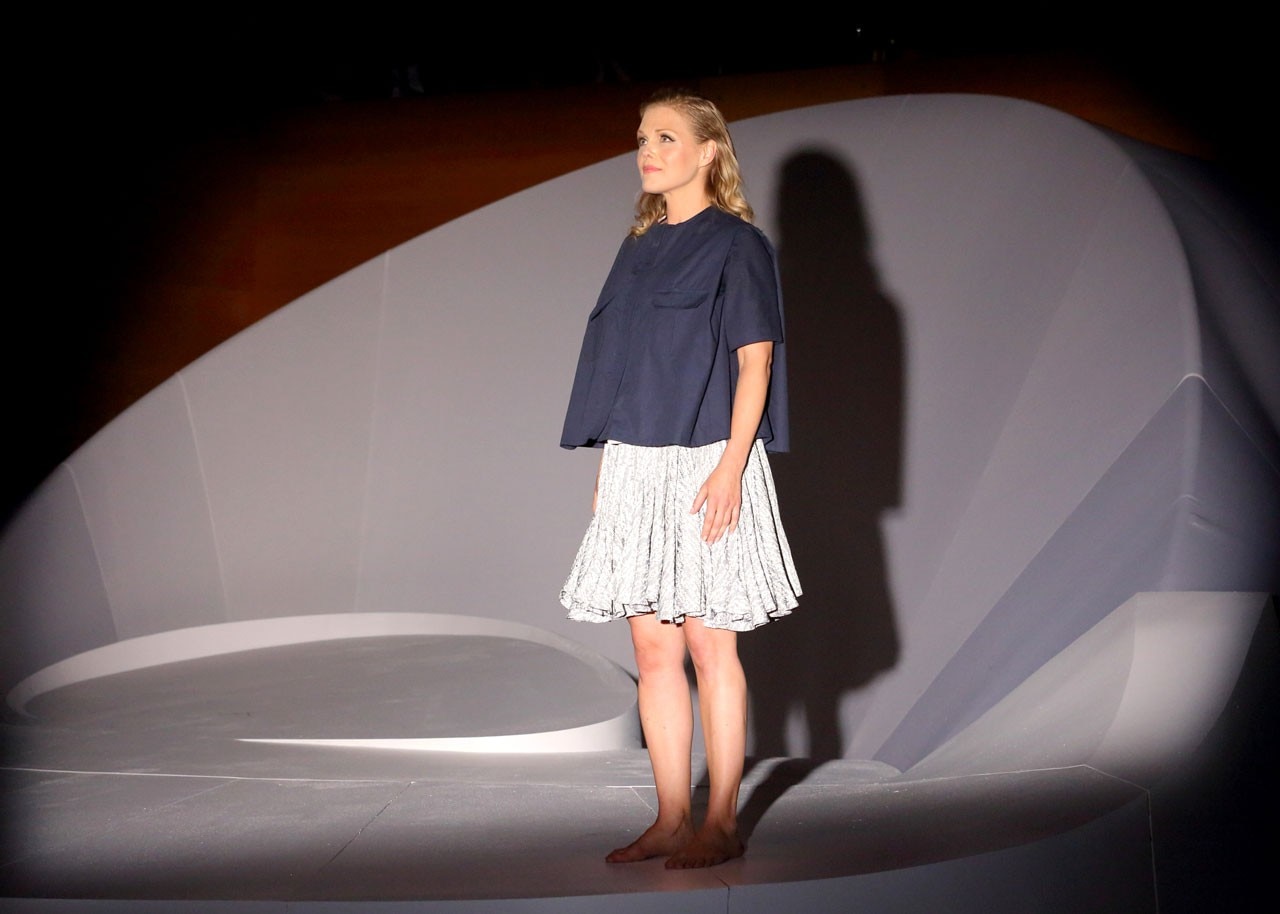 I don't want to play favorites, but I did find the collaboration between Chalayan and Hadid particularly engaging for the clear relationship they established between stage, costume, opera, and the present day. Most appealing is that the relationship is sometimes a purposefully, calculated, untidy and discordant one. It takes certain skill to tailor-fit mental, emotional, and relationship chaos. That's what they mean by "hot mess," isn't it? I'm surprised Mozart didn't coin the term.

Così fan tutte
Wolfgang Amadeus Mozart
Composed: 1789
Length: c. 180 minutes

23–31 May 2014
Walt Disney Concert Hall