A pink neon sign welcomes visitors to the Design Museum's latest exhibition. It is a brazen statement: "the future is here".
Moments later it flickers, and switches to something less bullish: "the future was here". This combination of bravado and uncertainty sums up "The Future is Here: A New Industrial Revolution". Curated by Alec Newson, this is a show that aims to shed light on the transformations currently taking place in the "third industrial revolution".
The exhibition occupies the Museum's main gallery space. The first section explains the history of production so far, from the first industrial revolution of the eighteenth century to today. The focus is largely on Britain and the innovations that made it such an industrial might, although other (Western) countries do get a look in. There is also welcome attention to those who have protested against the downsides of technological progress, from early 19th century Luddites to 1980s miners. There is minimal consideration of contemporary opposition – this is a show about the winners, not the losers, of today's technologies.
The rest of the exhibition is divided up into five different sections, each dedicated to these different technological platforms: Digital Making; Mass Customisation; Mass Production; Social and Unmaking. Each consists of products made using the technologies featured, alongside explanations and examples of the materials, machines and techniques employed.
Digital Making includes some of the oldest digital technologies, from CNC milling to 3D printing. This makes it no less innovative: it includes Ron Arad's PQ eyewear (2013), made from just one piece of printed polyamide. It has flexible joints instead of hinges and, in some models, frames that can be adjusted to fit the user's face shape. This nod to the bespoke is the focus of Mass Customisation, which showcases companies experimenting with the market possibilities of the digital. The selection is broad, ranging from the London-based furniture firm Unto This Last, named after a John Ruskin essay, which combines craftsmanship with CNC milling, to Mi Adidas's customisable footwear and new designs by digital pioneer Assa Assuach. Visitors also get to try out these participatory technologies, thanks to a computer on which you can design the features of your own 3D printed Makiedoll.
Mass Production cements the message that these technologies represent more than a hacktivist or DIY movement, but could constitute the factory of the future. Alongside two of KUKA's industrial robotics busy at work is a chair from Dirk Van der Kooij's Endless Process, in which objects are produced from a single, continuous length of recycled plastic. The Dutch designers' process exemplifies the exhibition's environmental thread, which is most evident in the Unmaking section. This deals with the sustainable potential of new technologies, such as Puma's InCycle shoes, which are 100 percent Cradle-to-Cradle certified, and either biodegradable or recyclable. 
Finally, the Social section explores how new technologies are blurring the boundaries between the roles of designer, manufacturer and user. Key themes here are openness and democracy, as seen in the WikiHouse, an open-source approach to architecture, and the invitation to participate in designing a new sofa for British firm MADE.com, who will put the winning design into production. There is also the opportunity to see what happens if non-designers get involved in digital manufacture, thanks a live desktop 'factory' where visitors can watch museum staff get to grips with laser cutters, 3D printers and other machinery.
The exhibition does invite debate on the unknown effects of this digital revolution. It invites us to think about what the design studio of the future will look like, how digital fabrication will be taught and what effect these technologies will have on retail. Asking these questions is important, as the show also suggests that we're not quite ready for these changes; infographics on the gallery's back wall reveal that according a recent survey, two thirds of us still prefer design done by professionals and nearly ninety per cent have no interest in owning a 3D printer.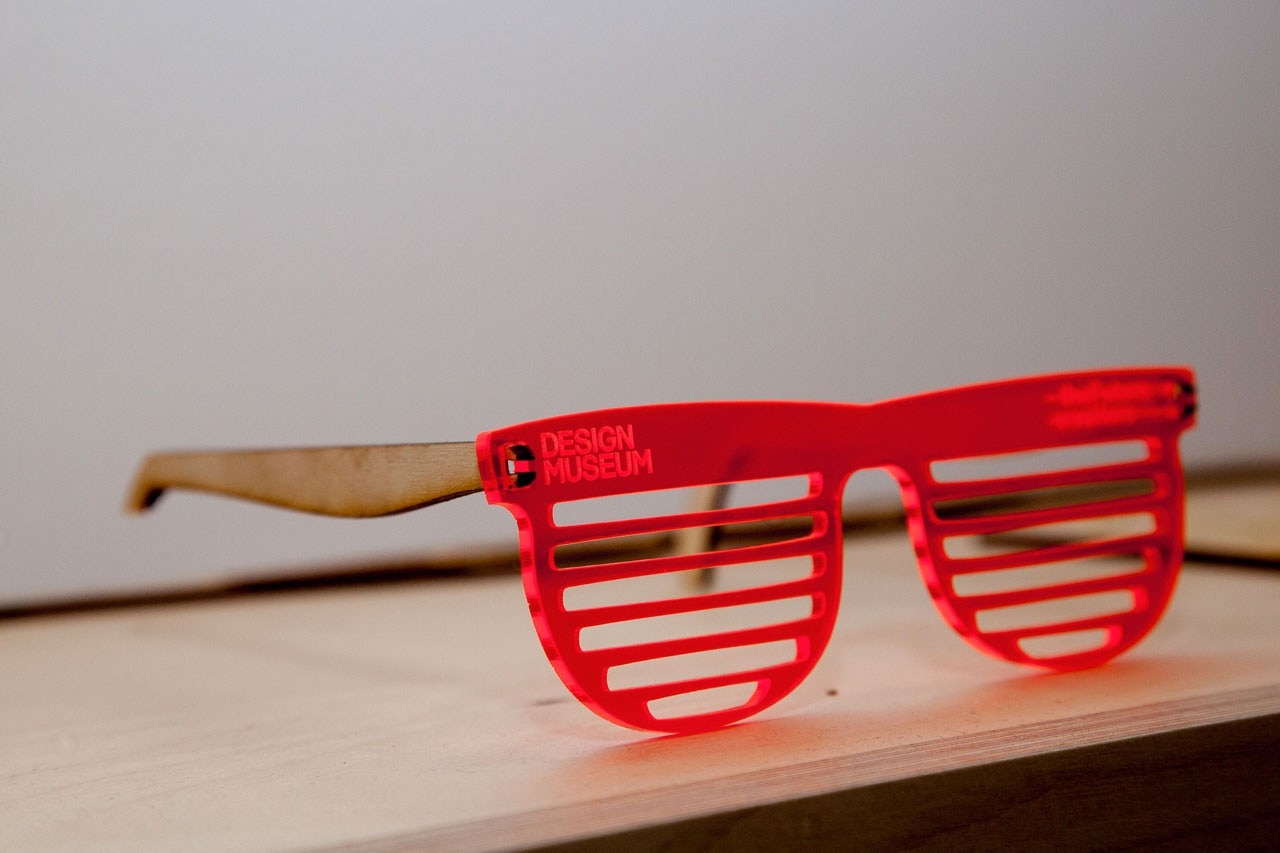 Despite this uncertainty, the show's rhetoric is overwhelmingly positive, which is unsurprising given it is a collaboration with the Technology Strategy Board, a UK organization aimed at stimulating innovation for economic growth. From this perspective, the message is clear: nations like Britain can still be manufacturing powerhouses, even in today's post-industrial age. Yet while it is good to see an exhibition open up these technologies to the general public, there many unasked questions. Who is driving this "third industrial revolution"  – grassroots makers or corporate capitalists? Does it really signal a seismic societal shift, or just a new take on the old system? What effect will it have on the nations who currently manufacture our goods? As I leave, the neon sign flickers, undecided on whether this is, or could be, the future of how we design and make our material surroundings.