Asking "what a profession can do" is an interesting litmus test for gauging the degree to which a professional practice is universally understood and defined. Ask what dentistry can do, or accounting, and you'll get some funny looks. Isn't it obvious? But what can design do? The enduringly ambiguous word and its recent trend as a suffix to almost anything — business design, network design, relationship design — makes it perfect fodder for existential interrogation.
Enter What Design Can Do (WDCD), a two-day conference held every May in Amsterdam that attempts to answer that question by pointing to an expanded field of agency and outputs. The event consists of speakers, workshops, and plenty of networking opportunities. It also has big ambitions: conference founder Richard van der Laken hopes that it becomes "the biggest multidisciplinary design conference in Europe, with an international audience."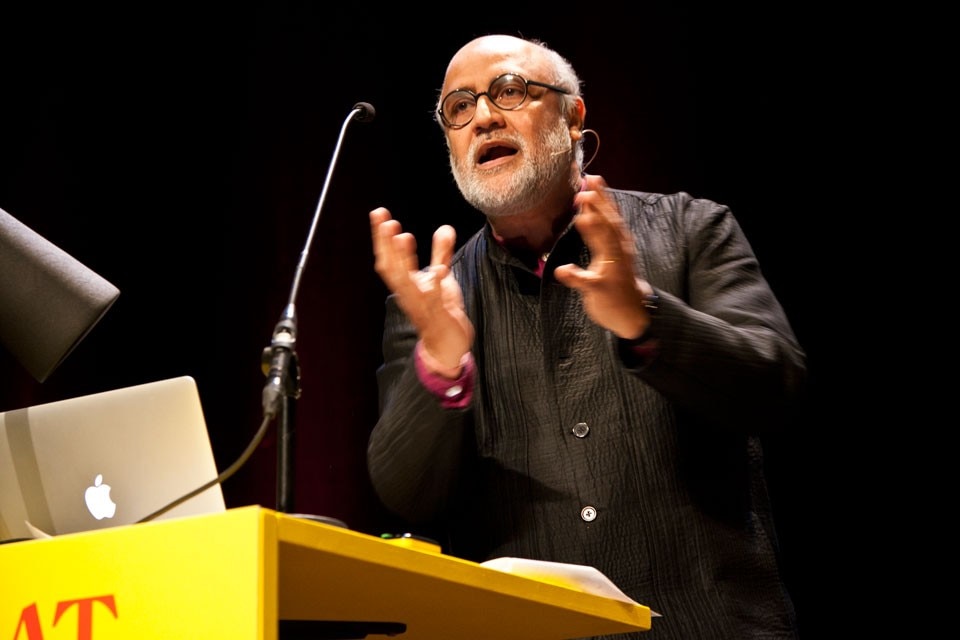 Three years in, three conferences down, and it's a good moment to reflect on what indeed a conference can do for defining a profession. But to evaluate you need to know intentions; and here's where things get murky. It's not clear what this conference really wants to do. Implied in the name — itself a question turned into a statement — is an infomercial-like sales pitch: "You think design just does this — but wait, that's not all! It also does this and this and that." The website qualifies its aim by promising to "expose design as a catalyst of change and renewal and a way of addressing the societal questions of our time." So we're promised a social spin, a way out of the vicious entrapment to corporate interests and capitalist logic. But for the founder, "every design act is a social act"; and instead of aiming for a representation of design as a catalyst for societal change, he settles for a measure of "being active, doing something" for what is included in the program.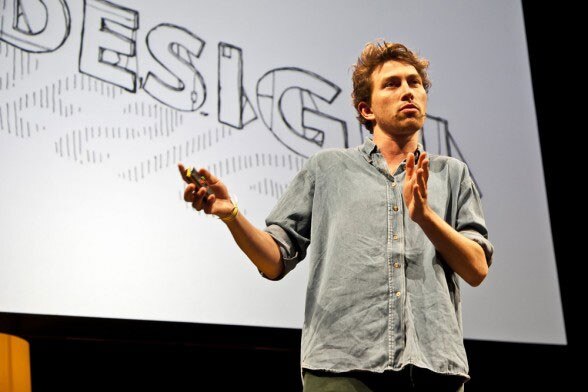 Still, those hoping to get that transformational edge were served this year with a host of great speakers, such as David Kester, former chief executive of the Design Council in London. Kester devises programs that link designers with technocrats to address urgent social problems, getting right to the idea of design-as-catalyst. With a special focus on health, he helped devise Design Bugs Out, a program that linked four teams of designers with British manufacturers to make simplified hospital furniture that is quick and easy to clean, avoiding dirt traps and removing the risk of life-threatening infections like c.difficile.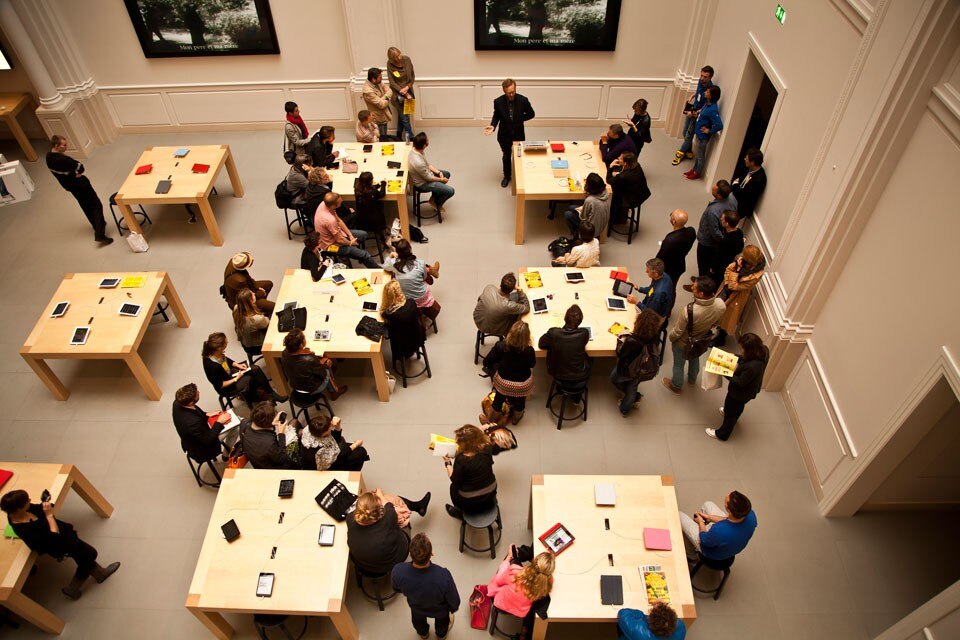 On day two, architect Rahul Mehrotra discussed his efforts to mediate between capital and "the social" in the kinetic and contradictory environment of Mumbai. Designing green façades that bring gardeners and CEO's face-to-face, and designing better public toilets in slums were his way of addressing the multiple contradictions of a caste-laden hyper-capitalist environment.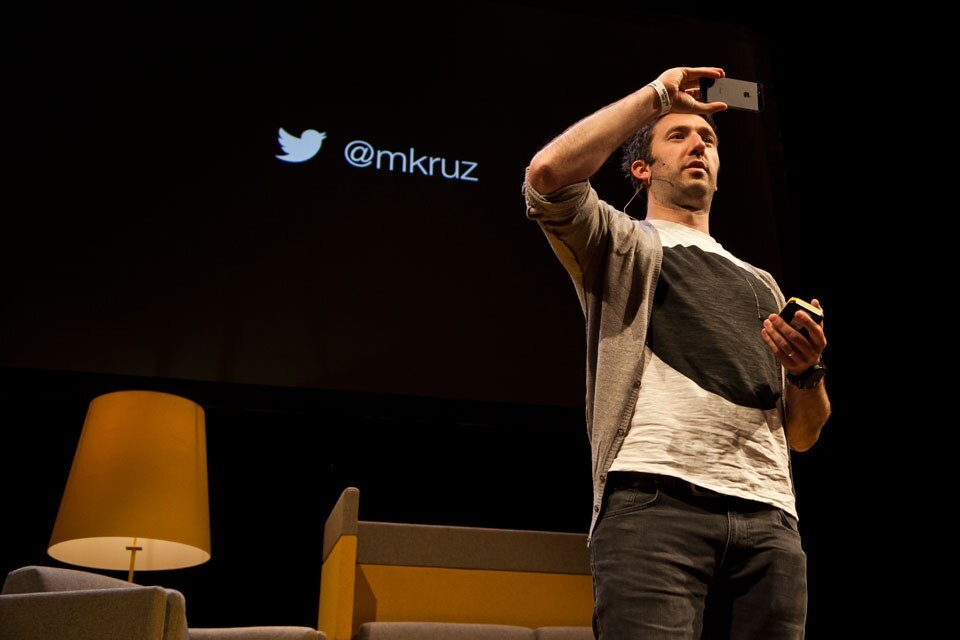 More socially minded projects came from a series of five-minute pitches presented throughout the two days. Designer and maker Bas van Abel started with an evocative statement: "If you can't fix it, you don't own it". He was alluding to the built-in control that most technology companies maintain over their electronics, by deliberately making them unfixable. To counter that, he started the FairPhone initiative, an attempt to produce an ethical phone that was mindful of supply chains, transparent manufacturing, and the environment.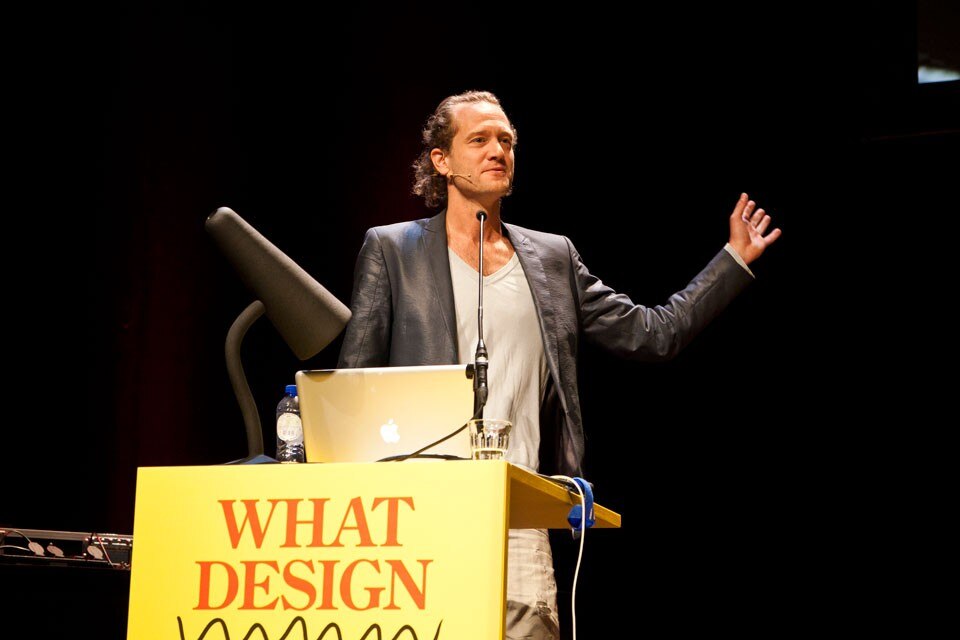 These were followed by several presentations focused on the idea of simply "doing something". These presenters didn't pretend to tackle urgent social issues, but focused on excelling in their performance of design. Mike Kruzeniski, design lead at Twitter, led a thorough breakout session where he discussed the position of advanced design labs embedded in companies. Concerned with how to effectively invest resources in innovative ideas by being mindful of the very real production pipeline of a particular company, Kruzeniski believes that a good idea isn't so great if it can't be made. It was useful stuff, but by using his first-hand experience from company giants like Nokia and Microsoft, it didn't exactly open doors to a notion of expanded practice.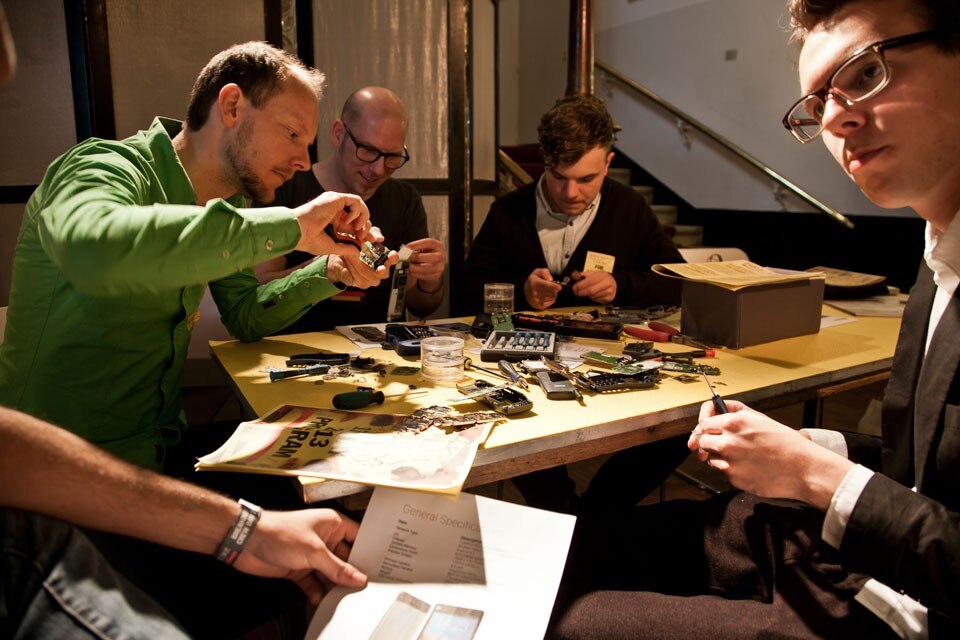 Designer Nicolas Roope, on the other hand, delivered a rather uninspired overview of his own practice. Openly expressing his disdain for working directly with politicians and bureaucrats, he lectured about the idea of seduction being at the core of any successful product design, offering a walk-through his impressive portfolio. Images of James Bond movies and fast cars followed. If you've watched a season of Mad Men, you wouldn't learn anything new here — this was cursory "symbols-drive-seduction" semiotics.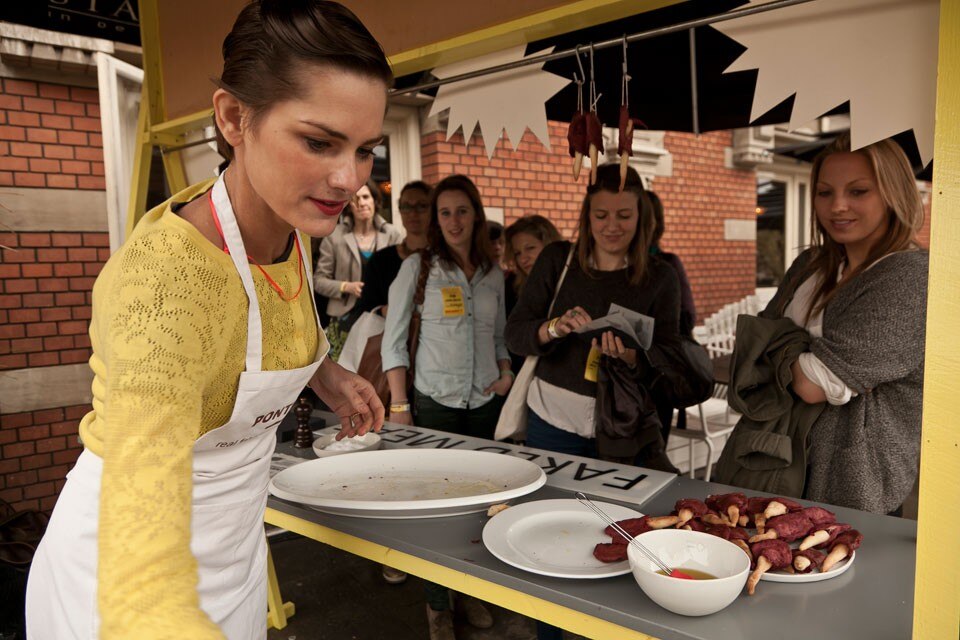 Co-founder Van der Laken has emphasized that this conference is really about impact, so these presentations can be forgiven for not making much reference to social questions. But a nagging thought returned over the course of the conference, about what design can't do: to honestly measure impact. Many presentations took on a formulaic TED-esque sheen, where a problem was established, and clever solutions were offered, propped up by money shots and charming anecdotes. Recurrently lacking was evidence that anything substantial was being accomplished. Mehrotra was honest in discussing the failure of his slum toilets, but many presenters were less honest about the impact of their work, as if pressured by the aims of the conference to deliver something special. With its emphasis on impact, WDCD builds a degree of expectation that many of the presentations don't live up to, and that is perhaps its biggest flaw.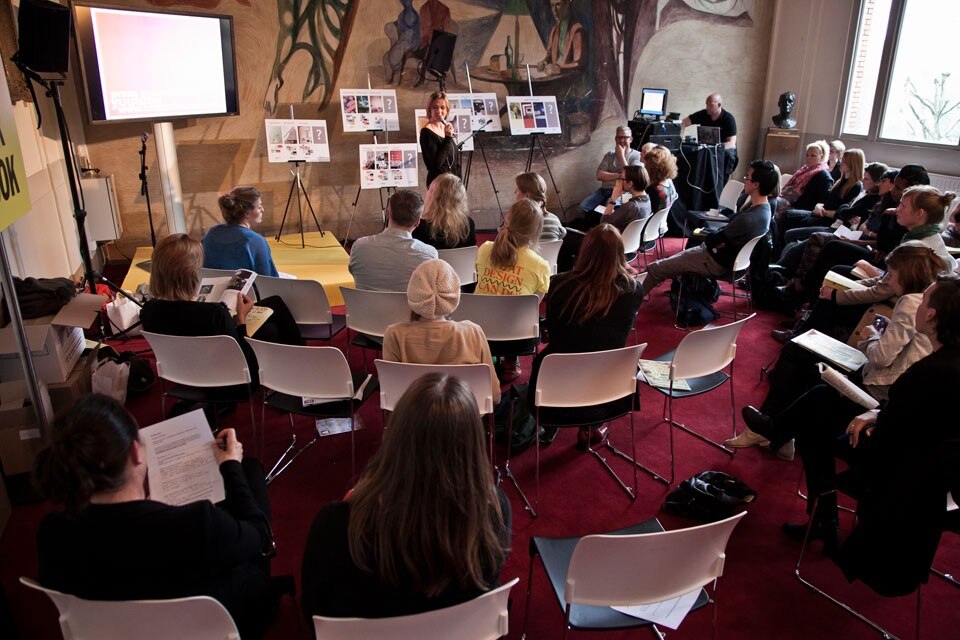 Ultimately, WDCD showcases one thing design can do extremely well: to design a conference. The event's trademark yellow is splashed everywhere from the volunteer t-shirts, to the wayfinding signage, to the big bright placards posted outside the venue. The wording in the website, brochures, and advertising is laden with importance and zeal. Organisers coordinated 30 breakout sessions, giving the audience a chance for more interactive engagement on topics of their choice, and even produced a conference catalogue manufactured on the spot and presented at the closing party. It was all a truly impressive performance.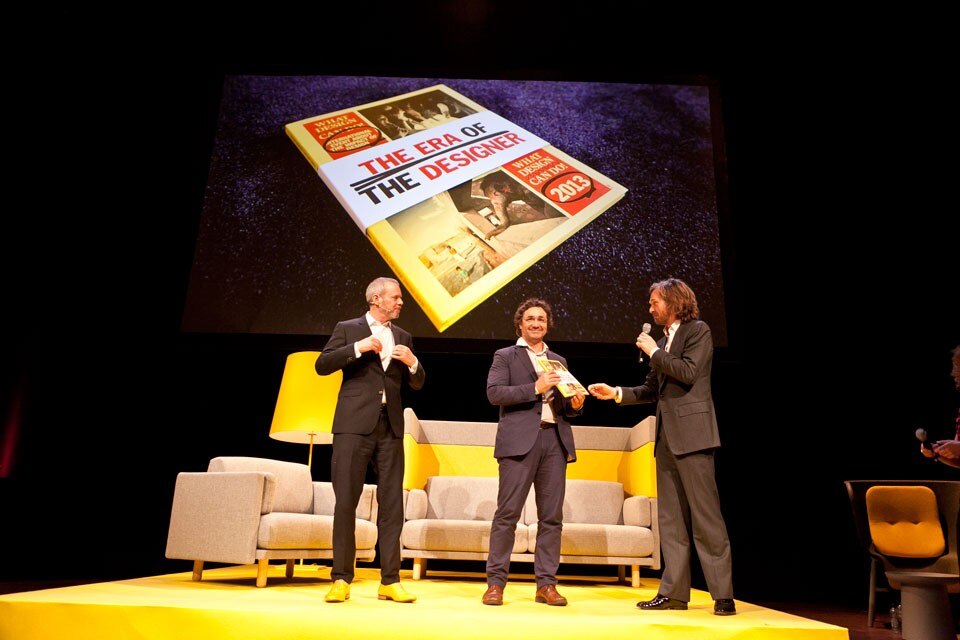 All this razzle-dazzle is extremely effective for the uninitiated, the politicians who cut subsidies to design fields, the electorate who back these cuts, and the clients who trim their design budgets. It could fundamentally change their mind about the power of design. But for many of the designers present at the event, the content of the program didn't cut deep enough, didn't confront the tension and contradictions of trying to have an impact through design. To a certain degree, all conferences suffer from this lack of depth, their format not allowing for the interaction and long debate needed for new revelations to come about. But going into its fourth edition, WDCD might want to have a serious re-think of what it wants to accomplish as an event. If it aims to become the biggest multi-disciplinary design event in Europe, it might already be on its way. But if WDCD wants to truly confront "impact" as a design task, some more rigorous editing might be necessary. Brendan Cormier (@BrendanCormier)