Design Miami has always had a lot of subject categories to cover. The international design fair, which tags along with the annual Art Basel mega-fair in both its Miami and Basel incarnations, started out as the Miami Design District's opportunity to attract overflow Art crowds with contemporary design. In the 7 years since its inception, and currently under the direction of Marianne Goebl, the fair has included architecture, furniture, leatherworking, scent, fashion, car design, urban planning, and practically everything else that falls under the gargantuan umbrella that is "design." This year the fair's organizers again tackled that long list, with architecture and grand urban predictions taking the cake.

The fair has since left the Design District, to occupy a site in Miami Beach adjacent to Art Basel. David Adjaye, who was awarded the stately title of 2011 Designer of the Year by Design Miami this September, used the commission that comes with the award to construct a pavilion at the entrance to the fair. The structure, named Genesis, is a triangular shelter, with an ovoidal interior, made of standard wooden planks that are digitally cut. The process of digital cutting, making every piece slightly different, with total precision, created a womb-like interior out of standard wood forms.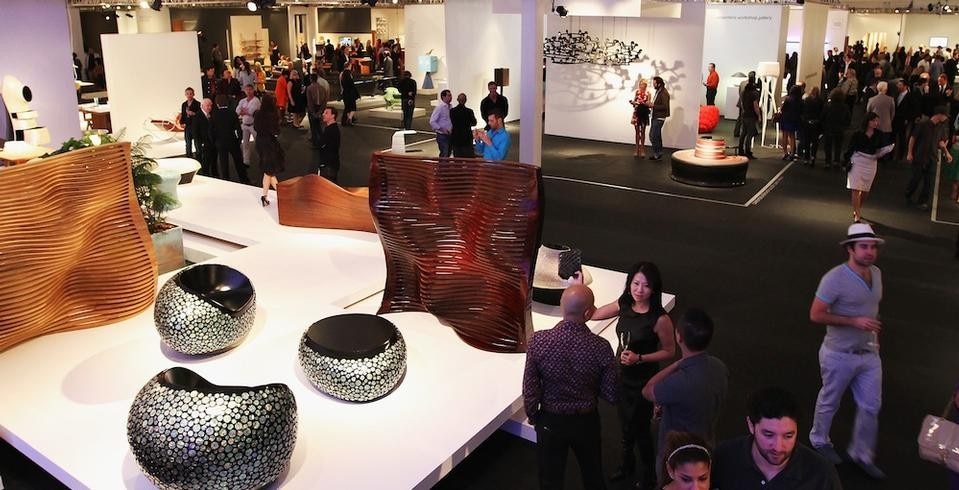 Of course there was plenty of extremely rarified furniture, and design-art for sale. Galleries seemed to put more emphasis on classic pieces of 20th century modernism than in previous years. Vintage George Nakashima was at the Johnson Trading Gallery, Demisch Denant had a collection of Pierre Paulin including pieces designed for Georges Pompidou's apartment at the Elysee Palace The emphasis on classic design included architectural relics, like metal louvers salvaged from Le Corbusier's Chandigarh complex, at Galerie Patrick Seguin. As for new production, Moss, the design store in SoHo, was selling a "Morphing Platter" by Haresh Lalvani that could be produced through a digital process in a million variations.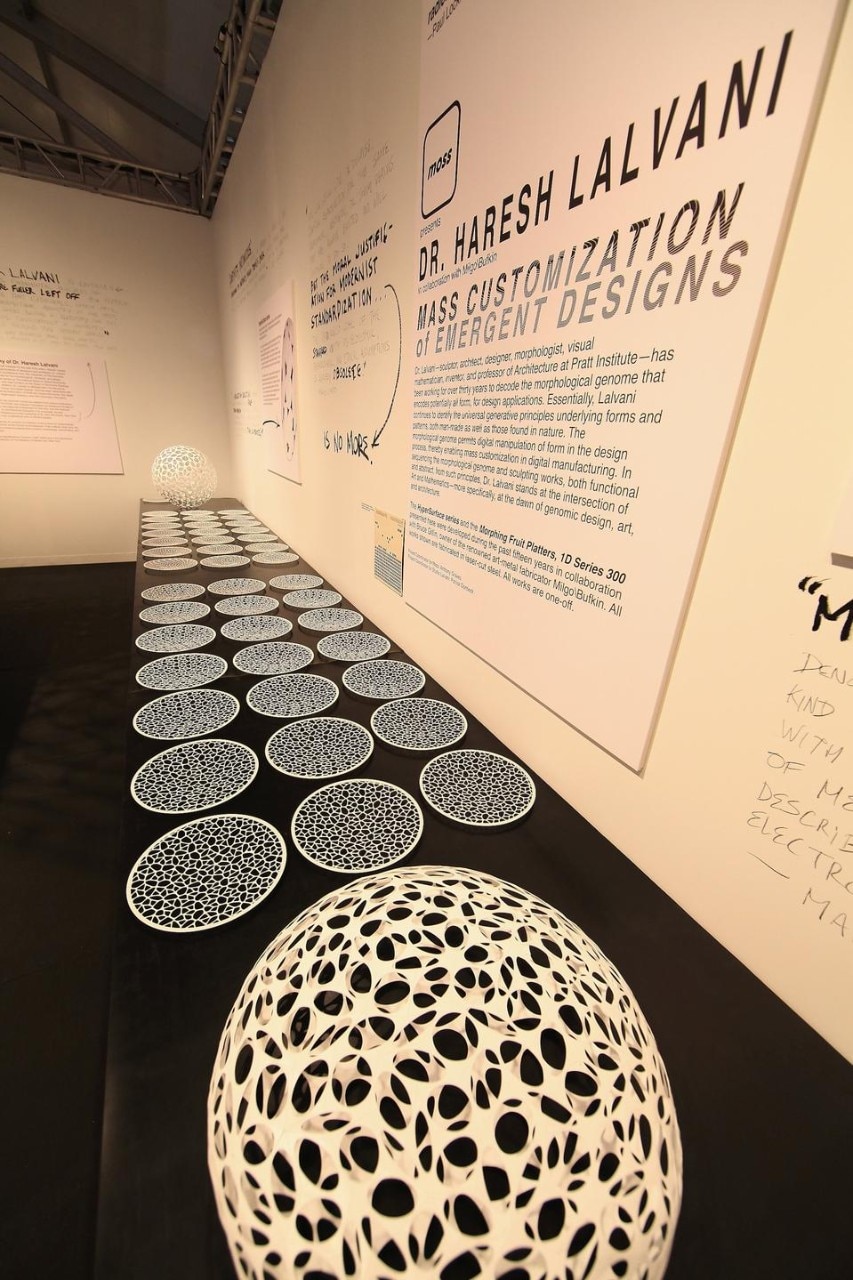 A glowing blue floor that turned pink wherever people walked took up the northwest quarter of the fair tent. It could have been a dance floor, a stage, or a runway, and in a way it played all those roles. It was the flashiest thing at the fair. Designed by Bjarke Ingels for Audi's Urban Futures Initiative, this was his prototype road of the future, which alerts driverless automated cars to pedestrian movement and, in theory, becomes both road and sidewalk. A brand new Audi, which wasn't actually automated or driverless, modeled on the roadbed.
The fair's selectivity brings the question of good design to some curious conclusions.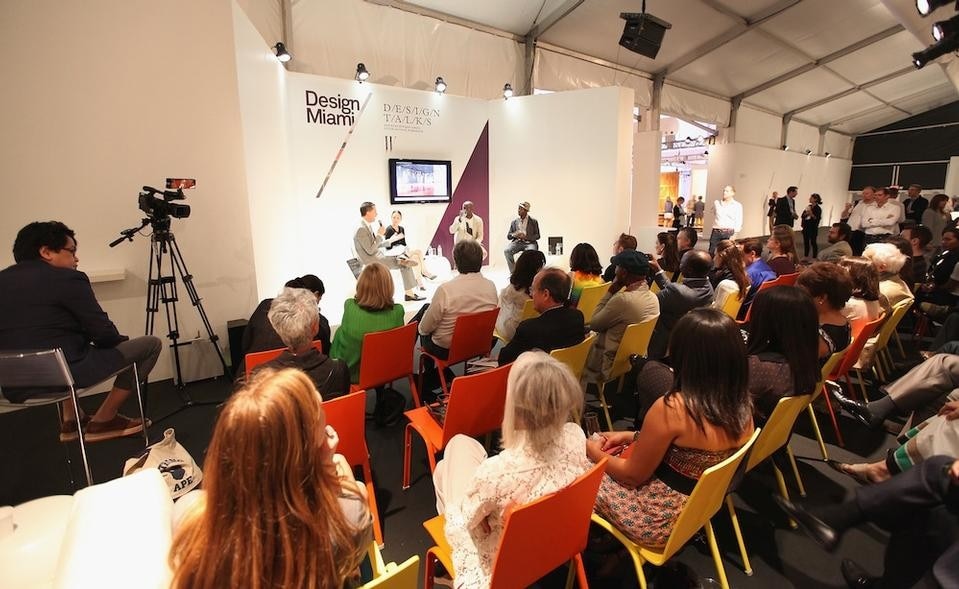 Discotheque roads may someday exist, or may become just a forgotten idea. Another prototype at Design Miami, a landmark of utopian but ultimately unsuccessful futuristic planning, could have been Ingels' memento mori. Buckminster Fuller's Fly's Eye Dome, an environmentally conscious low-cost prefabricated dome shelter using standard rib forms, was restored by Design Miami founder Craig Robins. Each hexagonal unit holds a bubble window, making a light-filled, airy space. The 24-foot-diameter dome was in a vacant lot of Miami's Design District, with an exhibit on its restoration, and a forest green Dymaxion Car—another Fuller prototype—parked outside. The car was reconstructed by Lord Norman Foster, who once worked with Fuller, and recounted his memories of the great futurist at a "design talk" on the first night of the fair. After Design Miami, the dome will be placed in a new plaza being developed by Mr. Robins in the Design District.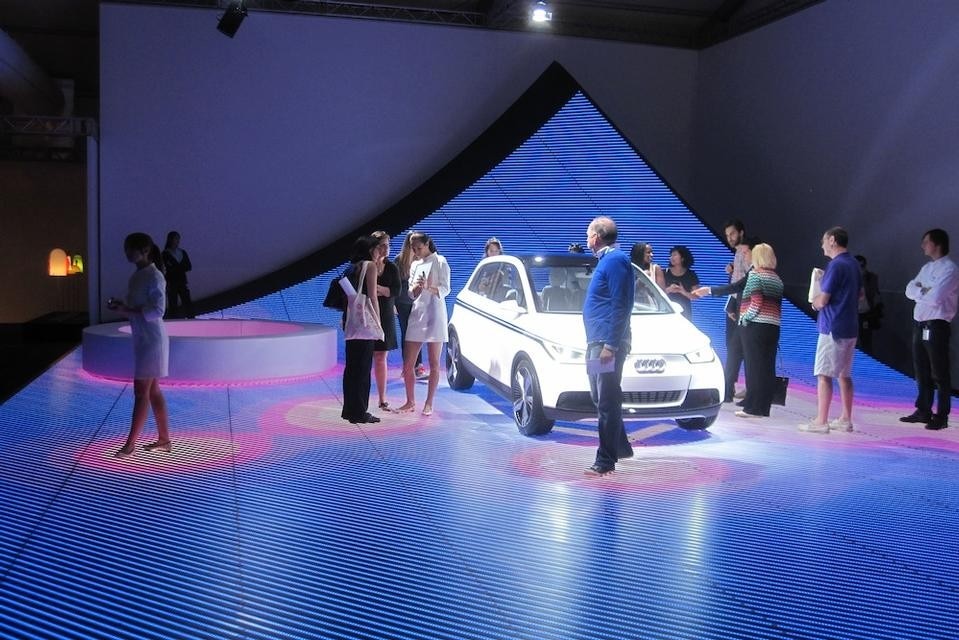 One year, the regular "Design Performance" segment of Design Miami was a series of concerts by OK Go, who played guitars with lasers on them designed by Moritz Waldemeyer. This year, the much more sedate performance involved live leatherworking. Artists Elisa Strozyk and Sebastian Neebto turned leather scraps from the production of Fendi bags into soft reconstructions of elaborate 18th century Italian furniture, full of marquetry and carving appropriate for Palazzo Fendi, the company's neoclassical headquarters in Rome.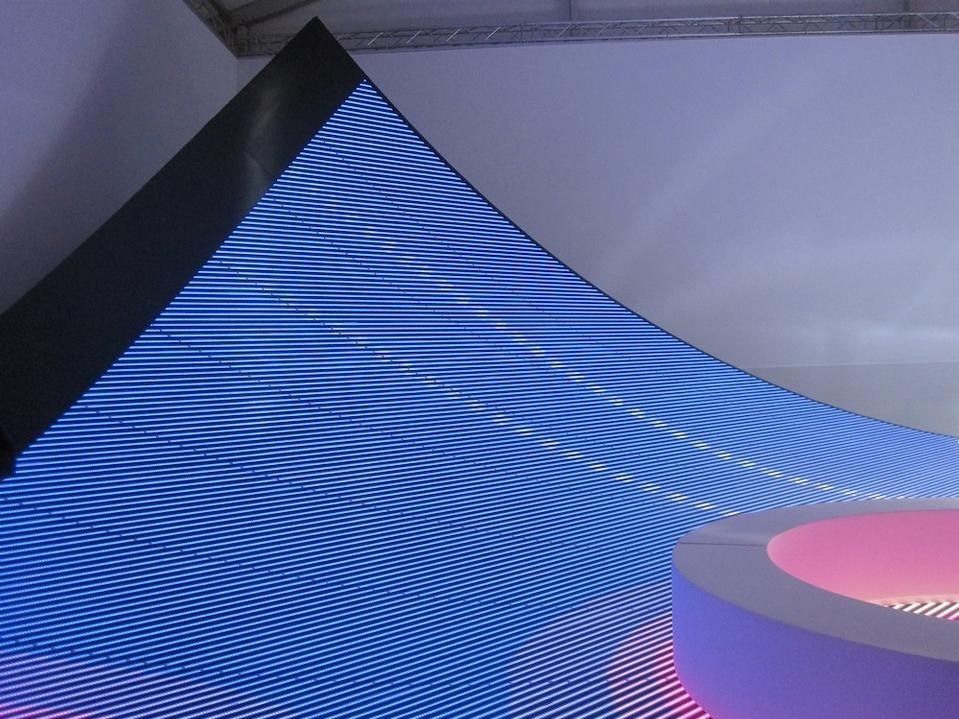 The fair's selectivity brings the question of good design to some curious conclusions. A Bucky-ball bubble house, full of scrap leather side tables, occasional chairs, china cabinets, and stools, with a digitally-cut gazebo in the front yard and either a Dymaxion Car or Audi in the driveway, all along a glowing blue street, is an eclectic trade-fair fantasia brought to its high-end extreme.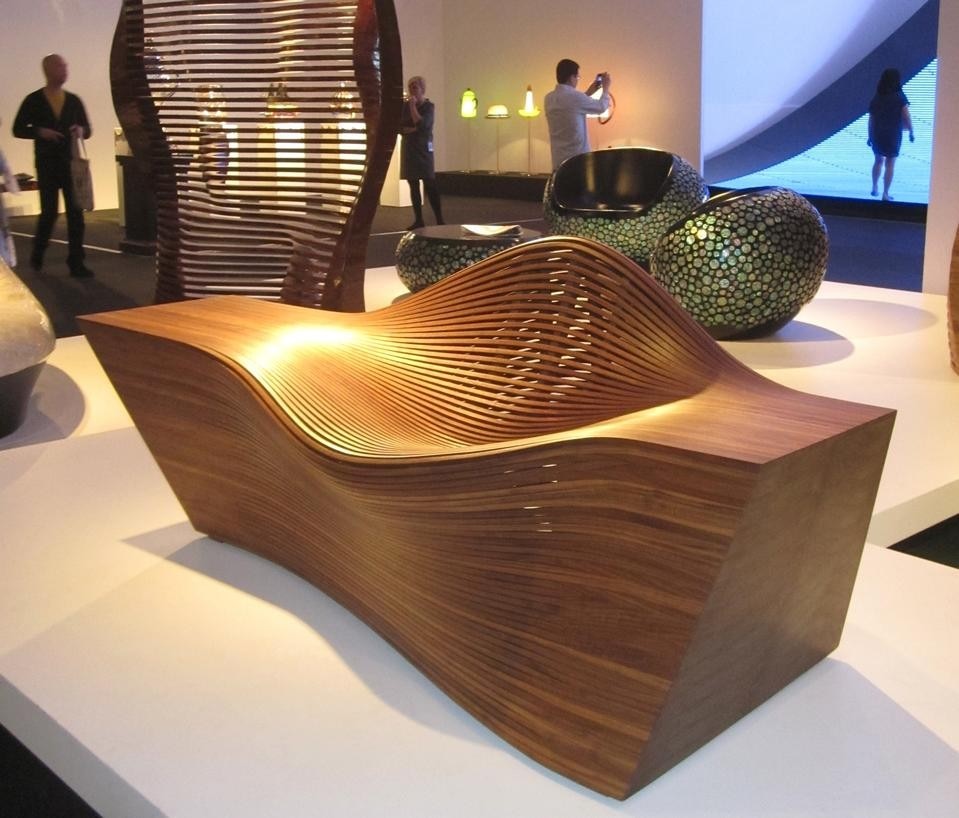 Design Miami is much more of a boutique fair than its neighbor across the parking lot of the Miami Beach Convention Center, where Art Basel takes the entire massive building. Although Art Basel shows, by most accounts, the "best of the best" of the contemporary art world, Design Miami doesn't bombard the way Basel does, and the guiding hands of the fair's Directors are ever present. The fair has evolved, and moved, beginning as a decadent street party in the Miami Design District. In its early years, the fair practically merged with that neighborhood, but it gradually became more insular, more removed from the spontaneity of the district, more focused on exhibiting current design at its absolutely highest levels, and being more accessible to the collectors attending Art Basel. Design Miami has grown up a little, developed exacting curatorial standards, and tamed some of its early experimentations, to become the formidable standard bearer of design that it is today.