Good design generally stems from happy intuitions and apt choices. These affect three different key aspects which then intersect and merge to create an object: on one hand the typological innovation of the article in response to changing lifestyles and habitation patterns in the broad sense; on the other a correct and innovative application of technological research (while often dodging the logic of engineering and industry); and finally, form as symbolic and aesthetic expression, in original interpretative visions of the changes that characterise our times. The result of this mixture may equally start out from each of these factors, and the design's essence is concentrated firstly in a study of the object's changed uses in relation to the evolution of customs and languages, especially if affecting increasingly wide strata of society. Every designer hopes to sense a society's as yet unexpressed demands for design. In other words, designers should seek to pre-empt such demands by coming up with an original idea in advance (which will eventually seem "obvious"). The idea must be made to tally with the still unknown suitability of certain technological innovations, and expressed with a "magnificent, shrewd and correct" form (which might also be described as symbolic). In literary terms, this could be compared to the observation that the essence of any book, story or essay consists in some kind of narrative content. This is constructed and communicated with techniques ranging from physical printing to the rules of language, which develops into a complex structure from its grammatical bases. All this is conveyed to the reader via an expressive quality created by the "form" of the words chosen, i.e. by the rhythm and composition of each word and the resultant phrases, ultimately determining the original character of that written thought.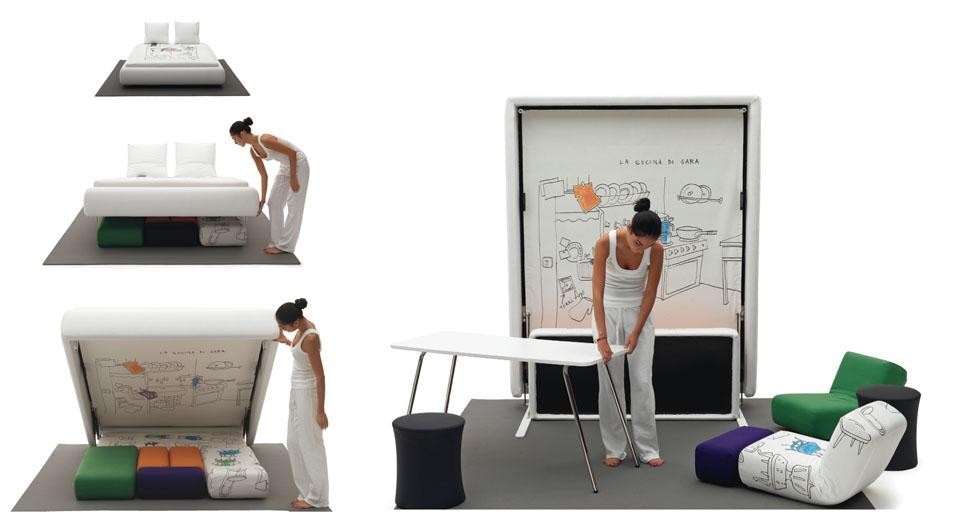 In this light it is interesting to focus on a company that has turned the typological question of its products into a hallmark. Campeggi makes prevalently upholstered furniture catering to various degrees of recumbency: armchairs, sofas, divans, beds and poufs. But the real common denominator of its whole production is the concept of transformability. All its products have more than one function, often also changing their form to satisfy different user needs. Originally, for Campeggi too, this principle met one of the classic demands arising from life in ever-denser cities and increasingly restricted living spaces. Typologically, these conditions led to the development of designs for foldaway beds, or better still, divan-beds. In Italy, this theme is traditionally and historically set between the mid-1940s and early '70s. In the case of Campeggi, it is interesting to observe how the theme was developed in the '80s to interpret new characteristics of mobility and changed living habits. It should be mentioned that the business started in Brianza, north of Milan, and that its entrepreneur-coordinator Claudio Campeggi acts as a kind of publisher, a genuine "first designer" of his own concern and products, who chooses not to sell through single-brand stores.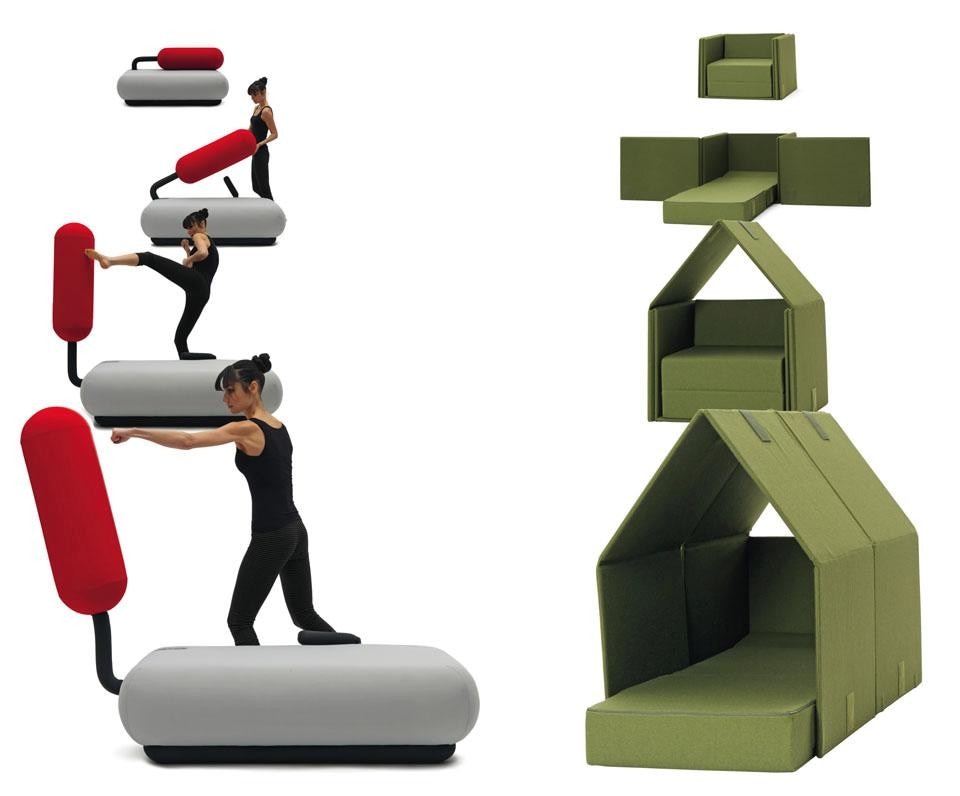 On first picking up Campeggi's "editorial" catalogue, one gets the vague impression of leafing through an Alice in Wonderland-style fairy tale, or a secret book of conjurers' tricks. Everything morphs, and everything changes its function. Forms often fold, spread, unroll, inflate, light up or move. Some objects appear normal, but then suddenly shift and multiply their dimensions in all directions. Others look odd straight away, and slightly incomprehensible, sculptural and immobile. But as soon as they start relating to the human body, they turn out to be unexpectedly multipurpose items, positively machines-objets à réaction poétique. Encountering a Campeggi product always gives you a feeling of surprise and discovery. It is like reading a startling plot that arouses your curiosity, until you find another story intertwined with the first. It's worth taking a closer look at some of the product-texts of recent collections, including some designs that arguably best represent Campeggi's vision. Hopefully these products may continue to form the natural development of what in the online catalogue is presented under the title "Things change", evolving on from those – extremely dignified – articles to be found under the title "Towards a philosophy of sleep". First of all, we discover that the Campeggi story came to a significant turning-point, towards a wider idea of transformability, around the late '80s, when a number of designers of different inclinations joined the company's team: some more oneiric, others more constructivist, and others still, more inspired by a spirit of adventure.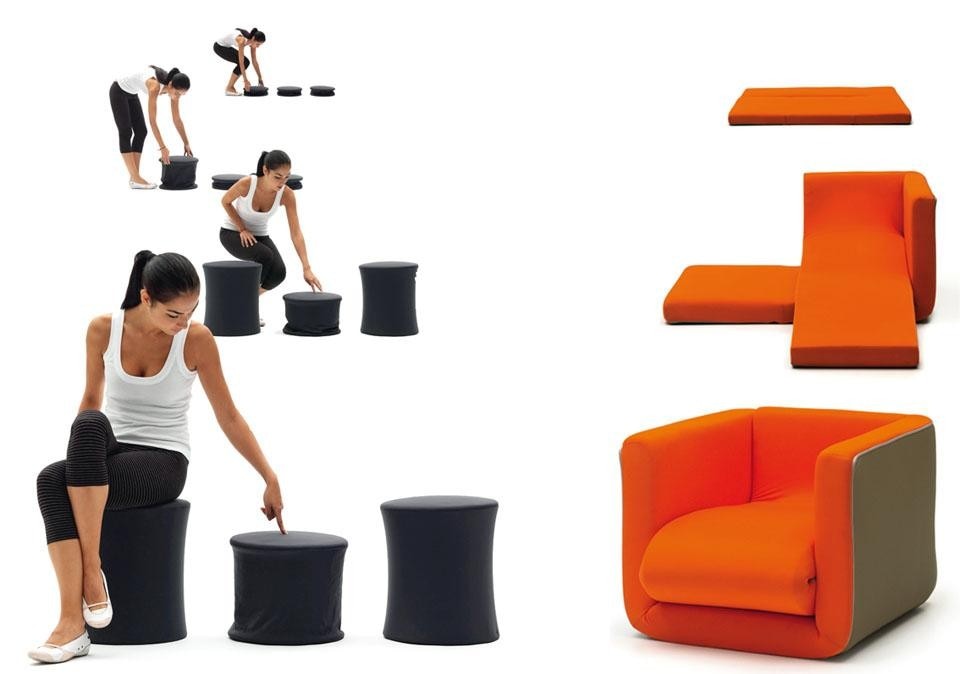 The ideas-design group in that phase was comprised of Denis Santachiara, Vico Magistretti (who sadly passed away in 2006), Giovanni Levanti, Giulio Manzoni and Lorenzo Damiani. In recent years this proven group has been further enriched with some very interesting younger and mostly foreign names, such as Sakura Adachi, Tobias Fraenzel, Paolo Imperatori, Philippe Malouin and Adrien Rovero. Several items are striking due to the courage and elegance underlying their innovative ideas, in typological, technological and formal terms. Among these are the "elements" for the home designed by Giovanni Levanti. Not only armchairs or seating, but also "commodities" in a broad sense, intercepting such areas as fitness, amusement and the symbolically (and almost sculpturally) iconic quality of an object. These can be described as objets à réaction poétique, such as the Gobbalunga "armchair with extension" with its irreverent and "tragically" ham-fisted form (reminiscent of clowns, it looks like something out of the Beatles' animated film Yellow Submarine). Another example is the metaphysical seesaw AEIOU, which seems to reflect on the mysterious and "cruel elegance" (Manfredo Tafuri, 1972) of Franco Albini's famous "rocking hammock" dating back to 1940. Less at its ease seems Levanti's precious sensitivity in the lounge setting of his Set system. Santachiara always heartens us with the surreal provocations of objects that seem to rebel against their primary uses. They invent brand-new and relaxing performances, as in the Coppi stool, where the sitter pedals without going anywhere and feels as poised as a circus acrobat riding a unicycle (a theme less convincingly reintroduced in the Bartali model). The Good Vibration armchair is another such case, inflatable and softly upholstered in lycra-clad expanded foam and fitted with a system of adjustable vibrations.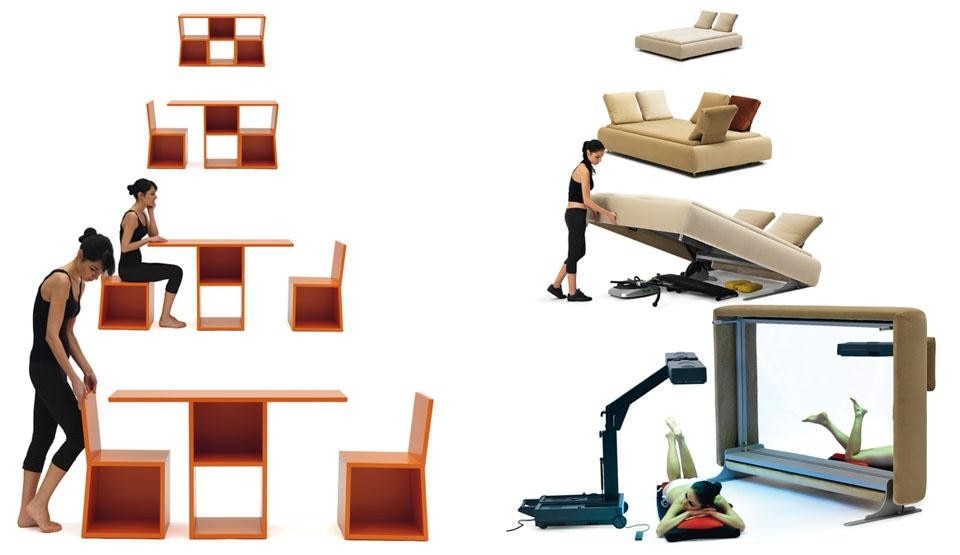 A pleasant discovery (shame I hadn't spotted it earlier) is Giulio Manzoni's happy narration of "transformist", "contortionist" and "illusionist" objects. One of the latest is the multiform Ori.Tami chair, obtained from a "page" folded from a cut (a splendid homage to Bruno Munari and in particular his Maldive bowls of 1960 for Danese). But Manzoni also presents us with a coffee table-stool which, when squashed, becomes just a few centimetres thick (recalling Munari's Falkland lamp and his lesson of folding rice paper). Then there's the OnOff series of fold-away divan-beds, where a large mirror underneath shows itself when the bed is stood in its upright position, dilating the whole room and entirely dissolving the presence of the bed. Here the concept of transformation is expanded from the object itself to include its surroundings. Lorenzo Damiani offers another view of transformism by turning the side of a rolled-up mattress into a seat. With a quick change of shape, it becomes a mini throne-seat named Girella (a possible evolution of the radical objet trouvé Flag Chiocciola by Piero Gilardi in 1968). For want of more space on this page, a quick but nonetheless deserving mention should be made of Matali Crasset's Chambre d'Ami coat-stand, which can be converted into a complete bedroom; Sakura Adachi's Trick bookcase-chair-table and Pet Cave basket; Tobias Fraenzel's Champ "boxing" sofa; Paolo Imperatori's Nuvò divan-bed with its originally transformable back-arms; Adrien Rovero's Flip bed-table on trestles; and Philippe Malouin's Tent Sofa, with its respect for privacy that reawakens the childlike urge to build a den out of cushions around our bed. Giampiero Bosoni